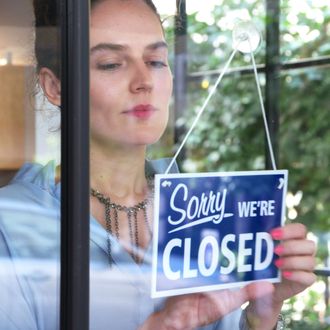 It's a reason you probably hadn't considered.
Photo: gmutlu/Getty Images
The restaurant industry, it's clear, is hurting right now. Consumer traffic has declined 2.8 percent this year through September, and the chains are cannibalizing each other. The reasons behind this downturn seemed to be a combination of factors like the prevalence of meal kits and plummeting grocery costs, all making it easier and cheaper to cook at home. Some even blame the decline on the depressing election cycle. This, despite the fact that the indicators that usually spell doom and gloom for restaurants — like rising fuel costs and a bleak job market — aren't factors this go-round. As it turns out, there might be an unexpected culprit: rising health-care costs.
Egged on by those puzzled by the situation, research firm Civic Science polled Americans about why they were mysteriously cutting back on restaurants. Naturally, the top reason was worsening personal financial situations. More specifically, nearly half of regular fast-food consumers who have seen their health-care costs go up have cut back spending at these restaurants. Consumers with increased insurance costs are 30 percent more likely to say they're reducing spending significantly, while those who pay insurance "out of pocket" to follow Affordable Care Act rules are the most likely of all groups to have reduced spending. With health-insurance prices expected to rise, Civic Science argues, it's likely restaurants will continue to be bogged down.