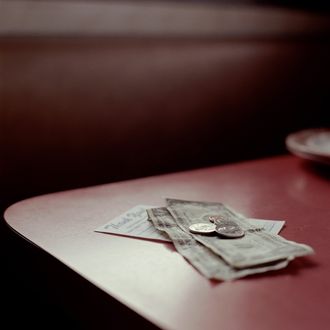 That's not gonna cover it.
Photo: Angela Wyant/Getty Images
Liu Xiaojun and her two well-meaning business partners offered a "pay what you want" grand-opening promotion to draw people into their new Guiyang café. Customers were encouraged to try out the food, then leave whatever compensation seemed appropriate. Naïvely believing in the "inherent goodness of human beings," the owners figured diners would be "rational and fair" (ha!) when calculating how much to leave.
Alas, their assumption didn't factor in the enormous percentage of people who are cheapskates, terrible, or some depressing combination of both: The stunt succeeded in packing the dining room, but the same couldn't be said for customers' checks once they'd walked out the door. Some apparently felt a "rational and fair" rate was a single yuan, while Liu says others were more generous and paid 10 percent of their meal's cost. After just a week, the total damage stood at a ¥100,000 loss (about $15,000).
Adding insult to injury, the place became a practical ghost town once it actually started charging people. By the end of the lunch hour on the first normal day, Liu says not a single customer had come in. She tells Chinese news site The Paper that it "makes sense that people like to eat food and not pay much," but she "just [doesn't] understand why they haven't come back since the promotion ended." Jading her to the human condition once and for all, one of Liu's partners has subsequently bailed, and customers left feedback saying the food is actually "both filling and tasty."