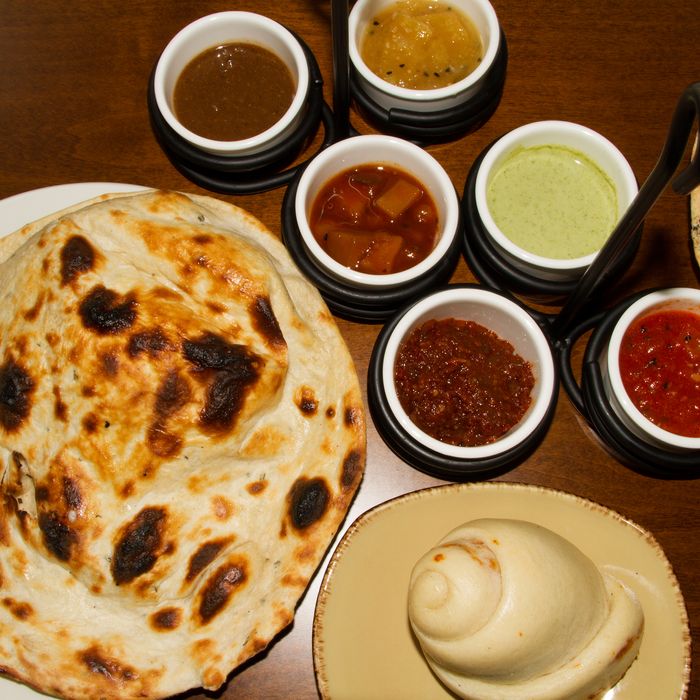 Naan and tingmo with chutneys.
Photo: Jemma Hinkly/New York Magazine
Prior to hitting the big time as the wunderkind chef of Danny Meyer's popular Indian-themed restaurant Tabla back in the dim, distant '90s, Floyd Cardoz made his reputation the old-fashioned way, by working up through the great kitchens of Europe and New York. But in this comfort-saturated, story-driven food era, success often depends on more ephemeral qualities than simple talent or technique, and since Tabla shuttered six years ago, Cardoz's journey back to prominence has been a circuitous one. He made the rounds of the TV reality shows (he won a season of Top Chef Masters). After running the kitchens of a couple star-crossed downtown restaurants (North End Grill and White Street) to mixed reviews, he returned home to India to explore the more casual, evocative dishes of his youth (at the hit Bombay Canteen in Mumbai), the way star chefs are prone to do.
But with the arrival of Paowalla, which opened not long ago on the western boundary of Soho, Cardoz finally has a place in New York's cluttered, postmodern haute-casual restaurant landscape to call his own. In the great Danny Meyer tradition, the snug, serviceable space has something for everyone: a boisterous little bar up front for drinking and snacking, an elegant area in back for a more contemplative dinner, and, in clement weather, café tables set up along the sidewalk for alfresco dining. Tabla aficionados will notice echoes of the old downstairs Bread Bar in the accessible small-plates menu, although the options are more varied here, and as the photo-strewn, narrative-friendly website takes pains to make clear, Cardoz, like David Chang, April Bloomfield, and new millennial-chef icons everywhere, gets his inspiration these days not from musty, esoteric cookbooks but from the time-honored comforts of home.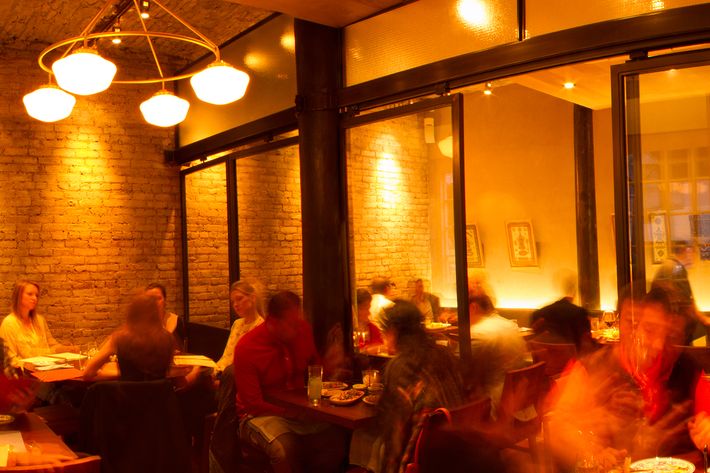 Cardoz grew up in Mumbai and spent his summers in Goa, on India's southwest coast, a former Portuguese colony rich with all kinds of Proustian possibilities. In Goa as in the rest of India, the most comforting, evocative, home-style dish of all is fresh-baked bread (paowalla is Portuguese-Hindi for "one who makes and sells bread"), and there are all sorts of enticing varieties of kulchas, naans, and rotis to order as soon as you sit down. There are quesadilla-like kulchas filled with melted Cheddar; smooth, densely steamy Tibetan-style tingmos shaped like apples; and pao, which is a buttery Goan version of the dinner roll. Unless you're attempting vainly to stay on a low-carb diet, it's possible to make a filling little meal of the naans alone, which the bakers in the kitchen make with sourdough, sprinkle with rosemary and garlic, and stuff devilishly with little threads of bacon.
You can order a small army of chutneys with these breads, along with many small-plate Indian treats artfully designed by Cardoz to appeal to members of the savvy, locally grown generation. Instead of the usual tangle of wet onions, the fried pakora at this Indian restaurant features fresh shishito peppers encased in a delicate crust made with ground chickpeas, and if you order a bowl of lentils, you will find it garnished, not unpleasantly, with a giant wad of gently melting burrata cheese. The fine imperial-style egg dishes (gingery scrambled eggs Patia, the toasty grilled cheese eggs Kejriwal reprised from Cardoz's Mumbai restaurant) are made with fresh, fluffy Pennsylvania-farm eggs, and the mostly local seafood dishes (baked clams topped with coconut, fresh calamari stuffed with onions, head-on shrimp blackened to a just-cooked perfection in the tandoori oven) are sourced with similar care.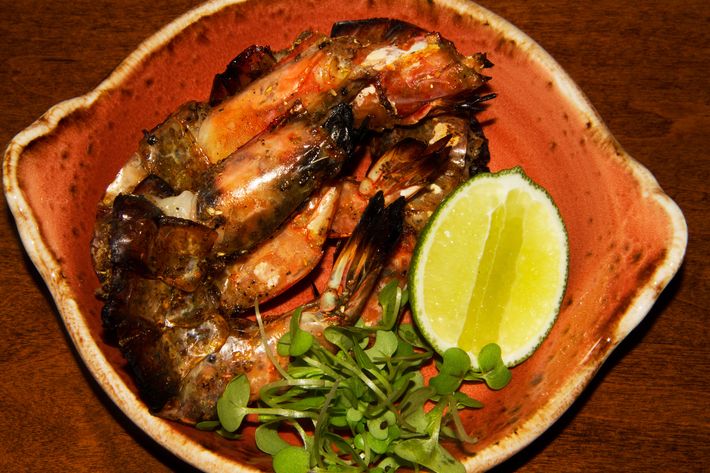 Although the best of these small-plate creations — the black-pepper shrimp, the eggs, the fiercely hot Indo-Chinese "chili chicken" — have a vivid, home-cooked quality, some of the larger, entrée-style dishes at Paowalla have a more familiar feel. My order of pork ribs vindaloo resembled your standard restaurant pork ribs in taste and texture, albeit with a vinegary garlic sauce splashed on top, and except for the banana leaf it's cooked in, the weirdly undersalted Hyderabadi "goat roast" is the kind of thing trendsetting Brooklynites have been dutifully eating for years. Cardoz also offers an excellent chicken for two (poured with a jus flavored with the mangosteenlike kokum fruit), but if it's a taste of modern India you're after, try the tender chunks of chicken tikka, touched with curry leaf, or the halibut, garnished in the Bombay style with a delicate watermelon curry and a scattering of popped rice.
In accordance with the ubiquitous pub-bar dining template being followed by lapsed gourmet chefs all over town (and therefore the world), you can guzzle all sorts of interesting, if slightly forced, cocktail combinations at Paowalla, including old-fashioneds bombed with cloves, margaritas mixed with tamarind, and shots of Johnnie Walker Black poured into coconut tumblers of water and lime. There are Indian malt whiskeys on the drinks list, too, and one or two noble Portuguese wines, like the '85 Frei João, which drinks like old French vintages from that year at roughly one-tenth the price. Or you can save your cash for desserts like the elegant gulab nut (a less treacly, doughnut-shaped version of the ubiquitous gulab jamun) or the vanilla-bean kulfi, which is topped with gold leaf and manages to contain all the opulent pleasures of the Indian dessert experience in a single bite.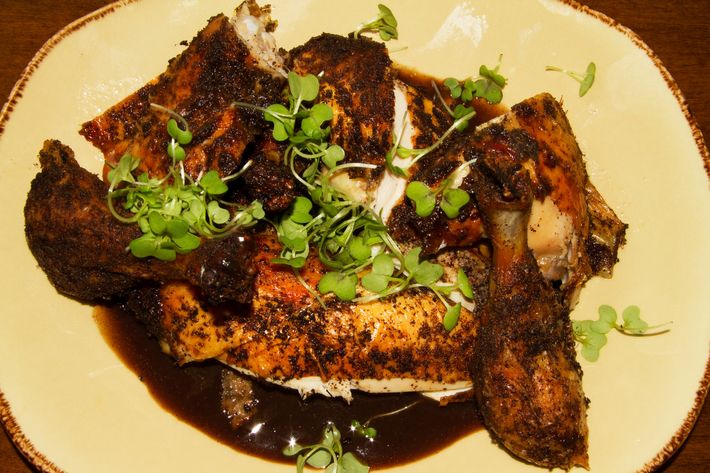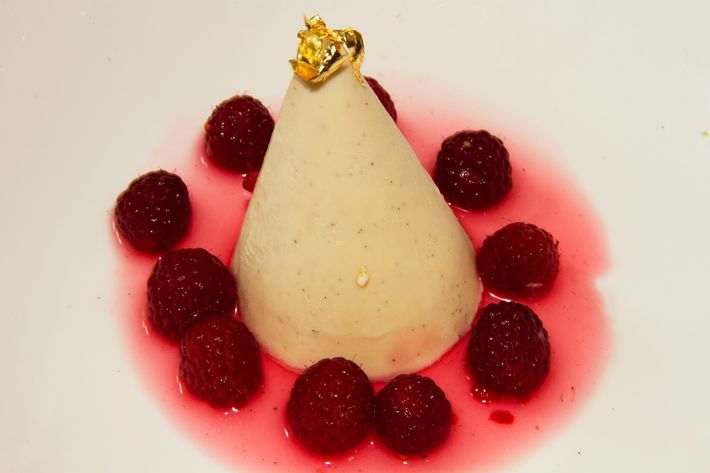 Paowalla
195 Spring St.,at Sullivan St.; 212-235-1098; paowalla.com
Open: Dinner nightly; weekend brunch.
Prices: Appetizers, $3 to $17; entrées, $23 to $31.
Ideal Meal: All the breads, eggs Patiaand eggs Kejriwal, stuffed calamari, black-pepper shrimp, black-spiced chicken and/or rice-flaked halibut, vanilla-bean kulfi.
Note: The restaurant's new brunch service includes strange fusion delicacies like dosa waffles, pecan-chai sticky buns, and an excellent Goan shrimp pie.
Scratchpad: One hearty star for the master chef's haute-casual small-plate menu and another for the desserts and bread.
*This article appears in the October 17, 2016, issue of New York Magazine.