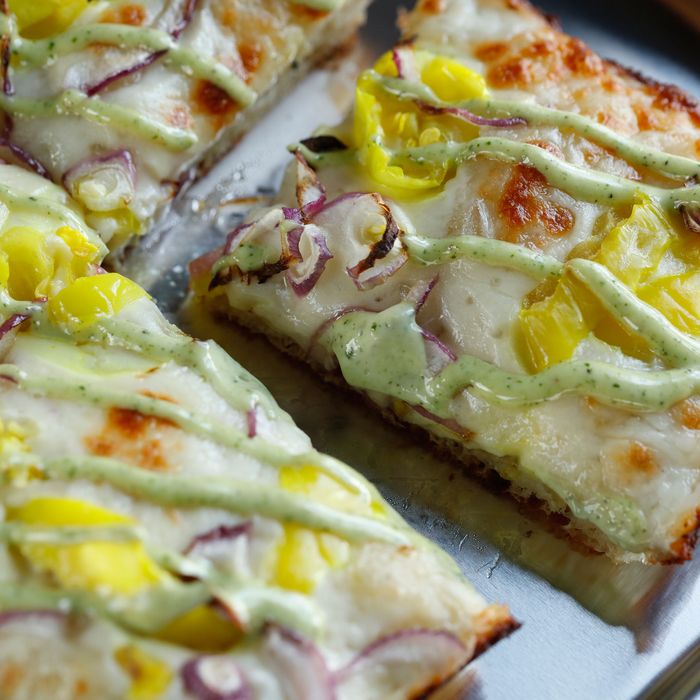 Pizza is better when it's drizzled with herb-spiked ranch.
Photo: Melissa Hom
It's been a long, winding road back to relevance for ranch dressing, the buttermilk-based salad enhancer that tastes like American freedom. As far as mid-20th-century food innovations go, there are few condiments as ubiquitous or that, despite being super basic, inspire such strong opposing reactions of fervent love and loathing. Many Americans put ranch dressing on everything — including ranch dressing — like it's an American salsa. Others love to hate it. Despite some attempts to drive it underground, ranch is experiencing a revival among the sort of chefs who, a few years ago, would've turned up their noses at it.
It started around 1950, when a man named Steve Henson created the condiment while living in the Alaskan bush. (What's more American than inventing salad dressing while living at the fringes of civilization?) In 1954, Henson brought the dressing down to Southern California via his dude ranch Hidden Valley, eventually creating a dry mix and a bottled version, and then selling the name and food to Clorox in 1973. By 1992, it had become the country's top-selling salad dressing, and its sales haven't dipped since.
Ranch did, however, fall very far out of favor with chefs. In the age of local, made-from-scratch, transparently sourced ingredient fetishization, nothing was less cool than industrial salad goop best known for being drizzled on iceberg lettuce. If anything even remotely ranch-ish ended up on a menu, it was called "buttermilk" dressing, and that buttermilk was no doubt purchased from a nearby dairy farm where the chef had met the cows.
Ranch's underappreciated popularity as a condiment for pizza also came under attack: A pizzeria in Houston banned the practice of dipping crust into ranch back in 2008, an event that caused Serious Eats founder and pizza authority Ed Levine to call the very practice of ranch-dipping "a crime against nature." And on the once-robust pizza blog Slice, ranch dipping was included in a 2012 poll asking what should never be done to pizza. Even the beleaguered celebrity chef Todd English refused to serve it at any of his restaurants. There may be no greater indignity in the entire culinary world.
People still ate plenty of ranch at home, and you could find it at the more avant-garde sports bars offering it alongside blue cheese as a dip for wings. But they were dark days indeed for ranch's status as every American's favorite salad dressing. Lately, though, something has changed. The farm-to-table movement is now the norm. Chefs have been able to stop posturing quite so much, and people have started to rediscover once-forgotten classics.
Now, ranch is front and center at some of the country's favorite restaurants. Popular southern-food specialist Bobwhite Lunch Counter opts for ranch in its buffalo-chicken sandwich, while the sandwich artists at Court Street Grocers serve ranch-topped kale salad. Meanwhile, the trendy Mr. Donahue's serves it with fried onions. At Chicago's hugely popular neo-diner Au Cheval, ranch dresses a chopped salad with bacon and eggs. In St. Louis, there's an all-things-ranch-dressing restaurant called twisted RAnCh. The New York Times recently sang the praises of Superiority Burger's tahini-spiked ranch, as well as the fabled Mississippi Roast, a slow-cooked beef dish made with packets of dried ranch dressing.
Even pizzerias have come to appreciate ranch for what it is: the greatest American condiment since ketchup. At Clinton Hill's Emily, Matt and Emily Hyland have served a mint-and-chive-spiked ranch that's really more of a Green Goddess dressing, but is very much ranch in name. At their sister restaurant Emmy Squared, a cilantro-and-chive ranch winds up on a spicy chicken sandwich and the restaurant's signature pizza. Out in Los Angeles, scene-y red-sauce spot Jon & Vinny's offers it as pizza-dipping sauce.
Perhaps the greatest testament to ranch's successful infiltration into the farm-to-table ethos is its adoption by none other than Dan Barber. On the new fast-food-inspired bar menu that Barber serves at Blue Hill, the chef makes ranch dressing out of whey (in keeping with his desire to find new uses for food products that are otherwise wasted). The tangy, creamy dressing is the ultimate example of what can happen when talented locavore chefs take a cue from Hidden Valley.
There's nothing bad about a ranch resurgence, especially if it means better ranch. So far, there's a lot to be had, which is a very good thing. It's American food through and through, and no reasonable person will complain about a little seasoned buttermilk dressing done right.