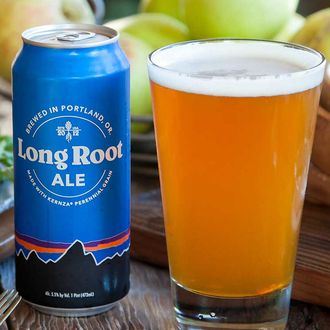 Fleece koozies sold separately.
Photo: Amy Kumler/Courtesy of Patagonia Provisions
America's favorite fleecewear outfitter, Patagonia, has released a beer to help stop climate change. The newest product by its jerky-and-granola "provisions" side business, Long Root Ale has a "distinct flavor profile" that comes from Kernza, a trendy new grain invented by a bunch of PhDs at the Land Institute, a Kansas nonprofit often talked up by people like Michael Pollan.
Both Patagonia and the grain's other fans say Kernza (capital k — it's a registered trademark) is a perennial "superwheat" that's superior to annuals because it stays in the ground for years, uses less water, can retain more of the soil's nutrients, acts like "a sponge for carbon," and supposedly thrives without tilling. Hopworks Urban Brewery in Portland was Long Root's actual brewer, and four-packs of cans — which, it's no surprise, look like the aluminum version of your old '90s Patagonia fleece — go on sale October 3 at Whole Foods in California, Oregon, and Washington.
Patagonia isn't the first to toy with Kernza, but thanks to being flush with money from college bros everywhere, the company was able to pay the $50,000 cost to get it the FDA's "Generally Recognized As Safe" status. Luckily for the clothier, Kernza is seemingly amassing a growing community of boosters all of a sudden: The Washington Post's "Food" section today calls it an "ecologist's dream" that "does all the things that annual wheat does not," and it's got a food-world following as well. A new San Francisco restaurant called the Perennial, created by Mission Chinese Food's founders specifically to combat climate change, is already serving Long Root Ale alongside Kernza bread, crackers, and ice cream. (General Mills is reportedly "evaluating" the grain also.)

Only time will tell what Earth-saving Kernza really achieves, of course. Either way, it's been a bear to develop: It has a funny cylindrical shape that defies conventional milling machines, and also contains a weird amount of gluten — too little to bake well with, too much to be marketed to people who avoid it. It's a quarter the size of normal wheat berries, though backers argue humans have had 10,000 years to toy with wheat, while Kernza has "only been around for 13." Researchers stress that the idea of Kernza somehow saving the planet is "absurdly, even recklessly, optimistic." The Land Institute's "chief breeder" (he lives onsite in a solar-powered hut he hand-built) counters they've more than doubled the size of the seed so far and are making "a lot" of other progress, but even Patagonia's founder Yvon Chouinard thinks their beer — the only product to market so far — is too hoppy and is holding out for a hefeweizen.