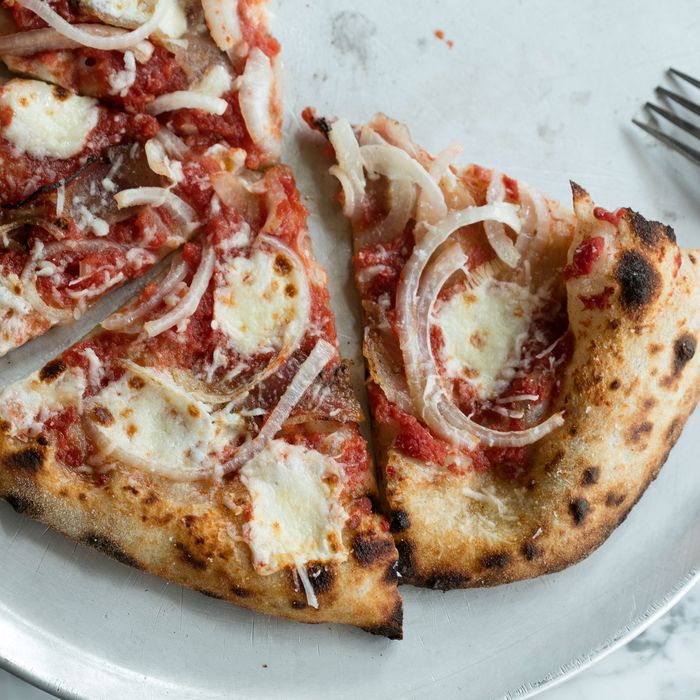 Pizza and great wine are a hard combination to dislike.
Photo: Melissa Hom
When opening a restaurant that you hope will become a neighborhood destination, it helps to offer a few things you know people love: well-made cocktails, some nice beers, a welcoming atmosphere that's anchored by a big warm oven, straightforward seasonal dishes that can be enjoyed by groups of various sizes, and maybe a focused list of thoughtfully chosen, affordable natural wine. Also: Everyone goes nuts for pizza. So it's fitting that all of those attributes figure into a promising new Bushwick restaurant that's set to officially open later this week.
Ops, as the new spot is called, is helmed by Mike Fadem (who previously worked at Roman's and Estela), Marie Tribouilloy (Buvette, the Pines), and Gavin Compton, who owns Variety Coffee next door. Fitting the team's collective background, the vibe is casual; tips won't be accepted; the room, a former garage, is agreeably rustic; the cocktails are seasonal; and the menu emphasizes shared plates, antipasti, and a rotating list of wood-baked sourdough pizza in varieties like the Pops (tomatoes, mozzarella, guanciale, onions, Pecorino), and the Rojo (mortadella, peppers, Crescenza cheese).
"Mike is the pizza person, and I'm the rest-of-the-menu person," Tribouilloy says, explaining that she and Fadem each have experience in the front and back of the house, so the division of labor won't be quite as straightforward as "chef" or "manager." Discussing the restaurant, it sounds like the team is most excited about creating a sense of community within the restaurant itself, both with customers and the staff. "It's one big room, so it's important that everyone feels comfortable," Tribouilloy says.
At the moment, the restaurant, which is located at 346 Himrod Street, is in soft-open mode, with an official opening scheduled for this Saturday. At first, Ops will be open for dinner Wednesday through Sunday, eventually working toward a seven-day-a-week schedule that will also include brunch, lunch, and delivery. In the meantime, check out the space and a few of the dishes.