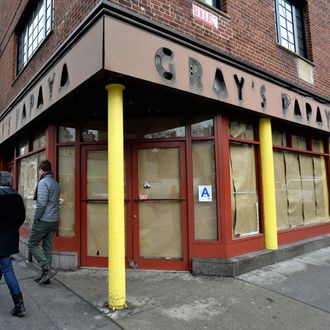 The struggle is real.
Photo: Staan Honda/AFP/Getty Images
Every day, predictions about the restaurant industry careening toward massive recession look more and more like reality. Last week, it was flatbread-sandwich purveyor Così that declared bankruptcy; this week, it's Garden Fresh, the company that runs the nation's 123 Souplantation and Sweet Tomatoes restaurants. At least 11 others have done the same thing since last December, among them chains like Old Country Buffet and Ryan's, Johnny Carino's, Quaker Steak & Lube, Fox & Hound, Logan's Roadhouse, and Black-Eyed Pea.
Even worse, at least for the industry itself, is how investors are reacting — not well, in short: Jonathan Maze of Nation's Restaurant News notes that two-thirds of restaurant company stocks are down this year. The average is 8.3 percent, but Joe's Crab Shack owner Ignite Restaurant Group has fallen by 84 percent and is currently trading for less than a buck per share.

Most of those chains were in trouble already, so the common glass-half-full analysis is that the suddenly dire situation will skim off the industry's fat. Olive Garden just released its quarterly earnings, and it reports that sales actually grew. (Parent company Darden chalks it up to "running better restaurants today" than when they were busy warring over unlimited bread sticks and unsalted pasta water.) This was meant to contrast favorably with the rest of the industry's problems, and obviously feeling pretty self-assured, Darden's CEO, Gene Lee, gave his thoughts today about the stragglers. In a nutshell: I wish them more bankruptcy!
"I'm hoping that more inventory will come out of the system," said Lee. "We've seen some big announcements of closures lately and I also think that if you drive down the road you're starting to see more restaurants closed. You also see more restaurants opened, but we could use some inventory to come out. That would be helpful."
At the very least, the future of the American road-trip meal looks bleak.