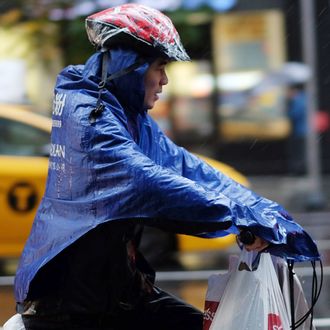 You try navigating city streets with three bags of food.
Photo: JEWEL SAMAD/AFP/Getty Images
New York City's notoriously underpaid, accident-prone bike couriers are finally joining the growing movement of workers demanding better working conditions. Today, deliverers for UberEats, Instacart, and Postmates — all of whom work as independent contractors — are officially launching a quasi-union called the New York Messenger Alliance in hopes of convincing their employers to pay higher wages and emphasize worker safety, specifically by providing safety gear and workers' comp when they get injured on the job.
Because it's hard to argue these demands are absurd, the group hopes delivery-app companies will have to cave to the pressure. A video created to drum up support tries to show what a day's work is like for these folks; many of them can't afford to take time off, like Uber deliverer Sadio Bello, who's filmed pedaling one-footed down Broadway because his right leg is in a giant cast:

Like UberEats car drivers, Uber's bike couriers complain that what was once "a fantastic deal" ($25 an hour) now sort of stinks (wages have been cut to as little as $7 per delivery), yet the hours remain brutal, and there are no benefits. "Never in 20 years have I had a paid vacation," one worker tells BuzzFeed. He's hustled through streets carrying vats of hot soup and 30-pound packages for decades "with nothing to show for it — no pension, no 401(k)." He argues that while messengers aren't really team players, "Collectively, I think we can go further."
The workers have affiliated with the National Taxi Workers Alliance, an AFL-CIO member group that "prides itself on its militancy." It brags it's the only union that's ever taken Uber to court, so securing the group's backing sounds like a pretty solid first move.