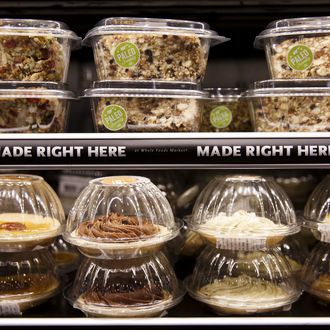 Photo: Patrick T. Fallon/Bloomberg via Getty Images
More bad press for Whole Foods: The prepared-foods case at a Detroit store (115 Mack Avenue) has apparently caused at least two cases of hepatitis A. In a statement, the company said:
"After a team member in our Whole Foods Market store in Detroit was diagnosed with Hepatitis A, out of an abundance of caution, we immediately contacted the Detroit Health Department and began reviewing food logs and safety procedures. While there is no definitive link that the second case is related to the occurrence in our store, we are cooperating fully with the Detroit Health Department to ensure the safety of our customers and team members."
If you ate prepared foods from this store between October 6 and 12, Whole Foods suggests getting vaccinated. Yikes.