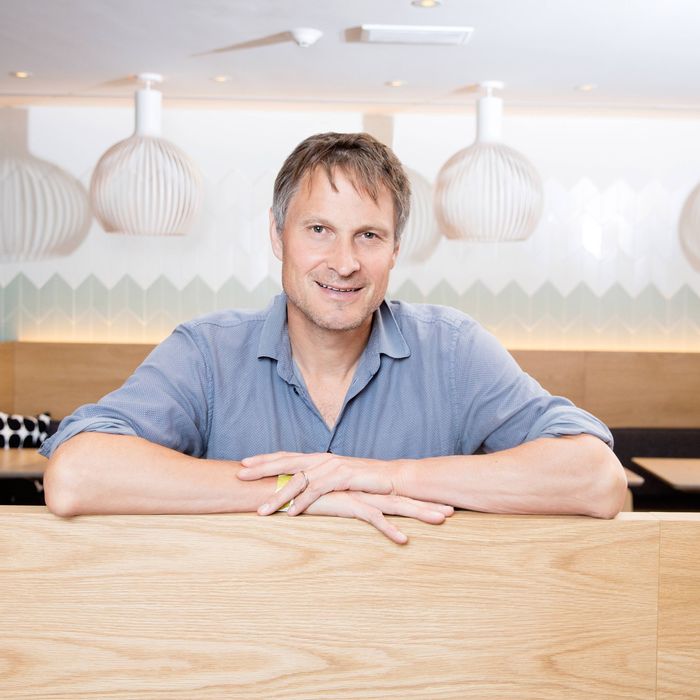 Claus Meyer is quickly building a restaurant empire in New York.
Photo: Christopher Lane/Contour by Getty Images
Claus Meyer sees me as soon as he walks into the 3 Black Cats Café, a new coffeehouse on Belmont Avenue in Brownsville, Brooklyn. I'm easy to spot because I'm the only patron in the cavernous space. Still, he stops to talk to Ionna Jimenez, one of the three sisters who own the café, then persuades her to pose for a picture with him and his lieutenant Lucas Denton. He quizzes her about what kind of cakes she has today and how late the café is open. He wants to take some carrot cake home to his family.
Meyer is the last person who needs to take dessert home. The Noma co-founder, who has called New York home for more than a year now, could easily pick up a few sea-buckthorn tarts at his bakery in Williamsburg or at the Great Northern Food Hall, which he opened this summer in Grand Central's Vanderbilt Hall. Or he could have the pastry chef at Agern (which recently won three stars from the New York Times and praise from Adam Platt) whip up an extra goat's milk cheesecake and sweet pepper sorbet. But Meyer wants to make an impression in Brownsville, and maybe even a few friends in the neighborhood. This winter, he will open what may be his most ambitious project in New York: a restaurant, housed in a former dollar store, run by and for the people of Brownsville, one of New York's poorest and most troubled neighborhoods: "I had a dream how I would explain myself to my grandkids in 20 years," he says when he joins me in a bright-orange booth. "I didn't want to be only a businessman. I wanted to be a social philanthropist and also mentor people in the same way other people had mentored me."
Meyer, 52, is a culinary legend in his native Denmark. For years he had his own TV cooking show, and he co-founded Noma, which is consistently rated one of the best restaurants in the world. When he moved to New York last August, he was invariably described as "tall" or even "towering," perhaps because we expect our Viking invaders, even culinary ones, to be giants. Meyer is, for the record, six-foot-two, and he is earnest — very earnest. He tells me that as he has gotten older he has realized that "what really counts are the number of people who have looked at you with tears in their eyes for what you have done for them." Over the course of several hours, Meyer starts so many sentences with "the dream is" that I ask him if that is a direct translation from Danish. He pauses to think about it, then admits, slightly abashed: "No, I think it's just me."
The chef has been idealistic for his whole career. He was the driver behind the New Nordic Food Manifesto, which in the mid-'00s shifted the culinary center of gravity from Barcelona to Copenhagen, from the modernist (hot potato foams) to locally rooted and environmentally sustainable (snails and moss). Eight years later, Meyer tried to do the same thing for Bolivia, working with NGOs to establish a national gastronomic vision and Gustu, a fine-dining restaurant in La Paz, to embody those principles.
In Bolivia, though, Meyer decreed that his restaurant also would train and employ disadvantaged youth. And when that proved tricky — poor kids with no restaurant experience lacked the grace required for fine dining — he tacked, launching a network of affordable cafeterias to train students. The graduates are eligible to continue their studies at Gustu, which is now rated one of the top 50 restaurants in Latin America.
Meyer's big ideas aren't limited to the food realm. Along with two friends, he recently invested in a second-division Danish soccer club, his home team as a child. Already, Nykøbing FC has graduated to the top division. "The dream is to take it to the champion's league for 2025," he says. "It's as improbable as making a great restaurant in La Paz."
Compared to La Paz, New York might seem like it would be easy. But the city has frustrated Meyer, who would, if he could, be doing more than he already is — and faster. (Two more restaurants, still under wraps, are in development.) Locating at Grand Central Terminal has proved a particular headache, as the city's notoriously onerous building regulations are even more so in a historic landmark. Among his complaints: The food hall has reached its limits on electricity ("so if you want to use a food processor or put another lamp in so you can see your bread in the darkness, it's impossible") and bandwidth ("I have to fucking finance infrastructure just to take payments on credit cards.") "I have been in the restaurant business for 30 years," he says. "I've never experienced anything like it."
The Brownsville project, officially known as the Brownsville Community Culinary Center & Neighborhood Eatery, also has taken longer to get off the ground than Meyer had hoped. In part, it's because Meyer and Denton are determined to consult community leaders at every step, building a restaurant that appeals to current residents, rather than the gentrifying hoards. But just negotiating a lease took a maddening six months, and Melting Pot, Meyer's nonprofit that is backing the project, has struggled to raise funds. Brownsville may have the highest concentration of public housing in North America, but it's still New York, and real estate, and everything else, is expensive. Meyer has assembled $1.1 million — more than the total to build and open Gustu — and he imagined (or perhaps dreamed) that when rich New Yorkers heard about the Brownsville project and his track record, the rest of the money would materialize.
After coffee, Denton, clad all in black, gives Meyer and me a quick tour of the still-empty, dusty space a few doors down from 3 Black Cats Café. He points out where the 45-seat restaurant will be; when it opens it will be the only sit-down restaurant in Brownsville, and will include production and teaching kitchens and a café to serve fresh breads and coffee.
Next, Denton whisks us off to a nearby church, where the first cohort of culinary students is training until the new space is ready. After greeting the students with a series of hugs and high fives, Meyer huddles with Mette Strarup, the Danish chef overseeing the culinary training. He wants an update on whether the kids have been paid: It had been a contentious issue, with Melting Pot proposing that trainees receive a small stipend and community leaders adamant that the kids have "skin in the game." It wasn't what Meyer's people expected. "We have our ideas of how we want it to work," Denton says, "but for it to actually work, we have to be flexible." The trainees worked 30 hours a week for three months, but it was tough for the students: One is a single mom, another suddenly found herself with no place to live. When the first checks arrived that week, Strarup reports, 22-year-old Tameel Marshall did a victory lap around the kitchen.
The students cook lunch every day, and in honor of Meyer's visit, they lay a long table with wildflowers and sprigs of leaves, interspersed with green Post-it Notes stating "the plants are not edible." On the menu: jambalaya, salad with a creamy lemon dressing, and a salted jalapeño hot sauce (Meyer is crazy about hot sauce). It's the kind of food — what Meyer dubs "modern soul food" — that the new restaurant hopes to serve. As for what they'll charge, that's still up in the air.
This was always the plan because, Meyer says, to appeal to residents, the food has to be of the neighborhood: familiar and delicious, but healthier than the fast food that dominates. His students agree. Once everyone has served themselves, Meyer asks each student to take a turn talking about — yep — his or her dreams for the program. Nkenge Wiggins, 33, the single mom, says that after working in a hospital, she hopes Melting Pot can help change the culture of Brownsville, its sedentary ways, and the reliance on fried chicken. "Well, not really fried chicken," she adds with a laugh. "You gotta keep the fried chicken."
"I agree," Meyer chimes in. However great his enthusiasm for social change, it's good food that gets Meyer most fired up. Whether it's the students' hot sauce, which would be "goddamn amazing on a piece of cooked pork or chicken that is kind of bland, a little to the fatty side" or a modern version of oxtail he cooked at a Brownsville senior center that was "very intense, clean, very bright. Not muddy with all the fat in it, and packed with fresh ginger" — his years as a TV chef have given him the gift of letting an audience taste without ever taking a bite. "It's not that I'm tired of winning Michelin stars," he says with a laugh. "I do want to have three stars in the New York Times. But …" He stumbles, starting several sentences as he reaches for the right words. "It is correct to say this feels right. And it would feel very wrong not to try to do this."