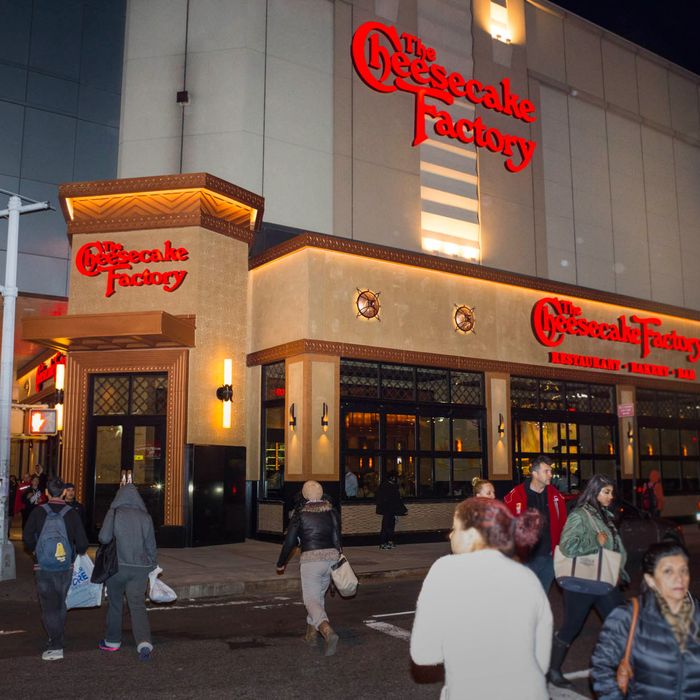 "It's a destination."
Photo: Camilo Fuentealba
Queens is the most diverse county in America, with residents from more than 100 countries who speak at least 138 languages. It's the only major county in the nation where black income is higher than white income. Varsity cricket is a thing in Queens. Sandwiched between both airports, it's New York's borough of arrivals. And nowhere does the unique eclecticism of Queens shine brighter than its food scene, where a restaurant that offers, say, Chino-Dominican cuisine is right at home next to a transcendent dumpling house. In Queens, you can eat homemade arepas, live octopus, chicken feet, Peruvian cuy, and ube ice cream. And, as of this week, it is also the only place in New York City where you can eat at the Cheesecake Factory.
The 8,850-square-foot, 240-seat location that opened in Elmhurst yesterday is the 205th in the world. Eighty-three New Yorkers waited in line to check out the city's first Cheesecake Factory right when it opened at 11:30 a.m. The first guy in line proudly declared he was also the debut customer at New York's lone Outback Steakhouse in 1998. A woman who was also in line said it was the 125th Cheesecake Factory where she'd eaten (she also said she'd been at the Queens location twice already to eat during friends-and-family training sessions).
For many people, the opening of yet another international chain means New York is losing some of its individual character. But there are 8 million residents in New York City, and a stealth #basic streak runs through most of us, the people who know how to order a secret-menu quesadilla at Chipotle, or the fans who look forward to Pumpkin Spice Latte season. We are a city that embraces Dunkin' Donuts and ranch dressing. Even Tim Zagat, of the eponymous culinary guide, confesses a love of Wendy's burgers, McDonald's fries, and buckets of chicken from Roy Rogers.
This New York City Cheesecake Factory is not a Times Square flagship like the Hard Rock Café or Bubba Gump Shrimp Co., places designed to lure tourists in a neighborhood most New Yorkers try their best to avoid. The new outpost is instead in spitting distance of some of the most delicious and diverse food in the world, in a part of town most tourists don't even know exists. This Cheesecake Factory is for us, and the response so far would indicate we're ready to embrace it.
"There's nothing like this in Glendale," says Gertrudis Nieves, a 70-year-old retiree from that neighborhood, who waited on opening day. Maria Rico, a home attendant from South Ridge, told Grub Street she planned to come every Saturday.
"I've had Junior's," says Donnell Robinson, a bartender from South Ozone Park. "It's good. But here they put flavors that you never do with cheesecake." (He's partial to the Oreo Dream Extreme slice.) "Cheesecake Factory is good for kids, for couples, for solo. How many good places in New York can you say that about? And there's not going to be one on every corner. It's a destination."
Navkaran Singh, a med student from East Elmhurst, grew up two subway stops away. "I heard from people who moved here about In-N-Out or P.F. Chang's. I was always like, Why isn't that here?" He says that if New York really is the city that has everything, that should mean everything. "People just talk about Cheesecake Factory as if it's normal, like it's always an option. It is normal, so it should be here." A New York that's missing something, Singh says, can be like "when you open a full fridge and close it, sad, because it doesn't have what you want."
If New York can have Little Britain and Little Tibet, why not Little Suburbia? In fact, for many native New Yorkers, the things that people in the rest of the country take for granted exude their own level of mythical exoticism. "I went once to the Long Island one," Singh says, recalling his first trip to a Cheesecake Factory. "I had the orange chicken, the spinach artichoke dip, avocado egg rolls, and red velvet cheesecake. It was five years ago, and I still remember it so clearly. I think about it a lot — it was like I was a part of this thing I had only heard about."