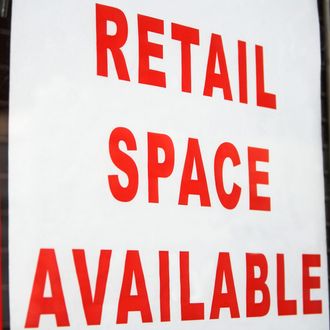 An all too common sight.
Photo: Fotog/Getty Images/Tetra images
The common complaint among New York chefs and their colleagues is that costs — including rent, labor, and even ingredients — are out of control. Now, a new report by the New York Times largely confirms that, yes, the cost of running a restaurant in New York City really is too expensive.
New Yorkers have become accustomed to seeing small, scrappy neighborhood favorites shutter, but it's not just the high rent bearing down on independently operated restaurants here that's causing the closures. According to the report, which compared various expenses to two other major markets, Los Angeles and San Francisco, there are a number of factors that make it untenable to run a restaurant in the biggest city in America.
Yes, the rent is astronomically higher in New York City than it is anywhere else: With help from the country's largest source of commercial real-estate data, CoStar, the Times compared asking prices for "restaurant friendly" spaces of 2,000 to 5,000 square feet. The average asking price in Manhattan and some Brooklyn neighborhoods is $120 per square foot, 6 percent higher than in March 2008. That's 230 percent more than the asking price, $52, in L.A.'s priciest neighborhood, West Los Angeles, and about 267 percent more than in San Francisco's central business district. There, the average asking price is $45 — 19 percent more than it was in 2008.
Restaurateurs also have to cope with rising wages: New York cooks and servers are paid more than those in L.A., though less than in San Francisco. There's just not a lot of wiggle room for independent restaurateurs here, and they'll have to figure out a way to pay their employees more as New York's tipped minimum wage will rise at some companies from $7.50 to $10 by the end of 2018. Owners in New York will also have to find a way to work around the new national overtime rule without increasing payroll.
Restaurants lose customers as they get more expensive, because Americans won't really budge when it comes to how much they'll spend to eat out: According to MIT economics professor William Wheaton, Americans are dead set on spending $1,200 to $1,400 a year on restaurants. They'll also visit restaurants of all sorts, according to an NPD food industry analyst, 190 times a year. So when that independent operator starts charging more for their artisanal tacos, people respond by opting for the cheaper spot, like Shake Shack or Chick-fil-A.
There is an enormous glut of restaurants that compete for customers: New York City has the country's largest number of independent restaurants, but potential diners don't have to eat out. As of this spring, the tristate area — New York, New Jersey, and Connecticut — has more restaurants than anywhere else in the States, with 16.9 restaurants per 10,000 people. L.A. lags behind at 12.1 per 10,000 people, and L.A. is the No. 2 market. An independent operator fending off all this competition just can't weather the storm like a chain.
Meanwhile, people are going to more quick-service chains: There might be too many restaurant chains, but they've seriously cut into the restaurant pie. The customer base for restaurants started shrinking in 2007, as the recession led consumers to quick-service spots. As of June 2016, these businesses accounted for 80 percent of restaurant visits. Independent restaurants in New York, which often don't have much room for error, are particularly vulnerable to this loss of business.
The produce isn't just better and more abundant on the West Coast, it costs less there: New York restaurants aren't just paying more for rent, they're paying more for the tomatoes that are in season for a month or so a year. For a fruit-and-vegetable order for a 65-seat restaurant, major West Coast supplier West Central charges $423 to New York supplier Baldor's $543. That difference adds up to just over $6,200 a year. It's the same at the farmer's market, where Michael McCarty of Michael's says a flat of farmers-market tomatoes will cost him $30 in Midtown to $36 for a double flat in Santa Monica. That's a big difference when making gazpacho.
So does some of the protein: If you've mumbled and grumbled about how your strip steak was so much cheaper in L.A., there's a good reason. Red meat, chicken, and certain fish are all cheaper out West. According to McCarty, a dry-aged steak costs nearly two times as much in Manhattan as in L.A. while a six-ounce piece of lamb rack costs $24.95 in Midtown to $8.85 in L.A. Which is a problem, considering customers are only willing to spend so much and owners can't afford to slash menu prices.
It's so bad, even an executive from one of New York's most successful restaurant groups tells chefs to leave: If there's a home-bred restaurateur that New Yorkers believe can succeed in this climate, it's Danny Meyer. But even his chief development officer at Union Square Hospitality, Richard Coraine, thinks New York is over, telling the Times, "People are leaving to find their dreams elsewhere." And where does he advise chefs to go if they want to make a restaurant work? Los Angeles, which is truly depressing to New Yorkers who lately have become all-too-accustomed to watching friends move west.