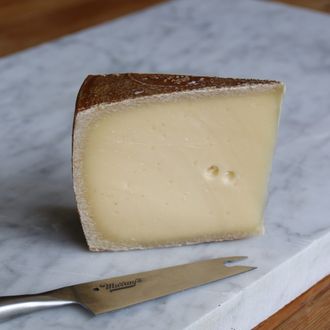 Also makes for great fondue.
Photo: Courtesy of Murray's Cheese
In its 75 years in existence, Murray's Cheese has never actually made its own cheese, so Annelies — which it created from initial concept into R&D, and then aged in its own caves — is a big deal. Murray's worked with world-famous cheese-maker Walter Räss of Kaserei Tufertschwil, and the product (named after Räss's wife, aw) is aged for three months in Switzerland and then another nine months here in New York. The project took three years in total.
All of that effort culminated in a raw cow's-milk cheese that's slightly sweet, with subtle flavors of roasted hazelnuts, butterscotch, and cocoa. It's light enough that it makes for a perfect snacking cheese, but it also melts beautifully, which is ideal for New York's imminent fondue weather. You don't have to be in the city (or Räss's tiny village in Switzerland, where it's also sold) to try it, though; fortunately, it's sold online. Serve it at your next party and brag about its impressive origin story; it'll put all of the other cheeses to shame.