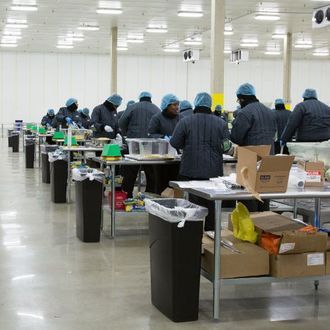 Jersey City workers wondering when the next fight is going to break out.
Photo: Courtey of Blue Apron
Blue Apron's problems with workplace violence apparently stretch a little further than one California fulfillment center. Fresh off the news that the meal-kit start-up's Bay Area warehouse isn't all couscous and roses, the New York Post sent a reporter gumshoeing around the Jersey City facility and discovered most of those same problems there, too. The paper says police have shown up six times since the plant opened in 2014, and things got bad enough that employees briefly tried to arrive armed with knives and razors "to protect themselves," and everything sort of came to a head on September 20, when "bedlam erupted" — three fights in half a day, reportedly causing corporate executives who were visiting that day to "flee the premises."

Unlike the violence and borderline sweatshoplike conditions BuzzFeed uncovered last week inside the Bay Area facility, none of that day's incidents were reported to police. But they still sound nuts: a guy shoving a co-worker's head into a meal-kit box full of frozen meat, a screaming match that escalated into a fistfight, and another brawl witnesses described as being "like one of those videos in jail, where a fight breaks out and everyone stops what they're doing and gets rowdy."
Blue Apron has confirmed the violence took place — or, as the Post described it with characteristic tact, a "knuckle sandwich to go with that kale and quinoa" — but has only issued a fairly generic response saying: "With over 5,000 employees nationally, it is unfortunate but unavoidable that incidents may occur from time to time, as they do at any employer of our size. If they do occur, we take immediate and appropriate action." The Jersey warehouse employs more than 1,000 workers, and appearing in control of the insanity that's been wracking the assembly line is probably a key step to Blue Apron's ambitions of going public. Could take some work, though: It seems sexual harassment isn't exactly uncommon at that facility, either, a problem the company says it's addressing through new manager training last week and also an anonymous worker tip line.