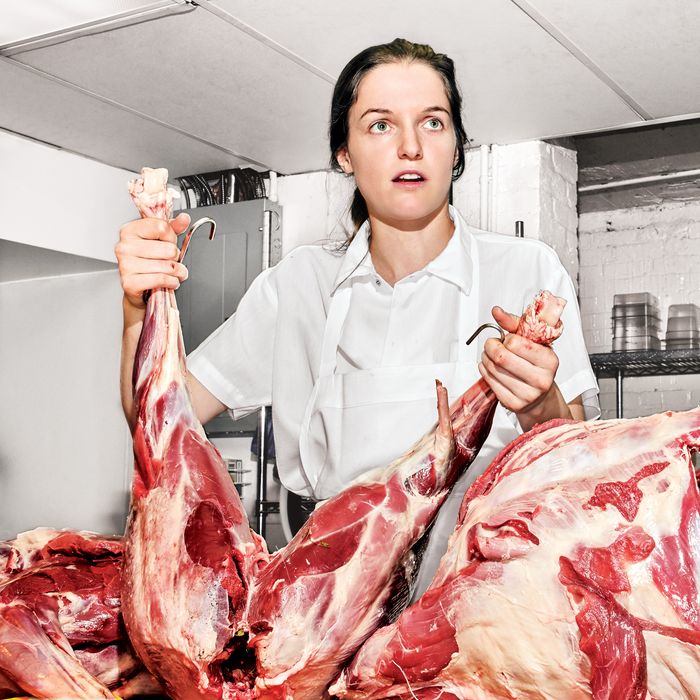 What dinner-party prep looks like for Liz Johnson.
Photo: Bobby Doherty/New York Magazine
For this year's Holiday Food special, we sent American cooks with French restaurants into homes (and the Frick) to host relatively easy-to-replicate dinners.
On a Sunday night in mid-October, a group of mostly young chefs is gathered in a Soho loft, watching as Stephan Bogardus, the chef at the North Fork Table, whips out the crossbow that he used to kill a deer 11 days earlier — the same deer that is sitting on a bed of hay in the kitchen, waiting to be carved. The deer and the guests are all here because Liz Johnson, the 26-year-old chef at the tiny, much-adored new French bistro Mimi, has requested their attendance. It's in some ways an early farewell party, as Johnson and her fiancé, Will Aghajanian, also a chef at Mimi, will be leaving the restaurant at the end of November, heading to Spain for their next culinary journey. In the meantime, Johnson and Aghajanian are running around the apartment and preparing the hypertraditional French meal. "I have never seen Liz sit down," says her friend Isabel Coss, who cooked with Johnson at Empellón Cocina and is now at Agern. Aron Pobereskin, also an Empellón Cocina alum, along with Adina Halpern from Le ­Coucou and Johnson's sister Emily, are helping open the Long Island oysters and adding finishing touches to the table of fall foraged mushrooms and deer antlers. Says Pobereskin as he checks out the spread: "It's extravagant and a totally over-the-top type of cooking you don't see anymore." Everyone digs in and piles their plates high, going back for seconds as Johnson cuts open the salt crust and starts to slice the venison. (It's accompanied by a sauce royale, made from pig's blood, port, and brandy.) After dessert (which includes a baba au rhum with husk cherries), the French-born Louis Levy, one of Mimi's owners, collapses on the sofa: "This reminds me of La Grande Bouffe."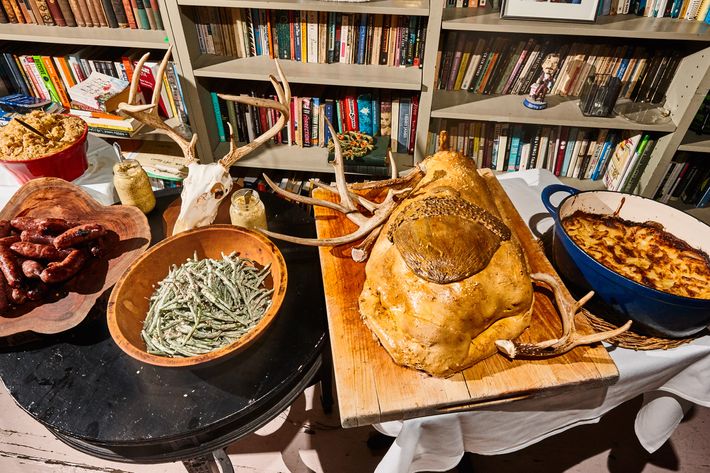 Pork rillette
Pâté en croûte
Jambon chaud froid
Oysters with green-peppercorn mignonette
Dwight's ham
****
Venison cuit au foin
Pommes dauphinois
Saucisson à l'ail with sauerkraut
Haricots verts rémoulade
Sauce royale fountain
****
Baba au rhum with husk cherries
Pain d'épice
Tarte au chocolate
Far breton aux pruneaux
Wines Served: Château Tour du Fossat, Sauvignon Blanc, Bordeaux, 2014/La Ferme du Mont, Côtes du Rhône, 2013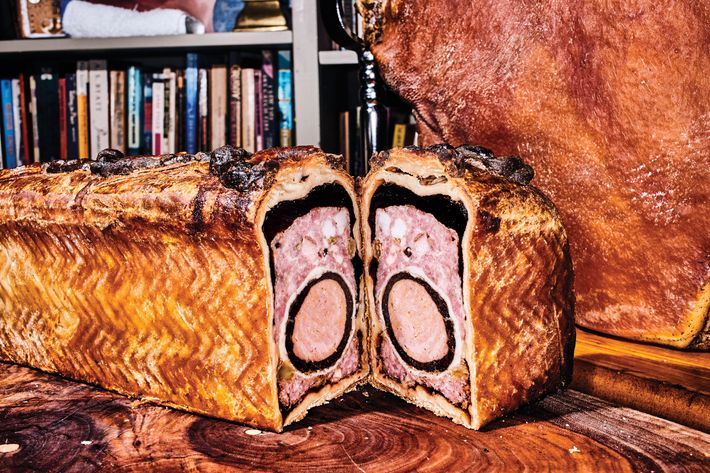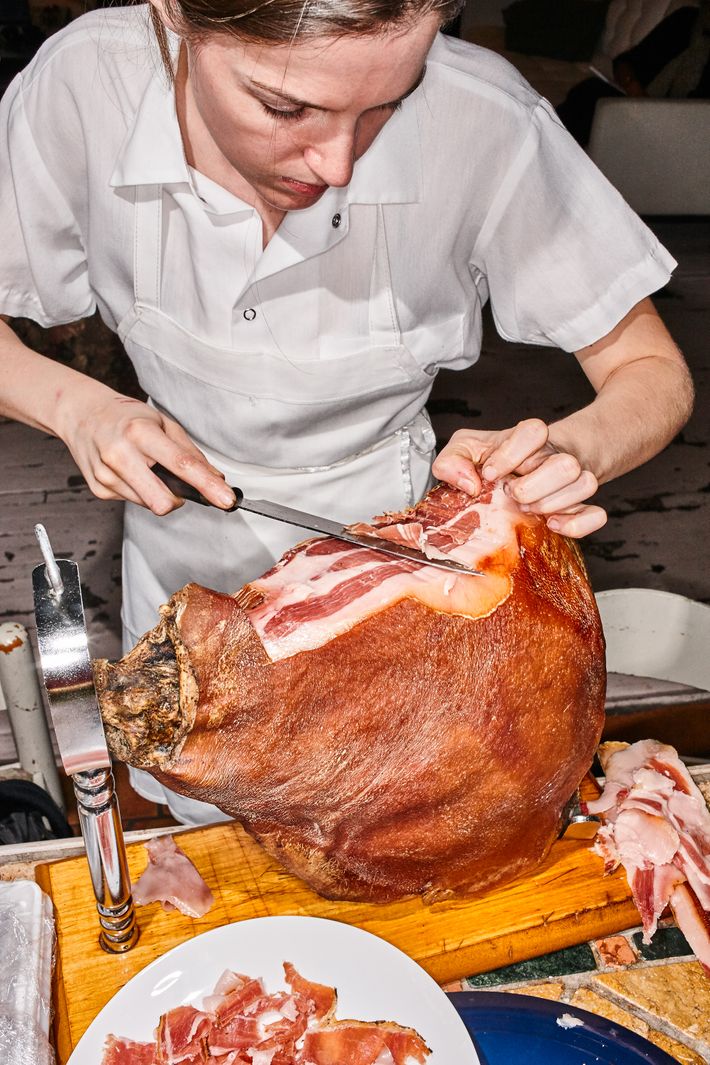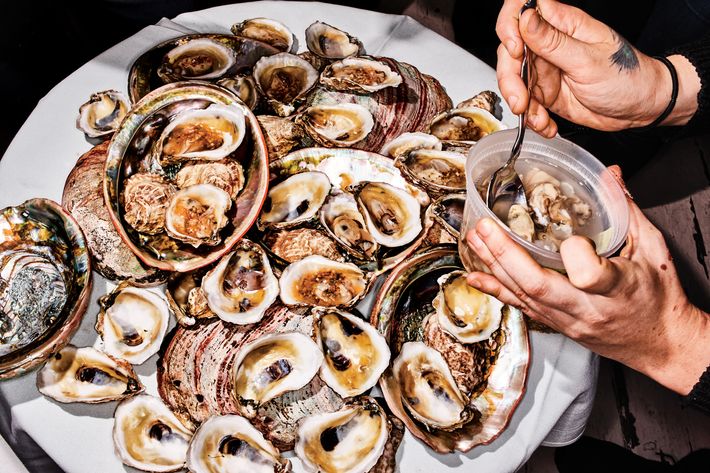 1 cup salt
¼ tsp. TCM No. 1 (curing salt, optional)
8 garlic cloves, sliced
12 sprigs of thyme
40 cracked black peppercorns
2 lbs. pork butt
1 onion, cut in eighths
1 1-inch piece ginger, peeled, halved, and crushed
12 oz. duck fat
1 tsp. freshly ground black pepper
Mix the first 5 ingredients together in a bowl, then massage into the pork butt. Wrap tightly in plastic wrap and refrigerate up to 24 hours. Rinse the pork, removing as much salt as possible, and allow to sit uncovered in the refrigerator overnight. Preheat oven to 300 degrees. Put the pork in a tight-fitting deep pan. Place the onion and ginger around the pork and cover in duck fat. Cook in the oven for 3 to 4 hours or until tender and meat pulls away with a fork. Remove the pork and roughly shred, and strain the fat, onions, and jus from the bottom of the pan, discarding the ginger. 
Crush the onions in a mortar and pestle, transfer to the bowl of a mixer, add the pork and jus, and mix with the paddle attachment until the meat is completely shredded. Slowly stream in the fat to emulsify, but do not let the mixture break. Stir in the ground pepper. Transfer to a jar, cover with fat, and store in the refrigerator. Serve with whole-grain mustard and cornichons.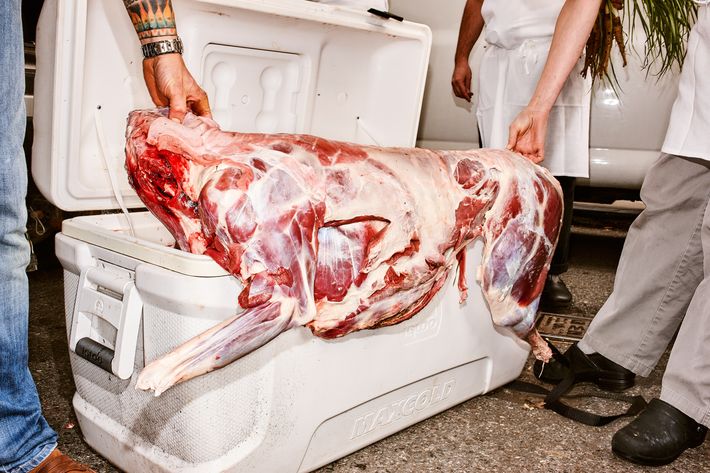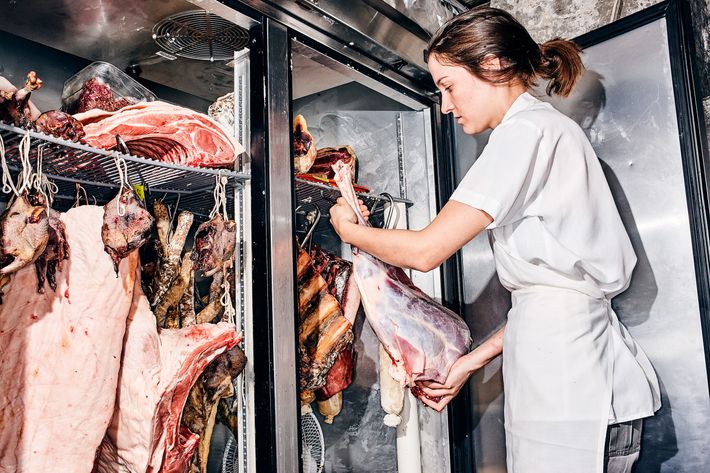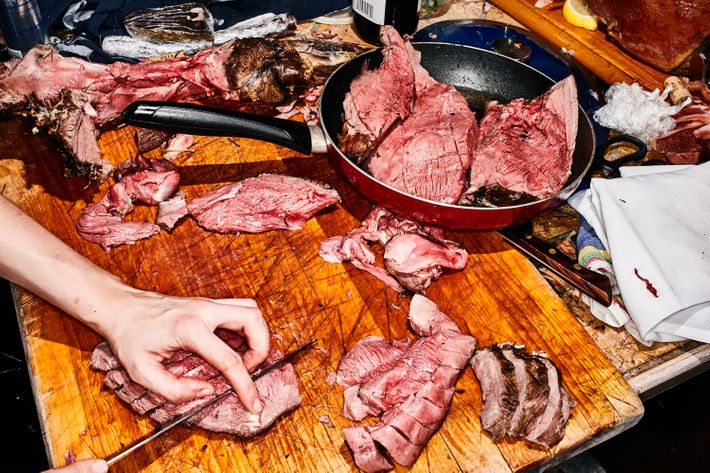 Recipe:
Venison
Cuit
au
Foin
A leg of lamb can be substituted.

Salt crust dough (this recipe should be doubled for the venison):
5 cups AP flour
3 cups kosher salt
5 egg whites
Meat:
8 lbs. venison leg (or a 5-lb. leg of lamb)
1 tbs. canola oil
Large handful hay (if you can't find hay, and happen to be in the country, pick some long grass and wash it carefully before drying it in the oven at 250 degrees for about 2 hours)
Salt and freshly ground black pepper
1 egg, beaten
Dough: Combine the flour, salt, and egg whites with 1½ cups water in a large bowl and knead until it forms a dough. Chill for 1 hour.
Meat: Season the leg with salt and pepper. In a large skillet or under the broiler, heat the oil and sear the leg all the way around until brown. Remove from the pan. Preheat the oven to 425 degrees. Divide the dough in half, and roll out 2 ovals ½-inch thick on parchment paper. Place 1 sheet of parchment paper with the dough onto a large cookie sheet pan, set the leg in the center, and stuff the hay underneath, around the sides, and on top of the leg. Place the remaining dough on top and seal around the sides to completely enclose the leg. Brush the dough with an egg wash. Bake in the oven for 1 hour and 45 minutes to 2 hours and 15 minutes, or until the internal temperature reaches 125 degrees (or bake for 1 hour if using a leg of lamb, or until the internal temperature reaches 125 degrees). Allow the leg to rest for 20 to 25 minutes before breaking open the crust.
How to salt-bake venison: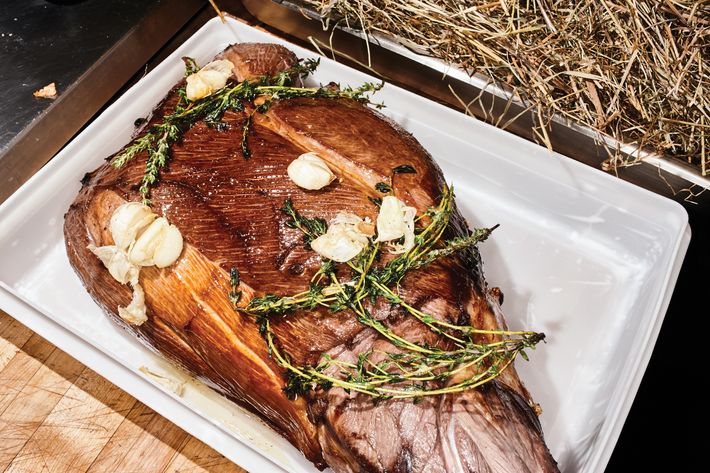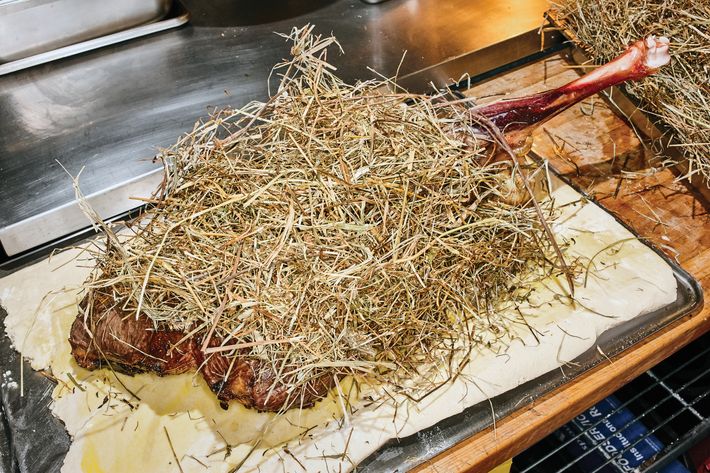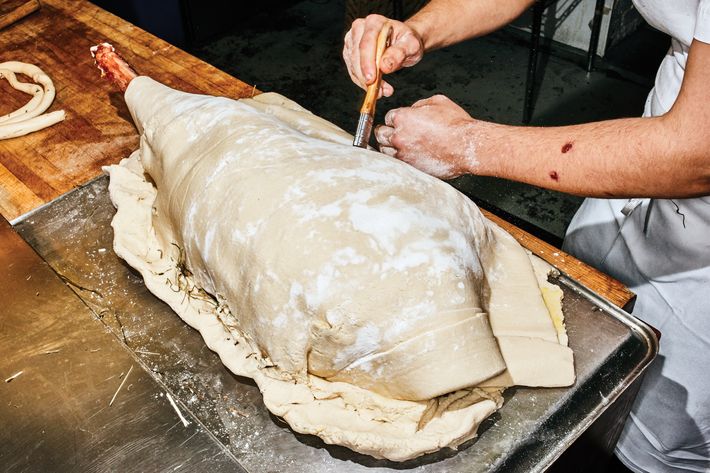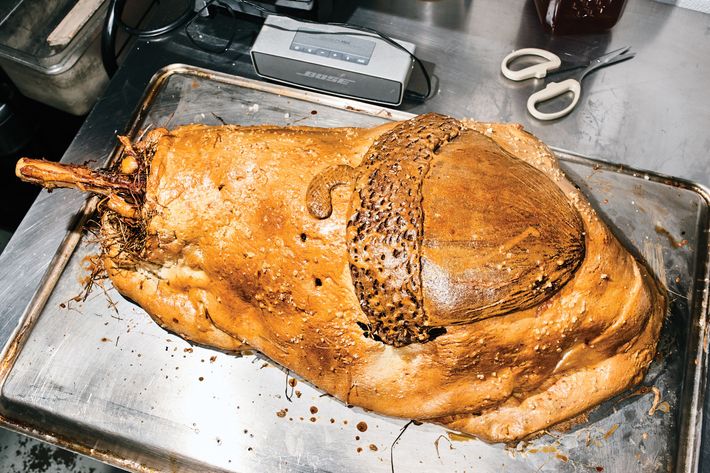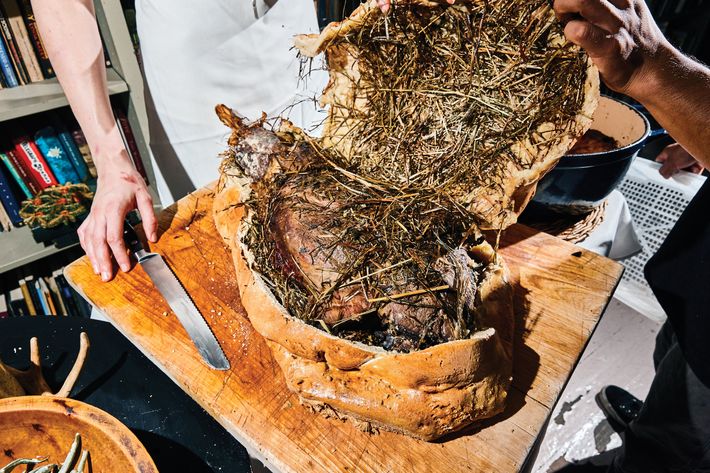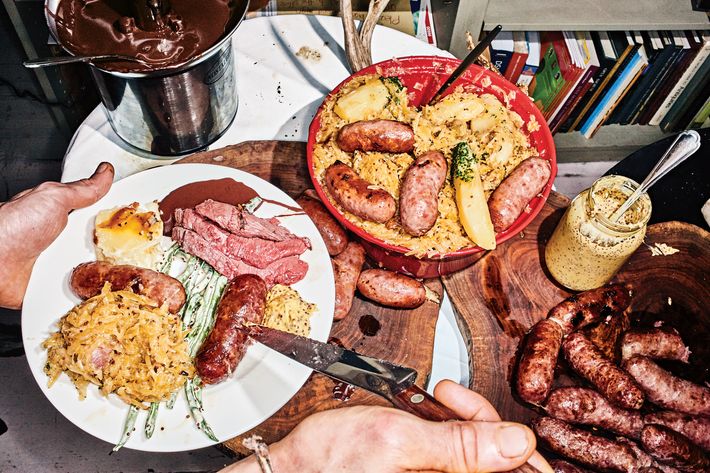 Recipe:
Pommes
Dauphinois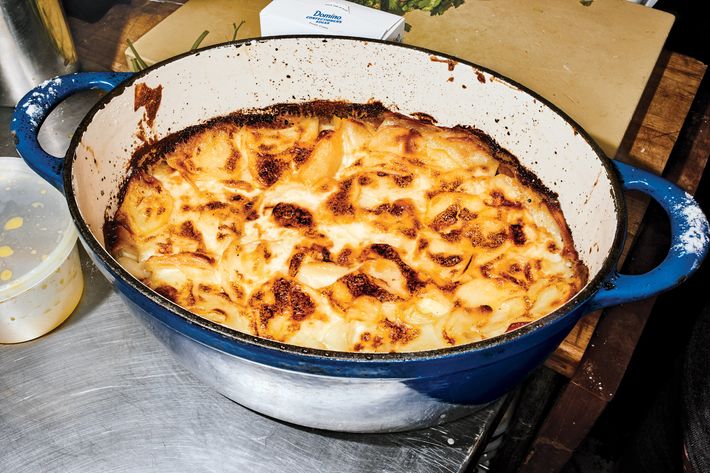 3 cups heavy cream
4 cloves garlic, sliced
1 tbs. whole black peppercorns
3 sprigs thyme
1 tbs. salt
1 tsp. butter
Freshly cracked black pepper
9 Idaho medium/large potatoes
Add the cream, garlic, peppercorns, and thyme to a large saucepan. Bring to a boil, remove from heat, and allow to steep, covered, for 30 minutes. Strain the cream and season with salt. Butter a gratin pan and sprinkle cracked pepper over the butter. Meanwhile, peel the potatoes and slice thinly on a mandoline. Preheat oven to 350 degrees. Heat the strained cream to a simmer and drop in the potato slices one by one while rotating the pan, to help the starch from the potato activate. Bring to a boil and simmer for 5 minutes, stirring occasionally to stop the potatoes sticking. When the cream has thickened with the starch from the potatoes, transfer to a baking dish and bake for 45 minutes to an hour, or until the top is golden.
Recipe:
Haricots
Verts
With
Rémoulade
Sauce
Rémoulade sauce
1 cup mayonnaise
1 tbs. whole-grain mustard
1 tbs. Dijon mustard
1 tbs. tarragon, minced
1 tbs. sliced chives
1 large shallot, minced

2 lbs. green beans
Lemon juice
Maldon sea salt
Rémoulade: Place the mayonnaise, mustards, tarragon, chives, and shallots in a bowl and stir until combined.
Beans: Clean and blanch the green beans in a large pot of boiling salted water until tender. Drain and shock in ice water, drain again, and set aside to dry. Just before serving, transfer the cold beans to a large bowl, stir in the rémoulade sauce, and season with lemon juice and crunchy salt.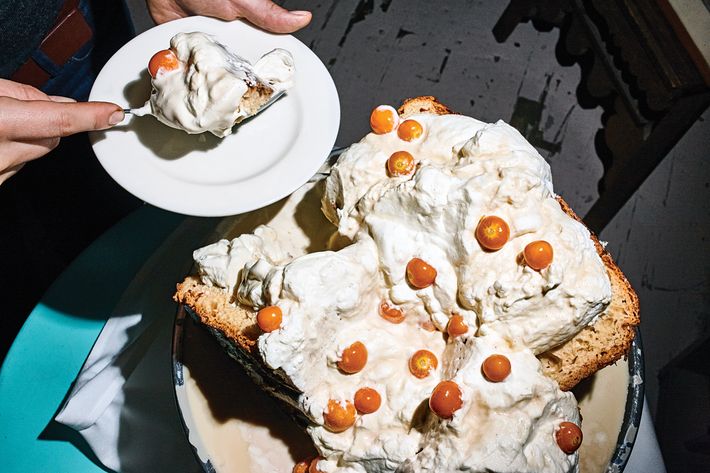 Recipe:
Far
Breton
aux
Pruneaux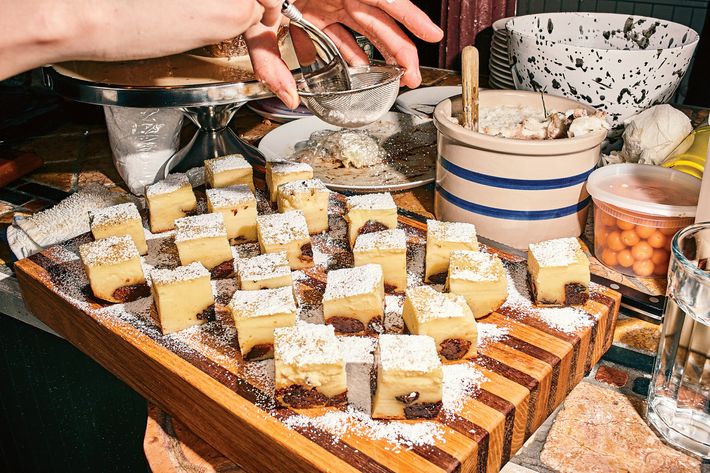 20 large prunes, diced
Salted butter for greasing dish
1 vanilla bean
4 cups raw milk (or add ½ cup cream to 3½ cups regular milk)
4 eggs
1 cup sugar
1¼ cup plus 1 tbs. AP flour
Pinch salt
1 tbs. rum
Preheat oven to 400 degrees. Butter a 9-inch-round deep dish and sprinkle prunes over the bottom, pushing them into the butter to stop them from moving when liquid is added. Combine vanilla and milk in a saucepan and bring to just above room temperature. In a bowl, whisk the eggs and sugar until combined. Gradually temper the eggs with the warm milk, add the sifted flour and salt, and stir to combine, before adding the rum. Pour mixture over the prunes and bake in the oven for 15 minutes. Rotate, reduce temperature to 350 degrees, and continue to bake for 45 minutes, or until the center is just set. Allow to cool and serve.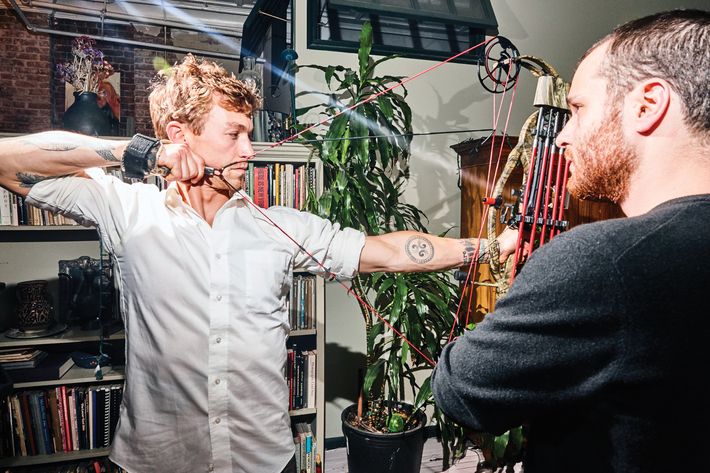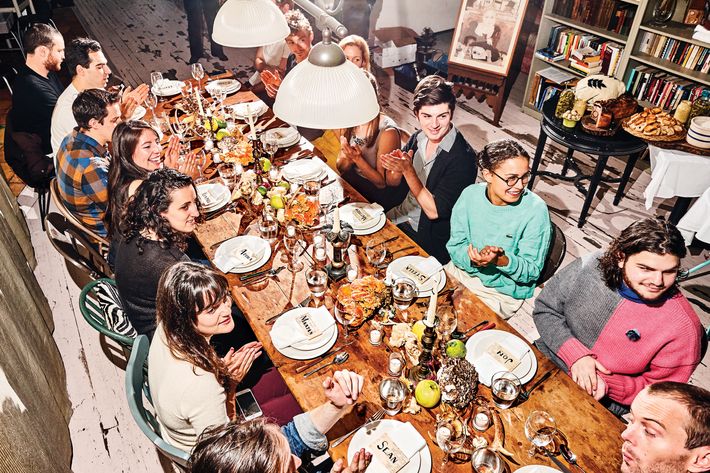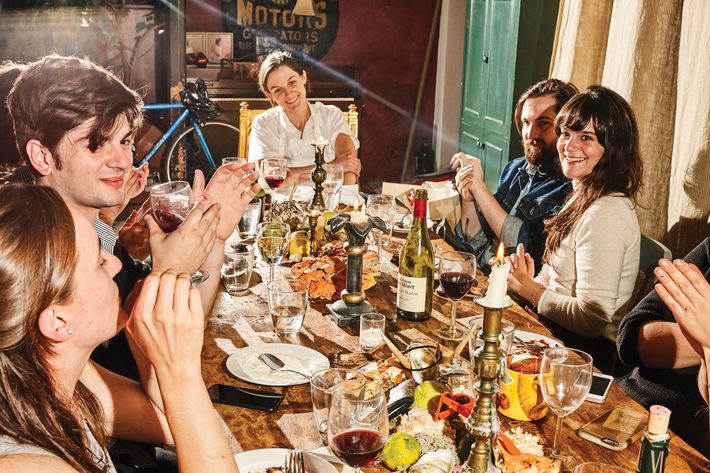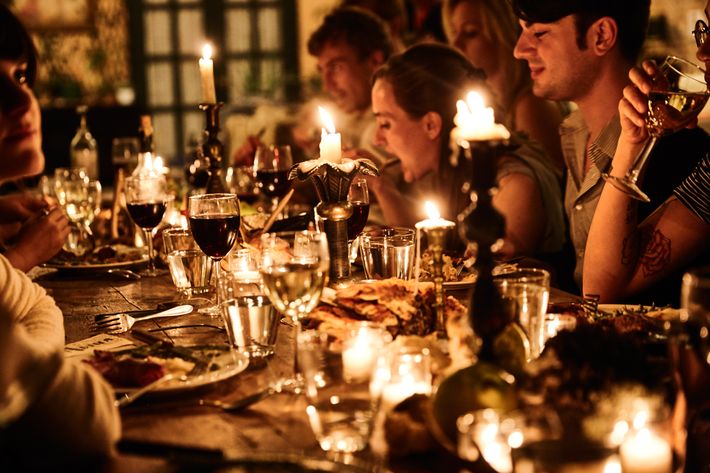 Get Printable Versions of the Recipes
Pork Rillette
Venison Cuit au Foin
Pommes Dauphinois
Haricots Verts With Rémoulade Sauce
Far Breton aux Pruneaux
*This article appears in the October 31, 2016, issue of New York Magazine.