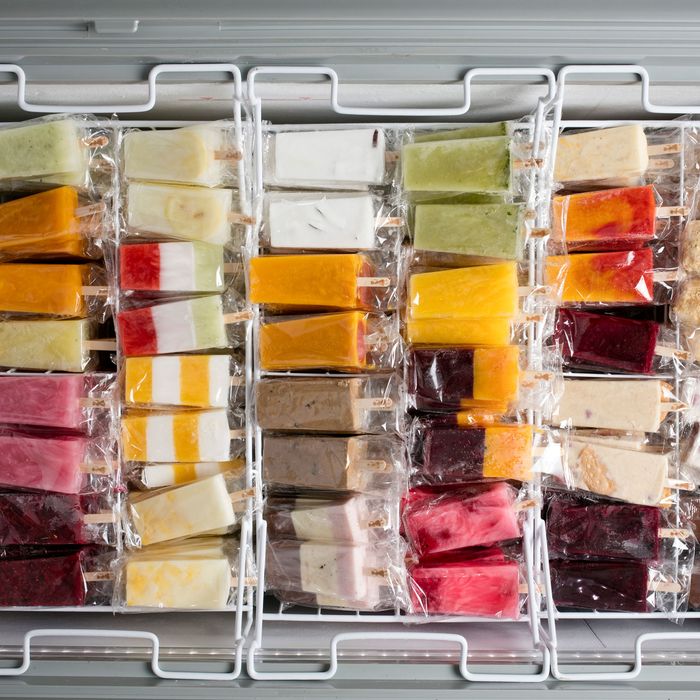 So many sweets.
Photo: Melissa Hom/New York Magazine
Consider this your next dessert destination. Later this week, Mexican dessert authority Fany Gerson will finally open her long-in-the-works ice-cream-and-sweets shop La Newyorkina. After a soft opening that should begin this weekend, Gerson hopes to formally open on October 14. Also known for her work as the chef and co-owner of Brooklyn doughnut destination Dough, Gerson has peddled paletas, polvorones (a.k.a. Mexican wedding cookies), and other traditional Mexican sweets through the La Newyorkina brand for the last six years. During that time, she's sold her treats online, run paleta carts at the High Line, and run a small shop in her production facility, but never had a dedicated brick-and-mortar space until now.
Located at 240 Sullivan Street, La Newyorkina will be just south of Washington Square Park — making it an ideal pit stop on warm days, before an afternoon of lounging. When working with her designers and architect, Gerson emphasized bringing in as much from Mexico as possible to present a "sophisticated, modern, and urban" side of the country. So one section of the counter was made with tiles from Mérida, Yucatán; she flew in an artist from Mexico to paint a mural and design the exterior (which won't debut yet, as the building is landmarked); and the bar stools were purchased from a design company out of Guadalajara.
The shop will carry all of your favorite La Newyorkina treats and then some, but the most exciting menu item will be something brand new to New York's robust ice-cream scene: nieve de garrafa. Unlike traditional ice cream, it's not churned but made with an oversize wooden paddle. When made with dairy, the result, Gerson has previously told Grub, is "custard in its purest form," and she'll offer it in flavors like coffee with pecans and requeson cheese with fruit.
There will also be traditional ice cream and sorbet, with flavors like mole, horchata, tres leches, and tropical margarita to start. You'll be able to go full sundae with chipotle or Oaxacan chocolate hot fudge, and confections will also be available as toppings. Candy freaks will also want to take note of the spicy pumpkin-seed brittle, chocolate-coated amaranth puffs, and galletas, a.k.a. butter cookies sandwiched with a dark chocolate filling. And as it gets colder, Gerson will start making specialty hot beverages like cafe de olla and marquesitas, a crispy waferlike treat made from cone batter and stuffed with fillings like gouda, cajeta, and jam.