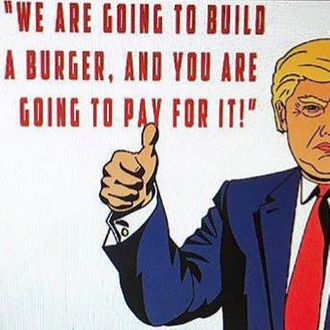 Two little thumbs waaay up.
The veterans behind New York's Will Ferrell– and Tim Burton–themed bars are back with a new spot that "holds two middle fingers way up high" to celebrate the "real America." Simply called 'Merica (its name was no doubt the easiest part), the space at 320 East 6th Street in the East Village — which opens October 15 — is the latest by restaurateur duo Zach Neil and Radouane Eljaouhari. They figured nothing honors the ol' US of A like an eatery full of unhealthy food, assault weapons, flags and other grotesquely clichéd Americana, and the possibility of angry customers fighting about politics.

The mockery continues with the food menu. An early version included "The Kanye" ("Fried breast of chicken tossed in a creamy rich Alfredo sauce served over mashed potatoes, then drizzled with a balsamic glaze"), but Neil said that dish was meant simply for "shock value," so patrons will have to make do instead with other, actual options like the 100 Calorie Lie, a Hillary Clinton–inspired triple cheeseburger that DNAinfo says includes bacon and a layer of mac and cheese and is falsely advertised as being 100 calories. Of course, you might call that sandwich "low energy" next to the T-Rump Mexican Burger.
He adds there's going to be a weekly debate night where people will "go head-to-head on a variety of topics — both serious and comic — with food-related penalties for the loser, such as having to pay for the winner's meal."