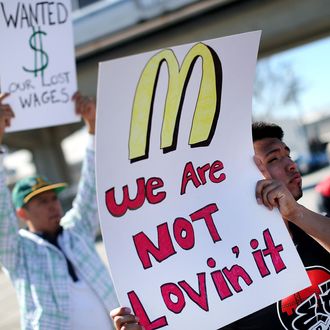 Workers get another step closer to fair bargaining power.
Photo: Justin Sullivan/Getty Images
McDonald's has agreed to settle a massive wage-theft lawsuit filed by about 800 of its employees — the first time the fast-food juggernaut has settled any legal action directly with franchise workers, marking a sort of breakthrough moment for U.S. labor rights.

Assuming a judge approves the deal, the corporate chain will pay a total of $3.75 million. Of that, $1.75 million will be earmarked for the plaintiffs, whose suit accused their California franchise, Smith Family LP, of stealing overtime, not keeping accurate pay records, and failing to reimburse them for the time it took to clean company uniforms. The chain will also be out another $2 million in legal fees.
The timing isn't grand for McDonald's, which awaits the final verdict in an even bigger labor-law matter that will decide if the company is considered a "joint employer" alongside its franchisees — a designation McDonald's decidedly wants to avoid, as it could mean legal responsibility for franchisees' labor violations. Not surprisingly, McDonald's reiterated in its statement today that, in case there was any confusion, it's definitely not a joint employer. To explain why its attorneys negotiated directly with employees, a rep told Reuters, "We entered into this mutually acceptable resolution to avoid the costs and disruption associated with continued litigation."

Fight for $15, the group instrumental to several recent labor victories, reads something different in these tea leaves: "This settlement is just the latest example of how workers … are holding the company accountable," it said in a statement. "The courageous McDonald's workers who brought this suit forced one of the world's most powerful companies to take responsibility for the way it treats us."