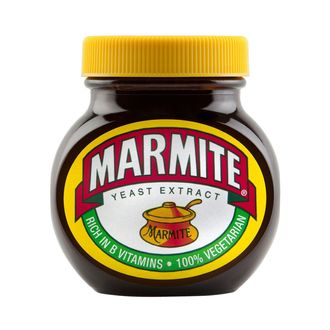 Things in England are bad: Brexit is looming, the pound is reeling, and now the country's largest grocer, Tesco, is taking a stand against Marmite, the beloved spreadable yeast extract that has been one of the country's staple foods for decades.
The calamities are all related. The conflict stems from the pound's devaluation since the Brexit vote, so Unilever — which makes Marmite — wants to charge more to make up for its losses. Tesco isn't having it and has shown it's serious by dropping all Unilever products from its website. (They're apparently still available in stores.) Brits are, understandably, doing what anyone does when catastrophe looms: hoarding the available foodstuffs and making jokes on Twitter.

People are taunting social media by posting pics of Marmite in undisclosed store locations, convenience-store chain Londis is trying to exploit the situation with a year's-supply giveaway, and there's a "used" bottle on eBay half-seriously listed for £100,000.