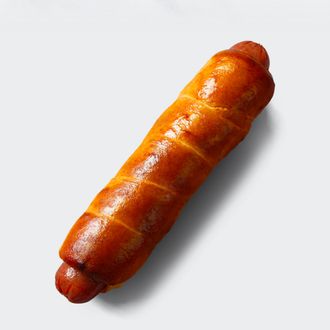 Food-court pretzel purveyor Auntie Anne's has run into a curious problem over in Malaysia: Officials with the government's Islamic regulatory agency say its Pretzel Dog is "confusing" citizens because they aren't sure if it contains dog meat. Because if it does, you know, first of all … just ew. But that would also mean the beloved menu item isn't halal — a major problem for the majority-Muslim country.

The Associated Press explains the nation's predicament:

The chain, Auntie Anne's, has been told by Islamic authorities that its popular Pretzel Dog, which contains no dog meat, has to be renamed as it is confusing for Muslim consumers.

The Malaysian Islamic Development Department has told the U.S. company to banish the word "dog" from its menu and suggested that the frankfurter wrapped in a pretzel be called Pretzel Sausage as part of conditions to obtain halal certification based on Islamic dietary laws. Dogs are deemed unclean in Islam.

Granted, the hot dog's quasi-literalness is confusing — as a general rule, it's hot, but canine in absolutely no shape or form. It's not the first time Malaysian authorities have made this name-change request, either: A&W found itself in a real bind when the government not only frowned at its hot-dog-heavy menu, but also wasn't a fan of its root "beer." The menu now uses "RB" for root beer, and "coney" and "frank" for the hot dogs. Auntie Anne's says it's suggested a few alternatives and will just wait to see how this one works itself out. They should definitely steer clear of "catsup" in the meantime, though.