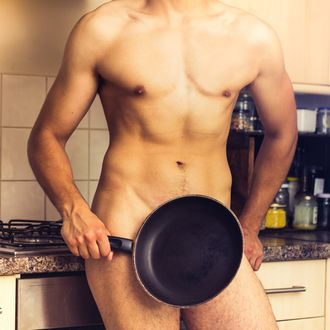 Not going anywhere.
Photo: Logan Bannatyne/Getty Images/iStockphoto
This week's going to go down as a major victory for London's weekend-warrior nudists. The naked restaurant that regrettably spawned a global clothing-optional dining trend is returning permanently to the city where a frenzied pack of 45,000 people signed up to eat "Caveman-style wood-grilled meats" buck naked by candlelight. As soon as he finds a proper spot, founder Seb Lyall says the Bunyadi will reopen "for good" for modernity-shunning Londoners and deep-pocketed foreign naturists alike.
He's quick to add that all of people's initial fears were unfounded, too — there were no lapfuls of hot soup, or patrons who got way too excited eating a dinner stripped of all its technological impurities. "The quality of that community was amazing," he notes, "so now it's my job to keep it there and bring it back." Apparently it was a rousing success with a "younger, liberal crowd": About 75 percent of customers were in their 30s, and allegedly more than two-thirds were women. Lyall thinks the selling point was that these people felt liberated by being able "to dress down rather than dress up." And in fact he's so thrilled with how things went the first time that no noteworthy changes are planned for his forever location.

For those who just can't get enough of this guy's restaurant ideas, he's also building a permanent version of his Breaking Bad–themed bar ABQ, where guests wear hazmat suits and pay big money for drinks "that can blow up and kill people."