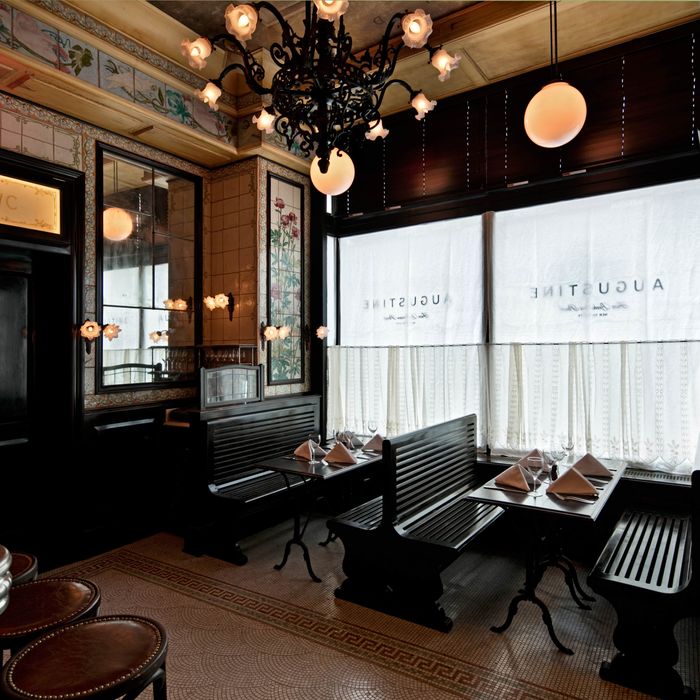 Look familiar?
Photo: Melissa Hom
No restaurateur is more closely identified with jump-starting culinary backwaters than Keith McNally. Even if he's not always the very first to plant a flag, his presence in an unlikely neighborhood somehow legitimizes it. He did this first in 1980 with the Odeon in primordial Tribeca, and later with Pastis in the Meatpacking District and Pulino's (which morphed into Cherche Midi) on the Bowery. With Augustine, opening November 1 for dinner, the restaurateur expands his realm to the Financial District, opposite City Hall Park. But Augustine's geographic location is less intriguing than its physical one: the ground floor of the new Beekman, the hotel-condo conversion of a landmarked 1880s office building distinguished most by its preserved architectural details and soaring nine-floor atrium.
Augustine is McNally's first hotel restaurant, but he won't be providing room service (that task falls to Tom Colicchio, who has just opened his own bar and restaurant next door). Instead, McNally can focus on tried-and-true McNallyisms: the bustling breakfast-to-late-night service of Balthazar, the Creekstone Farms–branded beefsteaks of Minetta Tavern, and the contemporary French flavor of Cherche Midi, courtesy of the co–executive chefs who oversee all three of those restaurants (Shane McBride and Daniel Parilla). Their menu includes dishes like cheese soufflé, petit aïoli of vegetables and seafood, and a selection of rotisserie-cooked meats (another McNally first). Wines are mostly French and the rest American. And pastry chef Regis Beauregard has been imported from Balthazar's London branch.
In typical fashion, McNally has teamed with long-time collaborators like architect Richard Lewis and co-designer Ian McPheely, with whom he's furnished the 90-seat expanse of brown banquettes, vintage mirrors, and Art Nouveau tile. Cocktail consultant Dale DeGroff, who helped McNally launch Pravda two decades ago, has assembled a drink list of signatures and classics, including five riffs on the martini — "the kinds of cocktails people regret drinking the morning after," says McNally. He named Augustine after the fourth-century Christian theologian and philosopher, which is apt for a place of food, drink, and appetite: Besides being the patron saint of brewers and printers, Augustine also had a hand in formulating the doctrine of original sin.
5 Beekman St., at Nassau St.; 212-375-0010