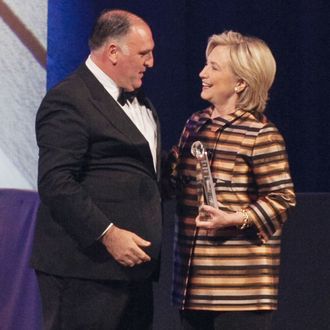 Duh. He's with her.
Photo: Teresa Kroeger/Getty Images
Chef José Andrés flew to the battleground state of Florida this week to finally stump for Clinton, a move a lot of people saw coming that's part genuine Hillary support, part enthusiastic desire to publicly crow over his erstwhile landlord's awful poll numbers. The Spanish-born chef has said before that he cried after he and his wife became naturalized citizens in 2013, so November 8 will be a big day for the Andréses. The Clinton campaign recruited him to introduce her at a Tampa rally yesterday, where he took the mic in full chef's whites and bellowed, "My name is José Andrés, and I am an immigrant!" Not that there was ever any doubt, but he announced he's definitely voting for Clinton in his first presidential election.

José Andrés really loves America, though, and he went on for nearly 15 minutes in rhapsodic terms about how great his new nation is, before taking a few digs at a certain rival candidate whose hotel was having its grand opening that exact same day:

This election is a battle between two forces — the forces of inclusion and the forces of exclusion. The forces of exclusion include hatred and envy and anger and suspicion and division. These forces build barriers and borders and barricades. They promote conflict, inequality, violence, dislocation, and war. Sometimes, those forces, they only care about making money. No matter how many workers they abuse, they don't care. Or how many small businesses they stiff, by not paying them for what is rightfully theirs. And even some that claim they want to "make America great again," they don't even pay their due tax.

The forces of Trump can't destroy Andrés's optimism, though. "Yes, our country is torn between the desire to include and exclude," he admitted toward the end, but he added he's confident and ordered the crowd to go "elect a leader who knows everybody belongs." The campaign probably regrets waiting until two weeks before Election Day to tap into this man's charisma.