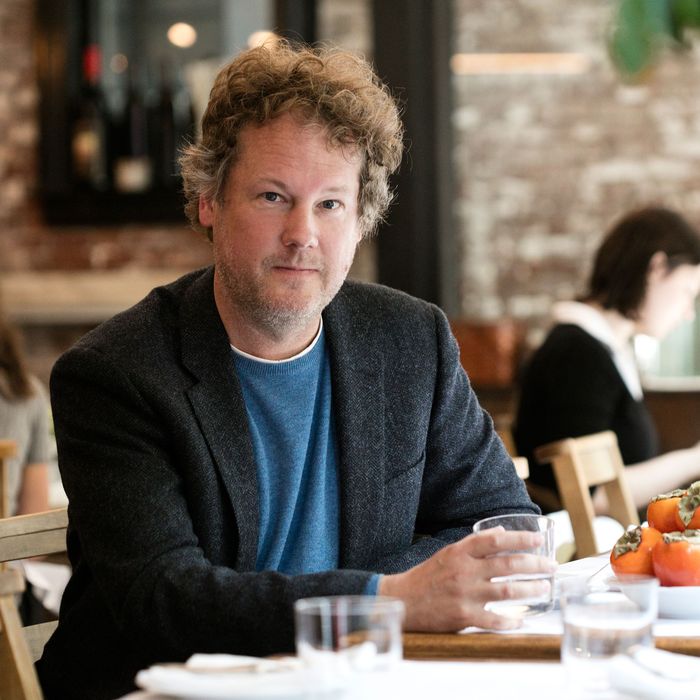 "We order too much, which is another thing I always do at Via Carota."
Photo: Melissa Hom
"A big part of my job is to go scout around for the best new restaurants and bars," says Jeff Gordinier, the former Times writer and Esquire's newly appointed food and drinks editor. "I can't imagine tiring of that, but the hustle of it occasionally goes against the grain of my own inclinations." That's to say Gordinier loves being a regular, and this week, he frequented a few of his favorite spots — Via Carota, the Great Northern Food Hall, Tea & Sympathy — while trying new places, like BlackTail and the bar at the Beekman hotel. Read all about it in this week's Grub Street Diet.
Wednesday, October 12
Cold brew. Rivers of it. That's how my days begin. I can't write without coffee. I'll happily drink hot coffee, too, but what I like about cold brew is that it enters the bloodstream immediately. The goddess of cold brew is my friend Michelle DeForest Leddy, who runs a frozen-yogurt spot called Brrzaar at the train station in Irvington, New York, where I do yoga some mornings. Michelle comes from New Orleans and she makes the cold brew Louisiana-style — with chicory. How committed am I to Michelle's cold brew? I buy growlers of it. People see me walking down the street with a growler in each hand and they probably think, "How pathetic it is that writers really do get drunk in the morning." No, no. It's coffee.
This morning I suck down some of Michelle's cold brew from a growler in the fridge but I also sample a can of Modern Times that I'd spied at the supermarket. On the back of the can it suggests that the flavors you will encounter in this Ethiopian/Sumatran cold-brew blend are: "blueberries," "chocolate," "sex." My palate is only picking up the blueberries.
I compulsively repurpose restaurant leftovers for breakfast — I have made delicious frittatas with Upland's cacio e pepe and morning scrambles with Mission Chinese Food's salt-cod fried rice. But this morning I grab a cast-iron pan and fry up a hash from roasted delicata squash and herbed red potatoes that my girlfriend, Lauren, and I had had for dinner. Fried eggs go on top, as they must.
I've lost track of how many times I have eaten at Via Carota in the West Village. Twenty? Forty? I head for Via Carota today for lunch with my friend Cara Buckley, who covers Hollywood for the Times. We chat about the various stories we are working on and we order too much, which is another thing I always do at Via Carota. Roasted carrots, broccoli rabe, grilled artichokes, a scoop of perfectly cooked tortelli filled with smoked ricotta. Cara gets a bowl of the Italian soup called ribollita because she is fighting a cold.
Midway through the afternoon I climb the stairs into the calming oasis of the Cha-an teahouse in the East Village and I get a pot of pu-erh tea.
In the evening I meet Lauren for dinner at Eleven Madison Park. For a while now I have been wanting to return to Eleven Madison Park to get a sense of what chef Daniel Humm is up to with the latest iteration of the menu. The man is in the zone. The food is luxurious and delirium-inducing. Celery root en croute, butter-poached lobster with rutabaga and pear, roasted honeynut squash that you spread on bread with copious amounts of butter. All the acclaim is deserved; a meal at EMP can leave you in a kind of fog of euphoria. Fireworks — and actual fire. Our baked Alaska is blanketed in blue flame; head sommelier Jonathan Ross rolls up alongside our table with a cart and opens a bottle of 2001 Domaine Gauby Cotes du Roussillon Villages Muntada by firing up a pair of tongs on what looks like a Bunsen burner and then using the hot tongs to melt the glass on the neck of the bottle below the cork. Where else do you see expertise and showmanship like this?
Thursday, October 13
Cold brew. I ping-pong between Michelle's version and a very smooth Wandering Bear that has been sent to my house. After the excesses of the preceding day, there is no gnawing need for breakfast. Somehow I make it to yoga.
Hanjan, for me, is like Via Carota — and the Cecil and Mr. Donahue's and Superiority Burger and Larb Ubol and Emilio's Ballato. I can't stop coming back. I meet up for lunch at Hanjan with my Esquire editor, Kevin Sintumuang. We share the dumplings — the dough fried hard enough to qualify as a carapace — and an excellent dish of cold tofu. (I sip the sauce from a spoon even after the tofu is gone.) Lacking discipline, I devour the vegetarian bibimbap even though I am aware that the Babu Ji tasting menu will be coming down the tracks in a few hours.
I go walking around the city. This is my preferred way of finding story ideas. Plus, the best approach to countering the insane calorie intake is to keep moving. My friend Adina Birnbaum texts me about a project she's working on — she's wondering if I can recommend writers. I tell her my phone is perilously low on juice. She and her colleagues at a downtown marketing firm graciously let me charge my phone in their office. I return the favor by impulsively buying them a box of paletas from La Newyorkina, a branch of which has just opened steps away, on Sullivan Street. In the store I sample the ice cream made with tres leches cake as well as the Oaxacan chocolate one. Love the texture.
Phone charged, I keep walking. I get interviewed by a French radio journalist about Bob Dylan. I randomly meet a fellow California dude on Bowery who is building a restaurant in a space where, he says, Andy Warhol and Jean-Michel Basquiat used to hang out together. The California dude murmurs to me of "underground sushi dinners." I am intrigued. I keep walking.
My orbit shifts toward the East Village. I rendezvous with Lauren at Babu Ji, which has an infectious party vibe. I snag a Bushwick Pilsner from the beer fridge. I chat with the talented chef Richard Kuo, formerly of Pearl & Ash, who drops by the table to say hello — I guess he's in the kitchen here at Babu Ji now. Lauren and I get the tasting menu, which is like a Phagwah parade of colors and flavors. The food comes fast, which I always appreciate. I can eat with alarming speed. I love the yogurt kebabs, the scallops in green curry, the butter chicken, especially the pistachio kulfi-on-a-stick that comes in a chilly triangular steel tube. Love the texture. Tonight I'll go to sleep thinking about Mexican ice cream and Indian ice cream and the techniques and ingredients that make them different.
Friday, October 14
Cold brew.
I go back into the city on the train from Westchester County, where I live. My go-to Grand Central Terminal breakfast is a Scandinavian-style "morning bun" with smoked salmon and cream cheese from the Great Northern Food Hall. Chewy and creamy and nutty and salty. I eat that while walking to the building that houses the Sirius XM offices, because I am scheduled to do an interview with chef Geoffrey Zakarian on his radio show. When I get to the studio, Guy Fieri is there. Wait, what? How the hell am I supposed to follow Guy Fieri? Guy Fieri talks about his goat farm. Apparently Guy Fieri owns a goat farm? Did I hear that right? Note to self: Visit Guy Fieri's goat farm.
I head back toward Grand Central. I wander into the Urbanspace Vanderbilt food court. My God, the place is mobbed! Reeling, perhaps, from my brush with Guy Fieri, I decide to order … a sushi burrito. There is a long line for the sushi burritos. I want to find out why. Bad idea. As soon as I peer inside the sushi burrito, which is like a wilted airplane salad with raw salmon crammed into a cold gummy rice, I recoil.
That evening I go with my kids, Margot and Toby, to our favorite Chinese restaurant, in Hartsdale, New York. It has the greatest name in the history of restaurants. It's called Fantasy Cuisine. Can you imagine if Eleven Madison Park decided, "Oh, what the hell, let's rename the place Fantasy Cuisine"? Fantasy Cuisine FTW! Dumplings galore — soup dumplings, potstickers, pork and shrimp wontons in chili oil. Bliss.
Saturday, October 15
I'm like Bill Murray in Groundhog Day with the cold brew.
My son is 10 and he likes morning rituals. Lately his favorite — and mine! — is a father-son breakfast at IHOP. I love going to IHOP with Toby. It's a friendly place. Some people might dismiss IHOP as a no-go zone for a serious food writer, but that's snobby nonsense — IHOP is where America eats! That said, I don't eat anything. I order coffee and I wait for scraps from Toby's 2X2X2 — two eggs, two pancakes, two strips of bacon. There are no scraps. He inhales it all. So, back at the house, I fry up two eggs and two maple breakfast sausages from Campbell Meats in Dobbs Ferry, a few towns away. Fantastic.
Toby and I go grocery shopping at Trader Joe's. Then we get some steaks and some Kriemhild Dairy Farms "meadow butter" at Campbell Meats, where the proprietor, Matt Campbell, is doing outstanding work — he's a veteran of Craft, Chevalier, and The Marrow. Then we walk over to my regular wine shop, Rochambeau. I subscribe to the notion of "I know a person" — Michelle for cold brew, Matt for meat. At Rochambeau my source is the wildly knowledgable raconteur and connoisseur Jeff Wooddy. Jeff directs me to what he calls "the best $20 bottle in the shop" — a Château Fontareche Corbières 1682 from 2014 — as well as a Zuazo Gastón Rioja Crianza from 2013.
Jeff tells me that he wants to team up with Matt Campbell for a culinary experiment: Jeff will recommend a certain wine, and Matt will make a sausage from that same region. I want to be kept in the loop about that.
I take my kids to a food-truck festival in a park down by the Hudson River. The Don Juan truck is selling tacos filled with lengua, cabeza, chorizo. Back in the '80s when I was in high school in Southern California, way before the whole Roy Choi revolution, I ate tacos like these all the time from curbside trucks. I sure as hell never thought I'd someday encounter them in the suburbs of the East Coast, but as a Nobel laureate once put it, the times they are a-changin'. I can't resist; I get a shrimp taco.
In the evening I cook a dinner that my kids are crazy about — steaks from Campbell Meats, carrots sautéed in butter and honey, snow peas stir-fried with sesame oil and garlic, and (at Toby's insistence) some frozen Trader Joe's mac-and-cheese balls that you heat up in the oven. They go well with the wine.
While we watch Creed together, I treat myself to a small glass of Braulio amaro.
Sunday, October 16
Wild guess? Cold brew.
(That said, please assume that during all the interstitial moments in this chronicle I am drinking seltzer. I have a bottle of seltzer more or less attached to my body.)
I can barely contain my euphoria. I recently moved to a new neighborhood in the center of the county, and I find out (thanks to a tip from Matt Campbell) that the generic shopping center up the main road happens to have a massive Korean supermarket — H Mart! Toby and I hit H Mart. We are dumbstruck with happiness when we realize it has a food court featuring a seemingly infinite array of Korean, Japanese, and Chinese dishes — cheap and hot and cooked à la minute. I dive into a heap of kimchee fried rice that is big enough to have broken off a mountain range. Toby nearly finishes off about two pounds of japchae noodles with beef. I realize that many a future deadline day is going to incorporate a detour to H Mart.
That evening, I drive into Manhattan and delight in finding a parking space on the street. I can't tell you where I eat because I eat with my friend and former Times comrade Pete Wells. (I don't know whether he will wind up reviewing the restaurant for the newspaper, but there is always that possibility.) We sit at a round table. Our witty dining companions are a cookbook author, a magazine editor, and an actor. Old friends, delicious roast chicken, one dessert after another — I gravitate toward the chocolate pudding. Having kept my drinking to a minimum (one Grey Goose martini at the bar about four hours ago, upon arrival), I drive home listening to Leonard Cohen.
Monday, October 17
Cold brew.
Train into the city. Morning bun with havarti cheese and butter at the Great Northern Food Hall.
The poet Roddy Lumsden has a great poem called "Specific Hunger." It's about that moment when you find yourself longing for a very particular dish or flavor. For some reason I am craving a coronation chicken salad sandwich from Tea & Sympathy in the Village, so I go get one — with an iced tea. (From the standpoint of current debates regarding the topic of cultural assimilation, coronation chicken is a train wreck — it's basically a core-WASP chicken salad amped up with mango chutney and curry spices, and the recipe was created as a tribute to the Queen of England.) Tea & Sympathy is the sort of downtown gem that New York needs to stop losing. I love the place and I have a nostalgic connection to this sandwich that I can't quite trace. Did my grandmother in New Jersey make it for me once? Was it served at a neighborhood party in Pasadena, or in the courtyard after church on Sunday? No clue. The craving remains; the memory itself has evaporated.
I stop to get an "oatcake" filled with dates — sort of like an artisanal Fig Newton — at High Street on Hudson. Then I buy a jar of Branston Pickle at Myers of Keswick on Hudson Street. It's a weird British condiment that goes well with cheddar cheese on a sandwich. I have noticed in my lifetime that Californians are inexorably drawn to British things. The converse is true, as well.
I drop into The Meadow, that idiosyncratic shop on Hudson Street that specializes in selling chocolate and salt. I buy two very small chocolates: an Askinosie "Itty Bar," and a Guido Gobino gianduja cube, called a "cremino al sale," made with salt and olive oil. I eat them and walk from here all the way south to the Financial District.
I get a booth in the new bar at the Beekman hotel. Scouting out new bars is part of my job at Esquire. (Yeah, poor me.) And this bar — well, you're going to be hearing a lot about it. It's wild. You sit down and you look upward and you survey what appears to be the most Instagrammable interior in the history of American drinking — floor after floor of white railings rising toward the sky like some time-warped dreamscape in Christopher Nolan's Inception. I try one cocktail made with rye and another with absinthe. I chat for a while with Tom Colicchio, the chef who's doing the food at the bar and at Fowler & Wells, the new restaurant in the Beekman, and then I'm gradually joined by various friends. We all get a little freaked out when we see Bob Weir from the Grateful Dead walk in; he sits right behind us. He looks pretty good!

We wind up getting two orders of the frogs' legs and one order of the gnocchi with shrimp. Before everyone arrives I privately polish off some clams Cassino and a small plate of steak tartare.
Kevin, Ian, Alex, and I wander south to BlackTail, the new, Cuban-themed, if-we-were-any-farther-downtown-we'd-be-in-Staten-Island saloon from the Dead Rabbit posse. Each of us gets a complimentary sample of frozen daiquiri to kick things off — I had no idea a frozen daiquiri could be so well balanced and subtle. We order some spicy chicken lollipops and sloppy joes for the table; I sip prudently from a cocktail called El Presidente, which somehow manages to merge rum, mezcal, vermouth, curaçao, and other stuff without tasting like medicinal glop. Two quart bottles of Poland Spring water accompany me on my train ride home: When it comes to hangover avoidance, a man must remain diligent.
Tuesday, October 18
One of my favorite people in the River Towns is Amal Suleiman. Her roots are in Jordan and she presides over a modest-looking corner deli called Irvington Delight. She prepares all of the Middle Eastern offerings by hand — nothing from a can. Amal makes the hummus, the pickles, the hot sauce; she and her husband even grow the vines that produce the grape leaves that get rolled and stuffed. After yoga this morning I get a large cold brew from Michelle and then I amble over to Irvington Delight for a breakfast plate of stuffed grape leaves, hummus, and pita.
I'm writing on deadline so I skip lunch. I head into Manhattan in the afternoon to speak to CUNY journalism students in a class led by Steve Daly, an old friend of mine from Entertainment Weekly, where I worked for most of the '90s. After that I take the subway south and walk to Aldea, where the chef George Mendes recently hatched a new bar menu composed of snack-bite versions of his signature dishes: arroz de pato, shrimp alhinho, an oyster with pickled watermelon rind and chorizo and coriander. Ridiculously good, all of it. I drink two glasses of a great Portuguese vinho verde — Quinta do Louridal Poema Alvarinho. Steve winds up joining me later. He orders a bacalhau croquette. It arrives. Steve, it turns out, can't eat garlic, and there's serious garlic involved in this. Our server offers to take it away. I'm nothing if not predictable. "No, that's okay," I tell him. "I'll eat it."