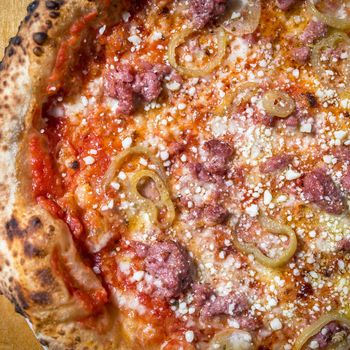 Don't wait until November 12 to celebrate Pizza Day.
Photo: Noah Fecks
The act of opening Twitter each morning brings with it a special set of concerns. Is some dude randomly harassing you? (Likely.) Did Donald Trump get up at four in the morning to write something horrible? (Also likely.) And the worst: Will it end up being some kind of dumb national food day? Maybe it will be National Almond Day (February 16). Or National Peanut Butter Lover's Day (March 1). Maybe you'll luck out and it will be something innocuous like National Chocolate Cupcake Day (October 18). More likely, though, it will be something so soul-crushing that it will make you question why you ever started eating food in the first place.
Perhaps you'll glance at the trending topics and see that it's National Raisin and Spice Bar Day. Or National Fast-Food Day. Or National Spicy Guacamole Day despite the fact that avocados will probably be extinct soon and Spicy Guacamole Day happens on November 14, which doesn't feel like a very guac-friendly time of the year. There's an entire National Split Pea Soup Week. A celebration of all soup might warrant a week, but a single soup — even a truly superlative soup like chicken noodle or khao soi — deserves an hour of special consideration, at most.
This strange phenomenon reached its apex today, though. It is, according to Twitter's trending topics, National Greasy Food Day, so people can commemorate horror shows like these:
As a group of right-thinking adults, we need to put an end to this. Don't tweet a picture of greasy food or let some company's marketing department decide which foods we celebrate on random days. At their very best, these national food days might highlight something everyone loves and gets excited to eat. But do we really need something like National Nacho Day? This is America: Every day should be National Nacho Day. The longer we wait to ignore these nonsense campaigns, the longer we'll have to put up with stuff like this: