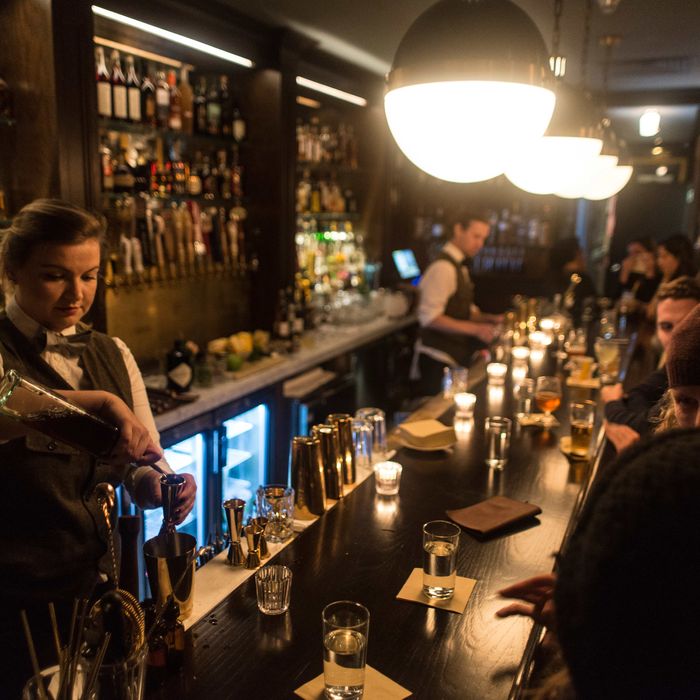 The scene inside the new Chumley's.
Photo: M. Cooper
When a smoke alarm went off recently at Chumley's, the famed West Village bar that's been closed for the better part of a decade, a dozen firefighters showed up. Their first question wasn't "Is everything okay?" or even "Where's the fire?" Rather, it was "When do you open?" Early last week, that question was finally answered as Chumley's kicked off dinner service after nine long years. But the new restaurant isn't the same dark watering hole that you, or anyone else, remember. Instead, it's been transformed into something more expensive and more exclusive, at the same time more ambitious and more alluring — which is why it feels like the perfect encapsulation of New York right now.
So, is the new Chumley's worth the wait? It all depends on how much you want to encase its legacy in a snow globe of its days before a chimney collapse in 2007. The onetime speakeasy is newly operated by Alessandro Borgognone, the unlikely owner of nearby, justifiably celebrated Sushi Nakazawa. Fittingly, the new Chumley's is what you might call an enhanced version of the original. The walls are packed with lavishly framed portraits of its famous historical clientele. Leland Stanford Chumley himself gets an extravagant spot of honor above the fireplace, but he also wouldn't recognize the way his namesake establishment looks now — what Borgognone has previously called "Chumley's on steroids."
Now a cocktail might contain yuzushu and Swiss bitters. A drink called Your Turf gets bright notes from carrot shrub. The Chaplin is an earthy, sexy mix of Scotch, Fernet Branca, maple, orange blossom water, and cocoa-nib-infused ice.
As if the décor's plush touches and imported Italian wallpaper weren't enough of a giveaway, the humble days of Chumley's as a spot for beer-belching ink-stained wretches, with a floor littered with wood chips and a menu that offered a $19.95 lobster special, are over. The speakeasy's infamous escape routes no longer work. In fact, there is no escaping New Chumley's, or what it means: that restoring grandeur to a hallowed institution is still not a good enough business model for 2016 — indeed, Borgognone's new hospitality group is called Never Enough. Chumley's has to be more than merely open for business. It has to be a Thing.
New York, of course, is a city full of Things. But all is not what it seems. Barneys sold discount suits for 50 years until Barney Pressman's son, Fred, decided to class up the joint in the '70s. Tiffany & Co. started as a fine stationery store. Giorgio DeLuca ran a cheese shop in Soho before he joined forces with Joel Dean and built a small empire of gourmet grocers. The palimpsest of New York is packed with second-generation splendor — rebuilt, redone, reignited, repurposed, reclaimed, and reimagined. The next generation wants to leave its own fingerprints, just as it should.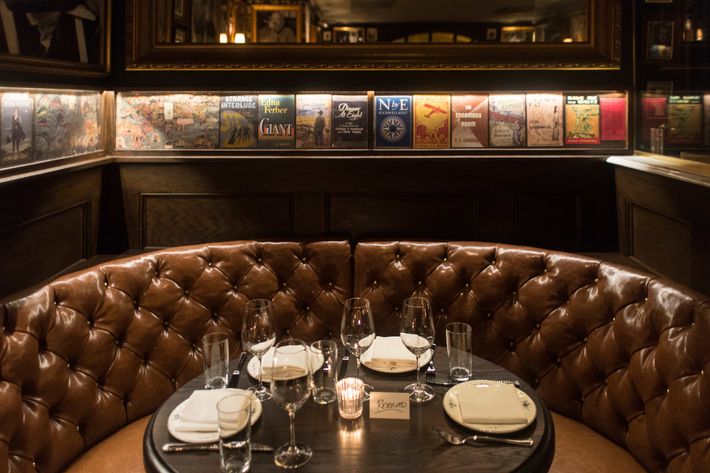 "From day one the idea was 'Let's reopen Chumley's,' but three months in we realized that meant updating everything," says Jessie Dure, Chumley's new bar manager. A freewheeling conversation with Victoria Blamey, Chumley's chef (who formerly cooked at tasting-menu destination Atera), goes even further, when eventually she lands on the topic of Pablo Picasso's earlier, traditional work. "It was vital to his craft," she concedes, "but did it move you? Was it his legacy? No."
Dure has created a drink menu that she says is "a warm, savory, culinary-driven mix," which complements Blamey's sensibilities, serving fried chicken with cognac consommé and crudo that's finished with chipotle vinaigrette. You can still get a burger at Chumley's, but it now comes with bone marrow and costs $25.
There's also an entire drinks section devoted to Scotch-and-soda renditions, all set at $16 each, as are the other cocktails. A breakout star is the Basement of Thieves: blackberry, Cutty Sark blended Scotch, egg white, lemon, soda, and crème de violette. The drink is both floral and sharp, crisp and mellow, complex but not complicated. It is Chumley's liquid mission, a playful take on a dusty stalwart, and it's a far cry from anything that was served at Chumley's in 1922. Or even 2002, so long ago you could still smoke in bars. (It's worth noting that the former boys' club is now a place where the general manager, chef, and bar manager are all women — a fact that makes Borgognone especially proud.)
"When I got there the bar was a bottle of Absolut and a bottle of Bombay," Borgognone says. "Look, I'm the fifth owner of Chumley's. Ever. And I hope I'm the one who can bring it into modern times, to make Chumley's great again."