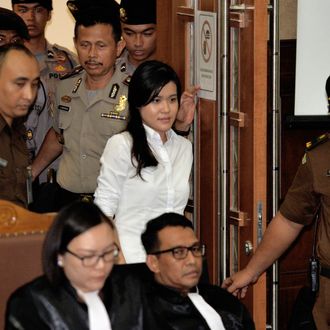 The defendant during her trial.
Photo: Bay Ismoyo/AFP/Getty Images
Murder, she wrote in caffeine. On Wednesday, an Indonesian court sentenced Jessica Kumala Wongso to 20 years in prison for killing her friend Wayan Mirna Salihin by lacing her Vietnamese iced coffee with cyanide. Salihin, who was 27, took one sip of her coffee, collapsed, and started convulsing in minutes; she was pronounced dead hours later. An autopsy confirmed Salihin died of cyanide poisoning.
Footage from the scene of the crime, a café called Olivier in Indonesia's largest high-end shopping mall, shows Wongso arriving an hour before her companions while wasting no time ordering drinks. After receiving them, she's seen placing three shopping bags on the table, blocking the camera's view of the drinks, and seemingly moving behind them. Prosecutors argued she was spiking Salihin's coffee with cyanide, and the judges agreed, with one saying, "This deed was vile and sadistic."
Damningly, Olivier employees said that Wongso didn't try to help her friend or show any emotion after Salihin began convulsing. The act, prosecutors argued, was driven by envy and resentment: Wongso wanted to kill her friend because Salihin once insulted her boyfriend, and she was jealous because Salihin had recently married. Indonesia has been gripped by the so-called "coffee murder trial," with one broadcaster showing every minute of the trial. Morbidly, individuals are even visiting the restaurant just to sit and drink Vietnamese iced coffees in the seat where Salihin was poisoned.