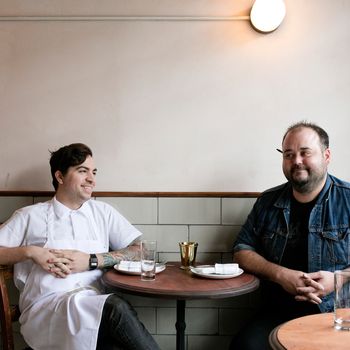 Homer Murray (right) and chef Sean Telo at 21 Greenpoint.
Photo: Melissa Hom
When Bill Murray — Ghostbuster, star of Caddyshack, Steve Zissou himself — spent an evening bartending in Brooklyn this fall, it was a predictably big draw, and the night received tons of attention. It's fair to say that the media exposure afforded to 21 Greenpoint, the restaurant where Murray mixed drinks, made it one of the biggest opening parties of the year (even if, technically, it was a reopening, as the owners previously ran River Styx in the same space). That's not something you'd normally expect to say about a casual bar at the far reaches of the neighborhood. But Homer Murray, one of 21 Greenpoint's owners and son of Bill, knew how it would go down.
"It was originally like, 'Let's invite some people, and it will be like a private party," the younger Murray explains. But word got out, and the crowds began to show up, which was fine with both Murrays. "I expected everybody who got in, including him, to have a great time," Murray says. "Normally, I wouldn't do that kind of thing, but my dad was so excited. He was so jazzed to do it."
One reason might have to do with the fact that Bill Murray is an investor in the restaurant, and he wanted to give the restaurant a PR jolt. (It worked.) But an account of a famous father helping his kid get attention for a new restaurant is only part of the full story.
Tales of Bill Murray popping up at Bushwick parties and surprising random New Yorkers have become urban legend at this point. But at the same time, people who spent enough time at Roebling Tea Room in Williamsburg in the mid-2000s probably also heard murmurs that one of the cooks was Bill Murray's son. Not every customer believed it, but to industry people, the servers, bartenders, and other cooks, it was sort of just common knowledge. Murray was learning the trade. He wanted to own his own restaurant, and in order to do that, per one Roebling Tea Room staffer, he had to work his way up. "I guess that's the stipulation if he wants his dad involved," she said at the time.
In fact, Murray's actual first cooking job came much earlier, when he got a job at the family business, Murray Bros. Caddyshack in Myrtle Beach, South Carolina. "I was making Caesar salads and shrimp cocktails," he says. "That was a nice place to meet ladies, too."
Homer Murray's a big guy. When we meet at 21 Greenpoint, he's wearing a black T-shirt, a denim jacket, and a pair of Vans. He makes a joke to somebody working behind the bar that he recently bought a pair of slacks. "Are you actually going to wear them?" the guy asks. Murray doesn't answer. If you saw him, you wouldn't know his dad is one of the world's most-liked figures, even if it's something people can't help but bring up when they talk to him.
"I'm a little used to it," Murray says. Now, though, he's just another restaurant owner in New York, trying to figure out the best way to make his restaurant work, in a low-key way you might not expect from a celebrity's kid. Originally, the space that houses 21 Greenpoint was River Styx. Aaron Lefkove, who owns Littleneck Outpost just a block up on Franklin Avenue, says he was aware of who was behind the restaurant when it opened in 2013, but he didn't care; he was a fan of the food. "I loved the first meal I ate there. They had these clams that were cooked 'near,' a fire as the menu said, and the broth was sublime." He also points out the wine list was "embracing some of the more esoteric and out-there natural wines."
The restaurant was no flop — and its cheese-slathered, radish-topped nachos garnered a following of their own — but Murray and his partner Syd Silver felt like the restaurant needed a change. ("Fuck off with the nachos," Murray says when I ask about them.) So they approached Sean Telo, a chef who gained a reputation in the kitchen at another place doing somewhat ambitious food in a laid-back setting, Extra Fancy. Telo was thinking about leaving, moving to California or back to Atlanta, so Murray and Silver asked him what could make him stay. He went down the list: open kitchen, wood fire, small space for maybe three or four chefs at the most, and not so many seats in the restaurant that would make it impossible for him to make the kind of food he wanted to cook.
"That's what we have," Murray told him, "[and] we want to make it better." Now the menu changes daily and features things like oysters on the half-shell, seasonal pizzas, and a dish of steak tartare on roasted marrow that Telo thinks will be a mainstay. Murray says Telo pretty much has rule over what goes on the menu, while he's focused on making the drinks align with the food. "We're going to figure out how to get the bar to work with the seasonal ingredients that the kitchen gets," Murray explains. He jokes that now might not be the best time to do it, with the "harsh, cold, dark, endless winter that is soon approaching." The bartenders will have to figure out how to make rutabaga Manhattans.
And is there any chance that the restaurant's most famous bartender will make a return? If he ever did, you have to imagine it would be unannounced, the kind of spontaneous thing that happens late at night, when everyone's had a little too much to drink and isn't quite sure if Bill Murray is really behind the bar of a restaurant in Greenpoint pouring cocktails. If that did happen, it would be the kind of night that could easily turn into an urban legend.