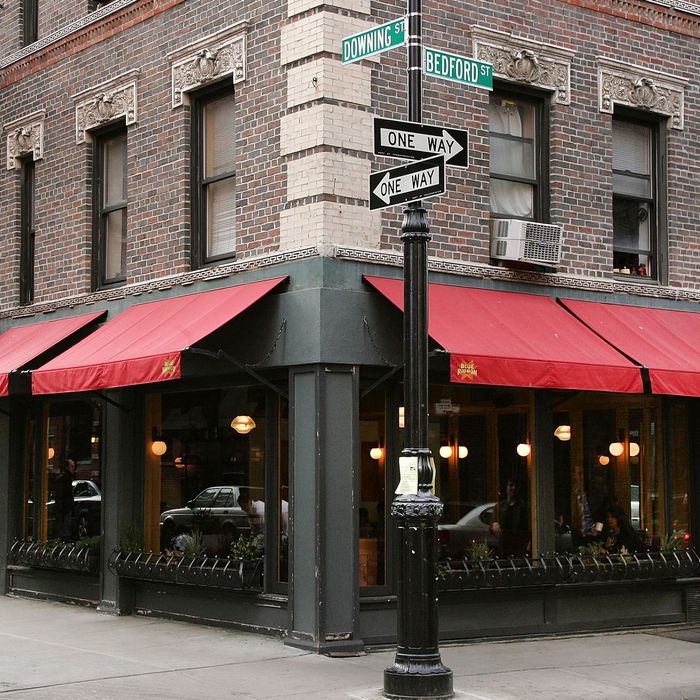 Blue Ribbon Bakery Kitchen will stay open through the end of November.
Photo: Bryan Bedder/Getty Images
It came as a shock when Eric and Bruce Bromberg recently announced the closing of their 20-year-old Downing Street restaurant, Blue Ribbon Bakery Kitchen (and its little sister, Blue Ribbon Bakery Market). Not only does the space have sentimental value — they spent years rehabilitating a wood-fired brick oven that they found literally underneath the restaurant — but the restaurant aged well and remained popular and beloved. What has changed, though, is that within the past two decades, the Brombergs have opened new Blue Ribbon restaurants in New York, as well as in London, Las Vegas, and Los Angeles. They're no longer two brothers operating small businesses in one tiny neighborhood; they've proven themselves to be quite savvy at creating a global brand that still conveys quality. Here's how they made it happen:
How did you come to this decision to close on Downing?
Eric Bromberg: It didn't have really anything to do with it doing well or not. We had come to the end of our lease, and the realities of New York real estate are such that, you know, when you come to the end of the lease, you come to the end of the lease.
Did you try to renegotiate?
E.B.: I'd rather not get into the details of it. We had a long history.

Bruce Bromberg: We had 20-plus years. When we first came in, the West Village was not a prime area. We were in a very different kind of reality, and it was a time when you had more — I don't want to call them art projects — but bringing a 140-year-old oven back to life, and spending two years to do it, doesn't come from concern about the bottom line. We could do more quirky, funky projects that were really about the preservation of something important, which is what the bakery was originally to us. We went through a first phase of our lease, the second phase, and when we got to the end of the lease, that type of project, and what that project was to us, just unfortunately no longer vibes with the current situation and what's happening in that neighborhood and New York now.
How else are you seeing New York change, in terms of restaurants and real estate?
B.B.: So much of New York has become prime real estate, so where you used to be able to find back and side streets, and forgotten spots, all over the city, there are so many fewer of those kinds of places. What you have to do in spaces, and the amount of permitting, and the realities of building out spaces in Manhattan … it's not like it's unobtainable to do smaller projects and interesting projects and passion projects, but it's definitely become more difficult, and it tends to push you towards considering the bottom line.
E.B.: I think that, ultimately, neighborhoods change and over time different things change, and 22 years ago when we started in that neighborhood, it was a very different neighborhood than it is today. So I think there still are quite a few areas of New York or little spots that you can find in side streets and sort of out-of-the-way places. That's what the bakery space was then. But they are obviously fewer and farther between, and you have to kind of go further away from the center to find those places, and the realities of New York rent make those decisions really different than they were 20 years ago.
Are there any specific neighborhoods that you see as desirable right now?
B.B.: It's interesting: Maybe even 20 years ago, when we were first starting out, there were certain neighborhoods that were kind of prohibitive for a restaurant group like ours. We're not a big, national group. We don't have huge amounts of funding. We've never been a location, location, location company. We've also never really gone into projects just focusing on the greatest financial reward.
E.B.: Actually, the opposite, most of the time.
B.B.: We see it in the West Village, where what it looked like ten years ago, or maybe even eight years ago, is radically different. All of the funky, cool little joints have kind of gone away. Sometimes they get repopulated by a funky, cool little joint, but one that lasts for a year. Then eventually what's going to happen is these places will turn into some fast-casual spot, or some kind of flagship, for these guys who can deal with those kinds of rent numbers. It takes away a little bit from the passion projects, but there are still opportunities, and that's what we search out in New York.
So many restaurateurs are playing the fast-casual game. Is that where you see growth for your company?
B.B.: We opened our fried-chicken joint over on Second Avenue three years ago. We're a little bit off the beaten path, but it's kind of a good location. We actually had that idea since 1997.
E.B.: Our focus is always on the space and finding the right spot. That's why, in terms of location in New York, it really flows for us. In 1995, when we first saw the bakery location, that was the project that made sense for that spot, that space, that time. Last year, we opened the Ribbon on 72nd Street on the Upper West Side, and it's been an enormous, wild neighborhood success. We don't necessarily start with "Okay, here's a concept, let's find places." We find a space and then we go for the organic growth of what comes out of that.
B.B.: Which is maybe why we have three different concepts.
But you have to be careful, because the Blue Ribbon name really conveys quality, and that's something you need to protect.
E.B.: Our brand has always been the most important thing, and our focus is always consistency — maintaining the best experience every time for every customer. That perpetually drives us.
When you're charging $10 for fast-casual fried chicken, and $29 for it at the restaurant, do you worry about diluting the brand?
B.B.: When we first started thinking about this, we did wonder: How do you sell pretty darn similar products in one environment for 25 bucks, and in another environment for 8 bucks? But I think people comprehend pretty quickly what the difference is. We grew up in Morristown, an hour outside of the city, and at the deli, if you got lox to go, it was a different price than eating it in the store. There's not really a battle between the two. The uniqueness of sitting down in this little tiny hole in the wall on Sullivan Street, and getting fried chicken with mashed potatoes and collards with a great glass of wine and linen tablecloths, is just a different experience. With sushi, I think it's the same thing.
What are you opening next?
B.B.: We're opening a really exciting project down in South Beach, in Miami — a little Blue Ribbon Sushi there within the next probably six weeks in the Plymouth Hotel, and then we're doing all the food for that hotel. We're opening in the Financial District, right across from the Federal Reserve on the corner of Williams and Maiden Lane, something called Blue Ribbon Federal Grill. We are in Vegas, and we're putting in a Blue Ribbon in the same space where our sushi restaurant was. We've renewed our deal there, and we're doing an American-style restaurant with raw bar — kind of based off the original 97 Sullivan restaurant. We're opening another Blue Ribbon Sushi Bar, like what we have at Brookfield Place, in Rockefeller Center. We're probably around six months away from that.
Financially, does it make sense to keep opening new concepts here?
E.B.: Ultimately, our home is New York. We view the city as — I don't know if "an infinite opportunity" is the right way to put it. But we're looking all over the country. Last year, we opened a Blue Ribbon Sushi Bar & Grill in Los Angeles. That's been a spectacular success.
B.B.: Twenty-four years ago, our world, our 18 hours a day, was spent on Sullivan Street. We lived two blocks away on Vandam Street. Our life consisted of, was a two-block radius, 360 days a year. That was it. A couple of years later, we opened Blue Ribbon Sushi, and it expanded 100 yards down the street. Three years after that, our world expanded a little bit to the West Village and the bakery. Then Brooklyn. The impetus to do a new project is really to make people happy. If somebody says, "Hey, how about something in Vegas? And you can do it on your own terms, and reach 500 people a day, and you can bring something better to the restaurant scene out there. Does that interest you?" We're like, "Absolutely!"
You two have always stayed out of the spotlight — one of you even lives in Hawaii. Today it seems like to be successful in this industry, chefs and restaurateurs have to be public figures and brand ambassadors. Do you feel that pressure?
E.B.: This has been a conscious choice of ours from the beginning. When we were kids, Bruce and I would, believe it or not, play together, and instead of cops and robbers, we were playing restaurant and world domination. We designed our own food courts. We figured out how to make a better Benihana.
B.B.: We ruined our mom's kitchen in the process.
E.B.: But Bruce and I were never the stars of the show. We call ourselves the B-Team. From the very beginning, to do what we wanted to accomplish, we knew that we had to not put ourselves in the spotlight and not promote ourselves, but promote Blue Ribbon. And what does Blue Ribbon mean? Blue Ribbon means the best. It's not abstract. It's absolutely clear as day, and we've done everything we can really to stay out of the spotlight. To put all of the focus on the team and the customers as opposed to our celebrity. It's really the last relevant point in a restaurant — the celebrity of the chef. For me, personally, the personal fame is more of a ball and chain than it is something special.
B.B.: We really didn't want to tie it to ourselves and our personalities, so to speak, or what we had for breakfast. We just want to wholly focus on what we do in the restaurant. That's just what's been important. That's what's driven our team. That's what's driven the entire thing.