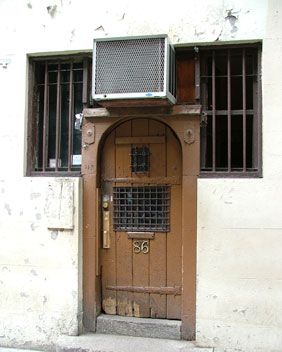 The building was reconstructed, but they preserved the famous door.
Photo: Mike Rogers
It's been nearly a decade since last call at the West Village's legendary Chumley's. But now it's finally back … sort of. The former speakeasy, you might remember, closed in 2007, after a collapsed wall threatened the integrity of the building, only to face a series of roadblocks prolonging its return. Promised on a near-annual basis, its comeback was hampered by construction delays and local residents who just weren't having it and started circulating anti-Chumley's propaganda way back in 2011. As if all that weren't enough, apparently thinking a bar once frequented by the likes of F. Scott Fitzgerald and John Steinbeck was too down-market for the West Village, neighbors also filed a lawsuit attempting to block its return.
But that's all in the past, because tonight, over two and a half years after a judge dismissed that lawsuit, Chumley's will reopen. But it won't be the Chumley's of yore. For one, the building at 86 Bedford Street had to be rebuilt. Chumley's is also now under the management of Sushi Nakazawa owner Alessandro Borgognone, who has kept the famous old door (and former owner Jim Miller is still on as a minority owner).
Instead of the speakeasy it once was, the latest iteration of Chumley's is a full-fledged restaurant, with online reservations and a 1920s vibe. This being 2016, drinks will trade in mixology tropes and there will be a food menu courtesy of Victoria Blamey, who has spent time at Atera, and will offer upscale tavern food like a burger with bone marrow, chicken al cognac, and beef tartare with hazelnuts.
Chumley's, 86 Bedford St, nr. Barrow St.
Menu [PDF]