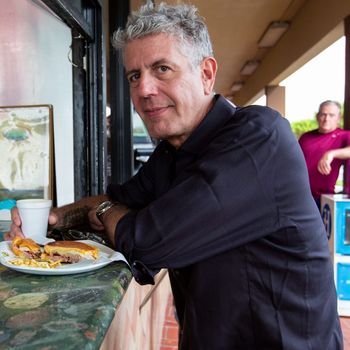 Bourdain wants to bring some of the world's best street food to New York.
Photo: CNN
The forthcoming Bourdain Market is certainly one of the most ambitious food projects undertaken in New York, or elsewhere, for that matter. Formally announced last year, the 155,000-square-foot market was originally supposed to open in 2017. But a project of this magnitude is bound to encounter hiccups. Over the summer, it was revealed that the market hadn't signed a lease, and the opening got pushed back to 2019, which caused some concern. But Bourdain tells Vogue he's moving full-steam ahead to make it a reality.
The market's home at Pier 57 is now being readied for renovation, a crucial step for the project. Still, there are a lot of logistical questions that need to be answered if Bourdain's dream of bringing in awesome international vendors is to be realized. Like, how to convince that Bún Thái specialist from Vietnam to come to the other side of the world.
Speaking with Vogue, Bourdain says housing and visas for international vendors is a "day one" concern and when asked about essentials like work permits and flights says, "we're on it, man." It's an enormous project for anyone to undertake, but Bourdain is willing to make one promise: He will kill himself, he tells Vogue, "if it feels like a Todd English product."