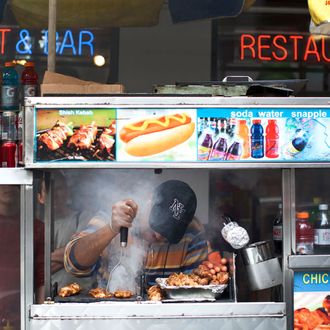 This is a long time coming.
Photo: Andrew Burton/Getty Images
For the past 30-something years, there's been a cap on the number of food-vendor permits available in New York — only 3,000. This has led to a deeply problematic black resale market, through which cart operators have to illegally rent permits at an ever-increasing markup rate (up to $25,000!). It's long overdue, then, for City Council to consider legislation to double the number of permits.
If the Street Vending Modernization Act passes, the number of available, legal permits will double over the course of seven years, giving opportunities to 600 new street vendors per year. To start, the city will pull from its 2,500-long wait list and set aside 35 permits for veterans and disabled people. The legislation also calls for a special food-vendor law-enforcement unit. (Now, that'd be a good Law & Order spinoff series.)
Another benefit: As the law stands now, the financial burden on vendors is so immense that they feel pressured to sell only sure bets, like hot dogs, so this change is expected to create a greater variety of street foods.