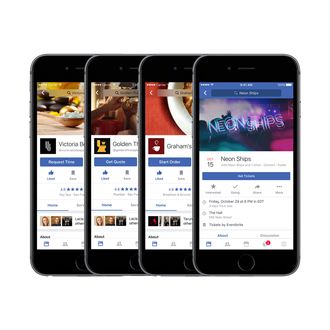 One less tab open on your browser, or something.
Better late than never appears to be Facebook's new motto: The social network has added a food-delivery feature that lets people order directly from restaurants' pages, becoming roughly the 12,000th way to buy dinner online in the year 2016. Andrew Bosworth, Facebook's VP of ads and pages, tells The Wall Street Journal the feature is their latest answer to the question "How can we make Facebook more useful in your everyday life?" and that it works with any eatery that's already signed up with Delivery.com. All hungry users have to do is click the new "Start Order" button up at the top, and a window populates just like the one you'd see on the delivery site. A Delivery.com account isn't even necessary; people who have a credit card on file with Facebook can pay with that, and the company says it won't be taking a cut of the profits because that would be unbecoming in its new role as benevolent world dictator.

It also promises, for now, users' order histories won't be mined for ads, but honestly who wouldn't rather see last week's delicious takeout pop up in their News Feed than basically any other sponsored post.