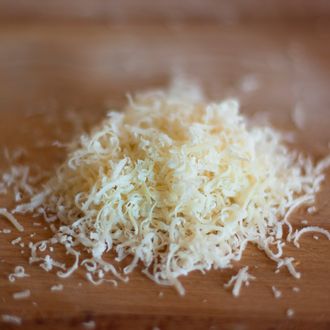 Stinky cheese.
Photo: Munhinha/Getty Images/iStockphoto
Buyers of cheap Parmesan who demand justice for the cellulose wood pulp they unknowingly ingested are a step closer: Federal prosecutors have laid out the punishment they think suits the boss of the biggest perpetrator of the fraud. Michelle Myrter was president of Castle Cheese, the company Bloomberg discovered in February had sold supermarkets packs of "100%" Parmesan that contained absolutely no Parmesan, setting off a nationwide freak-out about hidden wood pulp implicating everyone from Walmart to Whole Foods.
Prosecutors say that from 2010 to 2013, Castle passed off hundreds of thousands of pounds of fake cheese as a more premium product, and "reaped the benefit of the difference between the lower costs and the higher revenue." Myrter already pleaded guilty back in February to the charges, and was facing as much as a year in prison and a $100,000 fine. With the case now entering the sentencing phase, federal prosecutors didn't go quite that far, but they did ask for up to six months of jail time, plus community service — "time at a food pantry or soup kitchen."
Her attorney, meanwhile, has asked for probation only. He argues prosecutors are "sensationalizing a relatively vanilla regulatory offense," and describes Myrter as a "selfless and hard-working businesswoman" who also happens to be the single mother of two teenage children.