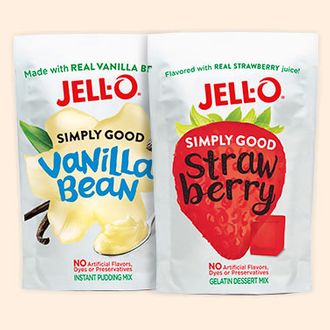 Now with all-natural jiggle.
Photo: Kraft
If you're wondering how the heck the world got to Jell-O Simply Good, merely the latest in a string of fake foods gone all-natural, Kraft suggests blaming 11- and 12-year-olds. When it held focus groups to figure out how to keep kids eating a product that hasn't been selling great lately, the tween participants supposedly replied that while they still loved Jell-O's "wiggly, jiggly texture," they kind of had a problem with the artificial dyes and litany of other lab-made ingredients.
The company's head of marketing tells USA Today that complaint was "most surprising to us," but guesses it's what the cool kids are into these days; plus, if nothing else, the company adds it could always be their do-gooder teachers' fault. Either way, the result of this badmouthing is that Jell-O has released new mixes that use natural ingredients, like real vanilla bean and actual strawberry juice, and come in fancier-looking "pouch" packets. As usual, the company says nutrition-wise it's "similar" to the old stuff. The label makes conspicuous reference to how these puddings and gelatins contain "NO artificial flavors, dyes or preservatives" — definitely the sort of marketing that's going to lure kids away from the nearby Duff Goldman camouflage cake mix.