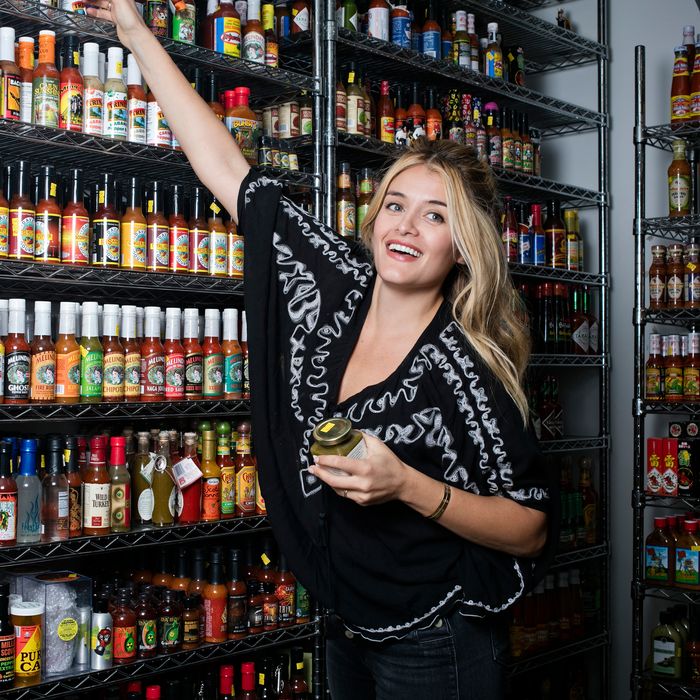 At Kalustyan's, buying spices.
Photo: Melissa Hom
As a co-host of ABC's The Chew and a judge on the Food Network's Cooks vs. Cons, Daphne Oz's job entails a lot of grazing. So when she's not at work, she focuses on cooking simple, healthy meals at home for her family (which, she says, also served as inspiration for her new book, The Happy Cook). "I try to make at least two of my dinners at home per week, because that's how I grew up, and it established my love of food," she says. "It's important that my kids aren't afraid to try new things." This week, she made crispy sweet potatoes with a "shit-ton" of hot sauce, butter-braised leeks, and skirt steak.
Thursday, September 29
Today, I'm taping Cooks vs. Cons, so it's a day full of competitive eating. I take my role as judge seriously, so I make sure to try as much of each dish as I need to give the competitors a fair shake. This ends up being a lot of bites. Sadly, because of the show's secrecy, I can't really tell you much about anything I eat during the taping. But, to be vague, we had stuffed peppers four ways and three dishes made with cheese.
I don't know what they pump into the air over at Buddy Valastro's (yes, that Cake Boss — he's the sweetest!) factory in Lackawanna, New Jersey, where we tape, but your mouth actually tastes of sugar when you walk inside, and the overwhelming smell of delicious baked goods makes me endlessly hungry. After all these seasons, I've learned to stick to my two-bite rule for any dish we make: the first to taste and see what's going on, and the second to really savor and indulge.
In any case, I show up first thing in the morning for set and decide a two-egg omelette with spinach, mushrooms, and onions is calling my name. And two slices of crispy bacon. I wash it down with some coffee with a splash of cream and a few slices of honeydew melon.
I drink water obsessively. It sounds really boring, but it keeps me hydrated, my skin looks good, and so often we confuse hunger with thirst, so it's a great way to make sure I avoid overeating … except on days like today when nothing can save me.
After taping, I hop in a car and go up to the Darien Library for a book talk with some lovely Connecticut folks. One of the librarians had whipped up mini-cupcake versions of a bunch of my desserts, and I can't say no.
In the car, on the way home around 9 p.m., I discover a bag of spiced pumpkin seeds from Moon Juice that I've had in the bottom of my purse for a few weeks. I'm usually pretty good about keeping emergency snacks like this on hand so I don't go for the chips or chocolate calling my name.
When I get home, the kids are asleep. My husband hasn't eaten dinner, so I make us a couple of open-faced sandwiches with Scandinavian oat/seed bread, a little feta cheese, a harissa spread that I bought at Kalustyan's, fresh tomatoes, and dressed arugula in an anchovy vinaigrette I had left over from the night before. I drink a mug of Sleepytime tea and am down for the count around midnight.
Friday, September 30
I drink about a liter of water first thing to rev my digestion and rehydrate. I'm so thirsty when I wake up. I'm headed back to Cooks vs. Cons, so I put together a protein shake to take in the car on the way to New Jersey.
My protein shake has all my favorite supplements — my kitchen counter looks like an apothecary. I throw in tons of mushrooms and herbs, ground pearl powder for mineralization (it's also supposed to be great for glowing skin!), and a non-GMO protein powder — I love the Moon Juice vanilla-mushroom blend, but I ran out and have been liking Warrior Food's natural flavor a lot. I also add some fresh or frozen spinach or one quarter of an avocado, and a few frozen cherries or blueberries. I add a quarter-cup of organic and whole-milk yogurt, if I have it. The result looks like mud, but it is delicious! And it's a great insurance policy for a day that will undoubtedly be full of very tasty but not necessarily super-nutritious food.
I get a black coffee and decide I really need a splash of cream today.
Here we go again with the dishes I can't tell you much about: We had frittata four ways. Round two was three kinds of rice dishes. Double espresso on my lunch break.
After taping, I head to my parents' home in New Jersey, where my kids are waiting for me! For dinner, we make roasted salmon with a quick honey-mustard glaze, a big Asian-style cabbage salad with a sesame-oil-seasoned rice-wine-vinegar-ginger dressing, and roasted sweet potatoes. My mom also makes an awesome veggie fried rice.
Saturday, October 1
Back to the water. A lot of it.
I caramelize some yellow onions and shallots and mash them together with leftover sweet potatoes. Heated together in a nonstick skillet, it gets deeply golden brown and a little crispy on the bottom. I top with a fried egg and a shit-ton of hot sauce. Happy mouth.
For lunch, I don't feel like cooking, so I have a bunch of Persian cucumbers with labneh and some turkey jerky.
We decide to make pizza and dumplings for dinner. I make a pork-turkey-lemongrass-napa-cabbage-spring-onion blend for the dumplings, and end up mixing the leftover filling with panko breadcrumbs and two eggs to make a delicious meatloaf for tomorrow. Right before baking, I brush the top with ketchup to give it a sticky-sweet glaze. The ketchup is a killer stand-in and is the perfect sweet hit to the savory Asian flavors of the meatloaf.
I use the pizza dough to make fresh thyme focaccia and throw a few unpeeled garlic cloves on the pan to roast alongside it. We spread the finished focaccia with the roasted garlic and a few dollops of black-olive tapenade and torn fresh mozzarella. We also have sautéed spinach and herb-roasted butternut squash on the side because #healthqueen. Honestly, though, some great bread, olive oil, flaked salt, and a mess of flavorful veggie sides is my heaven. That, and homemade chocolate-chip-cookie dough.
Sunday, October 2
Breakfast is yogurt with homemade granola and blueberries, accompanied by English Breakfast tea with milk. Very refined. Some people reheat the Asian-style meatloaf from yesterday. It may sound like a crazy breakfast but, having tried some topped with fresh basil and mint, a few slices of jalapeños, and a squeeze of lime, I can verify it is a pretty epic way to start your day.
We go apple picking in the late morning for a few hours, so I probably eat three apples while we hunt around the orchards. We pick a bunch of pumpkins from the patch as well. Of course, we also stop for the orchard's homemade and awesome apple-cider doughnuts.
We stop at a street fair called Apple Fest on the way home and eat insanely delicious jerk chicken and a great crab-cake sandwich that's all fresh-picked crab and aioli, sandwiched in a Hawaiian roll with tartar sauce and plenty of Cholula. I think of Mario [Batali] while I eat the latter because he is such an advocate for the artfully simple and perfectly balanced sandwich in all its forms. He would have liked this one very much. Yumbang.
In the afternoon, we roast some of the pumpkins and purée the flesh. We'll stick it in the freezer for whenever we're ready to blend [it] with condensed milk, eggs, cardamom, cinnamon, ginger, and salt to make fresh pumpkin pies with a sugar-cookie crust — Oz family fall tradition!
For dinner, we snack on Persian-cucumber skewers with dill and mint-yogurt dip while we make arugula salad with olive oil and lemon; roasted okra with hazelnuts, dates, and scallions; braised leeks with butter and white wine; and grilled skirt steak with chile and cumin. For dessert, we have fresh Concord grapes, squeezing their juicy-sweet orbs from deep-purple skins.
Monday, October 3
Back on the bandwagon. Breakfast is a large organic green tea with lemon and a protein shake with all my fixings.
We drive back to the city for lunch, and by the time we finally get the kids settled and fed, my hubby and I feel like takeout from Viv Regional Thai Cuisine. We go for our favorite Thai-basil chicken (gai pad krapow), which we get extra spicy with no rice.
Our snack is a small handful of almonds and one of our freshly picked apples.
My husband and I go on a date to Pylos for dinner — awesome Greek food down on the LES. We order a horiatiki salad; the shredded romaine with lemon vinaigrette and feta; seared haloumi finished with Greek grappa, grapes, and pine nuts; grilled octopus with balsamic reduction; fried slivers of eggplant and zucchini with tzatziki dip; a vegetarian artichoke moussaka; and gigante beans braised in honey-tomato-dill sauce. The waitress actually tells us we overordered, but oh well. I'd rather have a few bites and take home leftovers than miss out.
We decide to walk for a bit before grabbing a cab home. The street Pylos is on is my version of heaven, and a store called Tea Drunk catches my eye. It has this insane sexy ambience and a candlelit bar, but all they serve are gorgeous cups of tea. There's an insanely cute little cupcake shop with a huge sign out front advertising their all-butter cupcakes, so obviously [we] have to grab a chocolate with vanilla frosting for the walk home. I have two majorly delicious bites and then let it go.
I drink a cup of herbal tea while I wade through the never-ending emails in my in-box. Then I have to finish packing since I'm taking the kids to Epcot tomorrow to tape a week of shows for The Chew on location. Somehow it's 12:30 a.m. and I'm finally going to sleep. Damn.
Tuesday, October 4
It's 4 a.m. I hate this hour. I feel queasy, so I chug two huge glasses of water and try to feel like a human. Fail. The kids are delirious and cranky. We've only just gotten my 1-year-old son, John, to sleep mostly through the night, so he's beyond confused why we've woken him up at this hour.
At the airport, we hit up Au Bon Pain. Croissants for the kids and my babysitter. I eat plain oatmeal because I am a total snob about French pastries and am saving myself for good ones. I also eat half a bag of Moon Juice mesquite-activated walnuts. They taste like crunchy toffee, and I find it hard to believe they're actually good for me, but they are?
We get picked up by the Disney DSA at the airport. I feel like POTUS. DSAs are the black ops of Disney employees: They have max clearance to cut every line, use every back road, and even park in this secret underground cavern of the Orlando airport that means you are literally off the plane and in your car in a matter of minutes. Perks of the ABC family!
Traveling with kids — especially when I'll be working a lot of the time we're down here — requires a pit stop at Whole Foods on the way in to the hotel. I grab the essentials and a huge Americano that is sorely needed.
Today is meant to be a welcome day with a Q&A in the afternoon, but with Hurricane Matthew moving in strong, the producers let us know we'll actually be shooting two shows today to avoid any taping towards the end of the week, when the storm is meant to hit. Shit. I feel like death; this could be very interesting.
I have a shower, throw on a Japanese face mask (please help!), and then scarf a bag of organic teriyaki turkey jerky while I get my hair and makeup done. I drink lots of water to try to rehydrate after all that coffee and flying.
For the first show, we eat a bunch of stuff: Clinton [Kelly] pulls the genius move of putting cookie dough in a waffle iron, which I obviously have to try. Crunchy and very tasty. Michael [Symon] makes a seared tuna-tartare burger with scallions, potato, garlic, and wasabi mayo with Scott Foley. I want to eat it all, but restrained myself to a quarter of a burger. Mario makes an eminently thirst-quenching ginger, limoncello, green tea, and lemongrass-infused-vodka slushy. We round it all out with chocolate-cinnamon-caramel sticky buns because why not? I have two wonderful bites.
We take a break in between shows, and I have half a banana, three spicy shrimp with peppers, and a lamb meatball from one of the Epcot Food & Wine Festival stands. I drink maybe four bottles of water since it is sweltering hot under the Florida sun. I also have an iced green tea.
Show two is the first-ever Chew show we've taped at night, and it is amazing! Carla makes trail-mix cookie bars with coconut, chocolate chips, nuts, oatmeal, and raisins, and we already know how I feel about cookie dough. I have one bite of the finished product, but I help myself to a few fingers full of the dough. Michael makes seared tofu with daikon and peanut salad and this ridiculous fish-sauce caramel with shallots, star anise, and sugar. We all descend on the plate like ravenous wolves. Yes, over tofu. Yes, it was that good.
I finally get back to the hotel around 9 p.m. and drink two liters of water. The kids are already asleep after their major day speeding around the Magic Kingdom and joining the princesses for dinner — my daughter, Philomena, wore her Elsa dress and is convinced she's finally found her people. I take a bath, put on a bathrobe, and fall asleep.