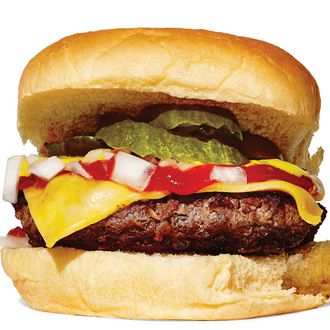 Pork Slope's acclaimed burger is no more.
Photo: Bobby Doherty
Just as they're set to move on Manhattan, Dale Talde and business partners David Massoni and John Bush are reducing their footprint in their home base of Park Slope. The trio, a.k.a. Three Kings Restaurant Group, have quietly shuttered their honky-tonk-themed bar Pork Slope, home to a burger that New York deemed 2013's Best Bar Burger and then one of the city's 50 most important burgers last year. All things considered, it comes as a surprise: Pork Slope was a popular bar with widely appealing, cheffed-up fast food, lots of beer, and some very solid drink specials.
That's not the only spot they're closing in the neighborhood, either. Talde & Co. will also shutter Thistle Hill Tavern, the gastropub that Bush and Massoni originally opened in 2010 before Talde came into the picture. When it closes, the original Talde will be the only piece of their Park Slope empire still standing.
However, it's not all closings. Along with the forthcoming Atlantic Social Club near the Barclays Center, the group will dive into the Manhattan hotel world when they open several concepts in the Arlo Nomad, including the Italian-American Massoni, and Rice & Gold in Chinatown's Hotel 50 Bowery. In a statement provided to Grub, the team says they're "extremely thankful" to their customers.