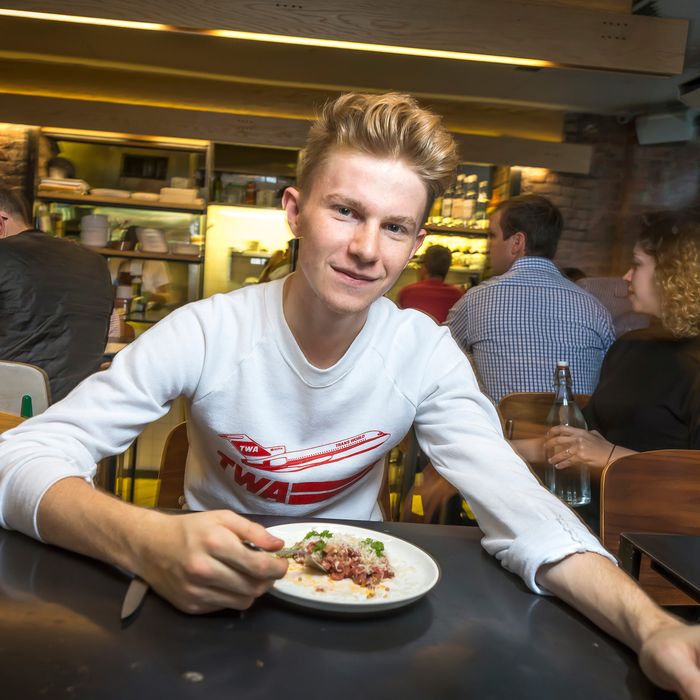 During one of his weekly visits to Wildair.
Photo: Noah Fecks
Seventeen-year-old chef Flynn McGarry became quite famous (and in some circles, infamous) for operating a supper club out of his Los Angeles home at age 11, but he's since moved to New York full-time to try out his tasting-menu concept, Eureka. His latest pop-up is located at Kava's West Village location, where he's already launched lunch service, and will debut an eight-course dinner menu on October 18. That means McGarry's deep in recipe testing, but this week he did find time to socialize at Katz's, Ivan Ramen, and Wildair. Read all about it in this week's Grub Street Diet.
Thursday, October 6
Today was the designated shopping day for a private event I was doing on Saturday, so I spent the day running around the city. I started the morning with a Mean Green smoothie from Liquiteria and grabbed a croissant from Arcade Bakery before getting binchotan charcoal at Korin.
The green smoothie is very much a product of me being from Los Angeles; I'm not even really sure if it's good for me. I went to Arcade to get a laminated baguette, but ten minutes before I got there, someone apparently bought their entire supply. I was heartbroken, but they also make the best croissant in New York.
For lunch, I made myself a Little Gem salad with green-goddess vinaigrette and puffed quinoa from my pop-up at Kava Cafe, and grabbed a couple pieces of mangalitsa bacon on my way out.
After ten hours of buying ingredients and equipment, I got a grilled cheese sandwich from Murray's on my way to the subway.
Friday, October 7
I started the day again with a green smoothie from Liquiteria (I have to get in as many smoothies as possible before it gets too cold!). Then I got an almond croissant from my pop-up and headed to the farmers' market. I bought a quart of Concord grapes to snack on for the walk back from Union Square.
For lunch, I made myself a BLT while testing tofu recipes.
It was a long night of prep, so my friend decided that she wanted to bring me dinner. She showed up with a bunch of kale and an avocado, so I made a simple salad and roasted a few extra pheasant legs with some squash.
I rarely cook for myself anymore, so this was unusual. It's really not something I enjoy after a long day of work. I want to eat someone else's food.
Saturday, October 8
This was the night I cooked the private dinner. It was for an awesome couple who went to my last pop-up here in New York, so I was excited to have them back in. The pressure was on, not only because it was the first time I had cooked the tasting menu, but because there was going to be a surprise proposal at the end of the meal.
I snacked on an apple and some grapes from the farmers' market in the morning, and then went straight into prepping for the dinner. I don't remember eating lunch on Saturday, but I spent the entire day tasting every dish, so I wasn't particularly hungry. For dinner, I had half of a salad with chicken and Brussels sprouts from Sweetgreen, but then got distracted from accidentally charring some broccoli.
After service, I cooked the entire tasting menu again, so the whole staff could try it and had a few bites from that. Oh, and she did say yes!
Sunday, October 9
My daytime cook was off today, so I worked the opening daytime shift of the pop-up. There was a bit of a rush, and I ended up making what seemed like a steady rotation of cinnamon toasts, BLTs, and squash toasts — but was happy that people seemed to be enjoying everything.
And for what could be considered breakfast, I sampled one of every pastry I made that day (blueberry muffins, banana bread, dried cherry scones, and Meyer-lemon-poppy-seed cake). Then, for lunch, I made myself another BLT, which in my mind is one of the only perfect sandwiches out there.
After work, I picked up some ramen from Ivan Ramen and ate dinner at my friend's place while watching the debate, which caused me to lose my appetite about halfway through my bowl.
Monday, October 10
I started the morning with (surprise!) a green smoothie from Liquiteria. Then I spent most of my day cleaning the walk-in and dry storage, so I didn't have lunch until around 5 p.m., which consisted of many handfuls of nuts and roasting off some mushroom samples.
To celebrate the upcoming Jewish holiday, I went to Katz's for a pastrami sandwich and inspected the vague celebrity photos on the walls. I ended the night with a scoop of salted caramel with pretzels from Morgenstern's, which I enjoyed on my way home.
I've always wanted to move to New York. The people, the food, the pace — much better than L.A. I still think, every single day, that I enjoy the city even more. Being able to go over to Katz's late at night — the spontaneity of it — is something I really enjoy. It's never boring here.
Tuesday, October 11
I was testing a new radish dish today, so I started my day by eating a lot of radishes (not recommended). The dish didn't end up working out, but at least I ate my fair share of vegetables for the day.
I had to go to Chelsea Market to buy some oysters, so I stopped by Dizengoff for a Brussels sprout hummus. It has become my quick, delicious, and surprisingly filling go-to lunch. I also tried to buy a "Los Tacos No. 1" embroidered white oxford off of one of the servers, to no avail.
After testing a few more dishes and taking hundreds of stickers off of plates, I brought my general manager to Wildair (he just moved back to New York and hadn't been there before) for my regular weekly visit. We ordered almost the entire menu: bread, beef tartare, fluke, fried squid, and the couple next to us decided to share their Wagyu for two with us. We were painfully full, but still had to get the panna cotta and chocolate tart to finish.