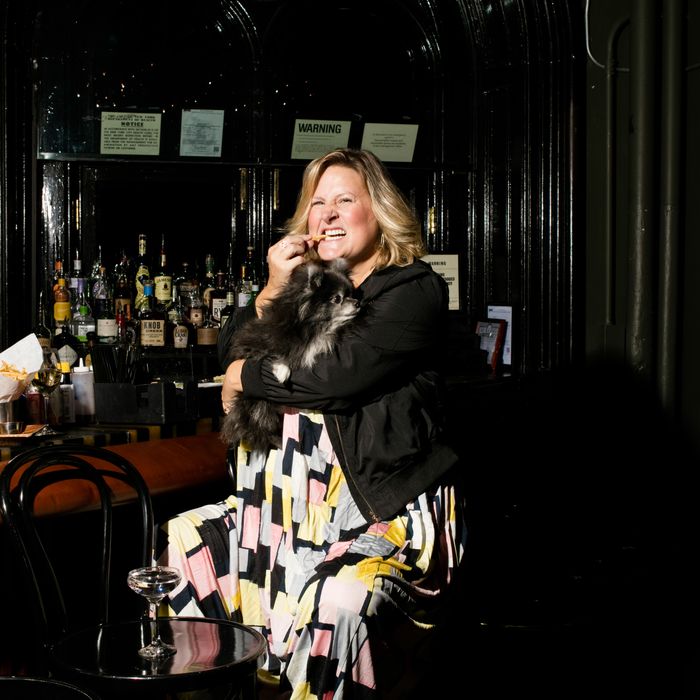 Bridget Everett, and Poppy, at Joe's Pub.
Photo: Melissa Hom
"When I'm traveling, I'm just trying to stay alive," says Bridget Everett, the actress and cabaret star you may have seen on Inside Amy Schumer and Girls. This week, she wrapped filming for a Netflix series in Cleveland before jumping into her Pound It tour (which will be at NYC's Town Hall next Thursday as part of the New York Comedy Festival). Even on the road, Everett keeps things interesting, especially when there's an ice-cream truck courtesy of Adam Scott, authentic Kansas City barbecue (that includes "deep-fried cream corn"), and a cameo by Nature Boy Ric Flair. Read all about it in this week's Grub Diet.
Friday, October 21
Good morning, Cleveland! I've been here off and on for the past six weeks filming Little Evil for Netflix. It's our last day, and the hours have been long. Adam Scott got us all an ice-cream truck last night, which I participated in even after doing take after take of a scene where I mow down some blueberry doughnuts. I had an ice cream called the Ohio Buckeye Special, and I don't even remember what was in it. Vanilla with salted-caramel swirl, some kind of nuts, and some crunchy something or other. It was delicious. Anyway, I barely slept because I was having the sugar shakes all night long. But today I'm awake and ready for my day.
Kendra, our lovely PA, swings by my room to offer me the usual, which is an egg-and-cheese wrap with mushrooms, spinach, and tomato. And add a little sriracha while you're at it. Thank you!

Since it's the last day, lunch is a treat. Adam has offered to get us Chipotle. I've heard him ask people, "Hey, did you know Chipotle has chorizo now?" maybe six times, but I don't eat pork. So, for me it's a chicken-burrito day. I get a little rice and beans, some cheese and sour cream, the corn salsa and the spicy salsa because I care about myself, and then finish it off with lettuce and tomato. I never eat Chipotle, but good god, is it delicious today.
Right before our last scene, Eli, our director, says they've gotten some pizzas delivered. It's around 1 a.m. and everyone is psyched. It's from Edison's, Cleveland's most-beloved pizza joint. I have a slice of cheese, and it lives up to the hype. Or maybe I'm just tired and hungry, but I'm in love and that's all that matters.
Saturday, October 22
I head to the airport to start my tour. While I'm in airport security, I see the Nature Boy Ric Flair and lose my mind. We grew up in a Wrestlemania household — everyone was really into wrestling, body slams, all that shit — so seeing him was like seeing the James Brown of wrestling. I don't make a habit of going up to famous people, but I couldn't help myself. I sing to him, "I love you so much!" He points back at my shirt and says, "I love you, too." I'm wearing my signature "Puppies Make Me Happy" shirt. For someone who hates talking to strangers, it's a real conversation starter.

Past security, I stop at Bruegger's Bagels. Then I see Ric sitting at a bar, so of course I walk in. I tell him I love him again, and he offers me a drink. It's 9 a.m. I'm not usually one to say no to a party, but I can't miss my flight.

By the time I get to Kansas City, I'm dying. I stop at a Hilton to crash for a few hours and order room service. I always get a club sandwich, no bacon, when I'm on the road. I would never order it at home, but it's comforting when I'm gone. Side of fries and small salad, too.

My whole family is coming to the show in Lawrence, Kansas. Backstage, my rider has something for every occasion: turkey slices and Swiss cheese, crudité, one cupcake and/or one delicious cookie, some almond butter and whole-grain bread, and then of course Chardonnay and water. I eat some crudité and turkey slices preshow and pour myself a glass of wine.

The show is super fun, and my 82-year-old mom joins in singing "What I gotta do to get that dick in my mouth." The audience is on their feet. She steals the show. Afterwards, I head over to Lawrence's new speakeasy called John Brown's Underground. We order snacks for the table, but before they come, I have to leave. My high-school girlfriends are outside waiting in a party bus to take us all back to Kansas City. We stop at the Taco John's, and at the drive-through, I lean over the driver of the party bus to order almost $100 worth of tacos and burritos. There are nine of us. We just keep passing around things wrapped in paper, and the casualties pile up as we pull into K.C. 45 minutes later.
Sunday, October 23
I wake up at my girlfriend's house and have a double espresso. She has some cheese and crackers out, but that's not calling my name: I'm in K.C., and I need barbecue. My favorite spot is Woodyard Bar-B-Que, but today there's no time. My best friend and I head towards the airport looking for something on the way, and we score. Smokehouse BBQ is delicious. I'm so hung-over when we sit down that I just point to some apps and say, "These, please!" Our delightful server brings out what is essentially deep-fried cream corn with ranch for dipping. Holy shit is it good. I have the two-meat platter with turkey and chicken, which comes with two sides. I have the mac and cheese and coleslaw, and wash it down with a local Tank 7 Boulevard beer. Ready to take my airplane nap!
I get back to NYC and call Good Enough to Eat because I was still hung-over and needed more comfort food. They also do really good desserts. Sometimes I'll just get one piece of something and keep it on my kitchen counter for a week, and take a spoonful a day. I do exactly that with the fruit crumble. I have a bite, and I also have their migas (scrambled eggs with tortilla chips, salsa, and sour cream). Breakfast for dinner, and I am ready for bed.
Monday, October 24
I'm running late for some press. I stop by Lenwich, where I go every day, sometimes just for human contact, and get an iced hazelnut coffee. My dog Poppy is with her babysitter at Joe's Pub, so I go pick her up and we snuggle and do a few intimacy gazes and then I head back home for lunch, where I order Chop't on Seamless. My body is in need of nutrients and repair after what I did to it over the weekend. I get the Smoky Santa Cruz. There's kale everywhere. Already feeling better.

That night, I head back to Joe's Pub, which I love, and have some fries and a glass of Chardonnay with a friend. Joe's Pub is like my home base. Maybe nine or ten years ago, Shanta Thake — who runs it — saw me do something and was like, "We've got to get you in here to do a show." And I said, "Yes, please." It was such a hot spot for all the people I admire, and I started doing shows there and I just never stopped. They've been so supportive and let me do whatever I want artistically. If Joe's Pub didn't exist, I wouldn't exist as a performer the way I do.
After, we head to Sid Gold's Request Room to see my favorite drag performer, Sweetie. I order the deviled eggs, crudité, and share some chicken sliders with my friend. I'm almost always a Chardonnay drinker. And even if I don't want it, people know, so they just pour me a glass of Chardonnay and put it on the bar. Once you put that Chardonnay in me, it's like rocket fuel. I don't stop. Earlier in the night I was like, "I'm just gonna keep it mellow, have a couple of glasses of red wine, call it a night, go to bed." But after the show, it transitions to live karaoke with a piano player, and I definitely sort of accidentally stumble into singing a couple songs.
Tuesday, October 25
I'm dragging from all the travel, so I run over to Lenwich to get my iced hazelnut, black, and then head home to make myself some scrambled eggs. I throw in some turkey, asparagus, and mixed mushrooms and feel like a champ.
I have an interview at NY1, so I get all shined up and pray I run into Pat Kiernan in the halls. I have a crush on him, but don't we all? He's nowhere to be found when I do my interview, but the upshot is that NY1 is above the Chelsea Market, so I'm able to stop at my favorite Vietnamese sandwich shop, Num Pang, for a coconut tiger-shrimp sandwich and a Pellegrino. I also stop at Doughnuttery to pick up a few things for a dinner party I'm going to later.

That night, Poppy and I are invited to Larry Krone's house for a quick design session and then dinner. He makes all my stage dresses and is going to make me a new "titty tops" for my show at Town Hall. Larry and his husband also make these delicious dinners. They're they best cooks.
They're usually like, "Do you want chicken titties or chicken kickers?" (Chicken kickers are thighs; chicken titties are breasts.) But we've been on a chicken-kicker kick lately, and that night, he had asked me, "If you could have anything, what's your dream meal?" I said, "Homemade ranch dip with crudité to start, then chicken cooked in its own jiz, and cheesecake." And tonight he's made it all!
Homemade ranch dip with crudité, a beautiful salad with lots of fennel, and a new version of chicken thighs called Zsa Zsa Kickers, with lemon, herbs, paprika. I don't know, but it's fucking delicious. Dessert is a cheesecake from Junior's and those doughnuts from Doughnuttery. They're mini doughnuts, and there are about six kinds. Larry puts them in the toaster oven, and we dip the doughnuts in hot fudge. Oh my god, don't tell anyone.