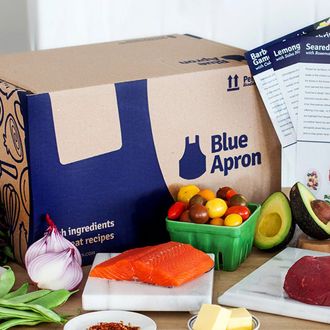 Blue Apron has called the problems "operational challenges."
Photo: Blue Apron
According to a new report, Blue Apron is having what they, in the biz, might call some "scaling issues." Employees at the meal-kit service's Bay Area fulfillment center tell BuzzFeed News that the start-up overworked them and didn't "properly manage" that packing facility in its rush to grow into a billion-dollar company. Blue Apron has been dogged in the past by complaints about its environ-unfriendliness, but the problems this time involve long, low-paid workdays in a warehouse kept at below 40 degrees where fights routinely break out among co-workers:

In the 38 months since Blue Apron's facility opened, the Richmond Police Department has received calls from there twice because of weapons, three times for bomb threats, and seven times because of assault. Police captains have met twice with Blue Apron to discuss the frequency of calls to the police. At least four arrests have been made due to violence on the premises, or threats of it. Employees have reported being punched in the face, choked, groped, pushed, pulled, and even bitten by each other on the job, according to police reports. Employees recalled bomb scares, brandished kitchen knives, and talk of guns.

BuzzFeed notes one particularly "stressful" day that began with a worker phoning in a murder threat, included OSHA dinging the facility for nine health and safety violations, and ended with another worker (fired earlier that day for groping a colleague) threatening bodily harm to his manager. Health officials have docked the warehouse for forklift accidents, icy freezer floors, and the "serious" oversight of having an eyewash station next to a battery. Employees have described their hectic work as being "worse than an entire Black Friday at Best Buy." Once orders started really exploding (that warehouse alone went from 6,500 boxes per week in 2014 to 34,000 the following year), Blue Apron apparently started relying on local temp workers in the Richmond area, a high-crime part of the Bay Area, but ended up employing "ex-cons, parolees, and gang members." Police got called in constantly, and one local captain says these problems maybe could've been averted if Blue Apron had just done a little research into "different parts of the community that may not get along."
Blue Apron says it's "learned from" these operational challenges, addressed all of the health violations, hired a safety manager, installed security cameras and metal detectors at the doors, and slowed down on hiring. Police also add the drama's deescalated a bit at the facility, but officers still responded to more than a dozen calls in the last five months that include everything from car theft to weapons threats.