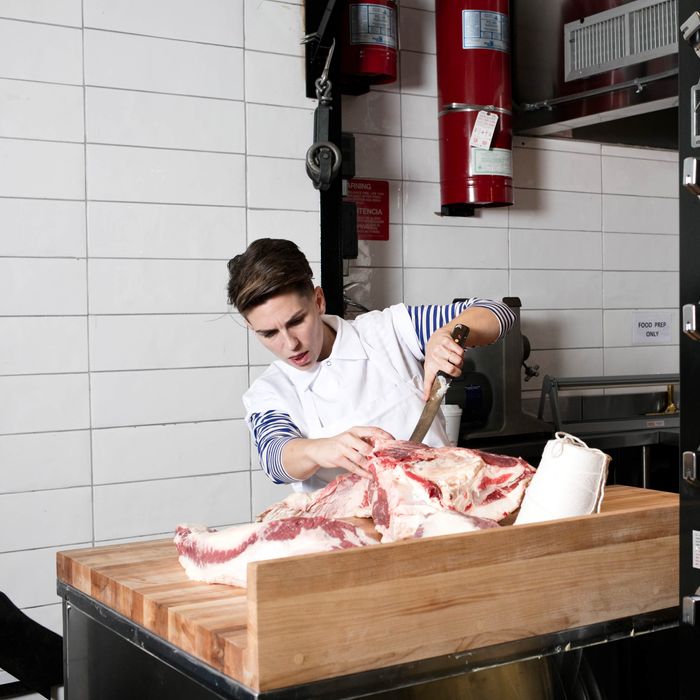 White Gold butcher Jocelyn Guest.
Photo: Melissa Hom
Is the Upper West Side ready for a whole-animal boutique butcher-shop-cum-all-day-restaurant whose idea of bar snacks includes puffed tendons and chicken chicharrones? We'll find out on Wednesday when April Bloomfield and Ken Friedman unveil the retail butcher arm of White Gold, along with a few takeout snacks including housemade hot dogs, their brioche buns toasted on one of those Euro-style electric bun spikes; beef-pork-lamb-and-duck-bone broth served, as the current fashion dictates, in paper cups like coffee to go; rotisserie chicken with green sauce; and kombucha on tap. On November 1, the restaurant will open for breakfast, lunch, and dinner. Until then, here's a White Gold talking-points cheat sheet, and a first look at some of the food.
1. "White gold" is butcherspeak for delicious grade-A fat. "Old-school butchers would say 'look at all the beautiful white gold in this piece of meat,'" says Friedman.
2. The staggering amount of burgers that Bloomfield and Friedman's restaurants produce (an estimated 75,000 per year at the Spotted Pig alone) sparked the idea of White Gold. Friedman explains: "Selling a ton of burgers is good and bad. Good because we can fund other things, or even lose money on other dishes; bad because we get all these young hotshot chefs and culinary-school grads that come to the Spotted Pig wanting to work at a Michelin-star restaurant, and end up flipping 150 burgers between midnight and 2 a.m. So we thought, if the burger is our signature dish, let's really go for it. Find a farmer that raises the cattle the way we want, and butcher and grind the meat ourselves." Now, White Gold, which sources its beef from an upstate farm, will supply all the burger meat for the Spotted Pig, Salvation Burger, and the Lobby Bar at the Ace Hotel.
3. Funny, then, that one thing you can't get at White Gold is a burger. Everyone, we suppose, has his or her limits. But you can get a version of a chopped cheese, the hyperregional cheesesteak-like sandwich said to have originated in the bodegas of East Harlem.
4. Butchers and co-owners Jocelyn Guest and Erika Nakamura don't have favorite cuts of meat; they have favorite cuts within cuts, which they call favorite "bites": the flat end of the flat iron; the top corner of the bottom round that attaches to the aitchbone; the tail of the tri-tip, and, of course, the ever-popular meaty bits behind the eye sockets of a braised pig head.
5. Whole-animal butchers are smart, artistic, and funny. Nakamura was once a sculptor. And before Guest began carving animal carcasses for a living, she did a stint as a comedy writer at the Upright Citizens Brigade. "Everyone I work with is hilarious," she says. "And most of them have master's degrees or used to be teachers."
6. Practically everything at White Gold is made in-house — not only the deli meats, sausages, rillettes, terrines, pâtés, and Cornish pasties, but the sourdough bread for the restaurant (20 loaves of which will be sold retail daily), plus all of the condiments (kimchee, relish, mustard, sauerkraut, pickles) except the ketchup, which, by law, has to be Heinz.
7. The "green sauce" for the rotisserie chicken is a nod to the excellent signature condiment at the Peruvian chicken chain Pio Pio.
8. On the (frequently changing) dinner menu: Meaty options run to New York strip steak, smoked beef cheeks, beef tartare, and crispy pork lettuce wraps. Bloomfield, the author of A Girl and Her Pig but also A Girl and Her Greens, is not one to neglect her vegetables, hence the mushroom toast with horseradish-kefir cream, radishes with bone-marrow butter, smoked beans, and long-cooked kale.
9. Sandwiches! For breakfast: housemade-bacon-egg-and-cheese and housemade-sausage-egg-and-cheese. For lunch: smoked-tofu banh mi with herbs, pickled carrots, daikon, and white-miso compound butter. A pastrami Reuben. Roast beef with horseradish cream and beef drippings. A lamb gyro. And rotisserie porchetta with ricotta salata, pickled red onion, Bibb lettuce, and mayo.
10. Dinner theater: A meat rail is positioned smack dab behind the marble meat counter, in view of the dining room, so customers can watch a butcher disassemble a whole hog or a side of beef while they tuck into their grilled beef heart with chimichurri, or smoked vadouvan-rubbed lamb ribs. "Shouldn't people know a little bit more about where their food comes from?" asks Friedman.
11. Still, you needn't be Fergus Henderson or an aspiring expert on off-cuts and nasty bits to enjoy a visit to White Gold. You won't find many challenging slabs of meat at the butcher counter but rather familiar things like rib eyes, strip steaks, skirts, hangers, and tri-tips. Any proselytizing about eating the whole animal will come from your waiter, not your butcher. "We'll introduce diners to steaks they may never have heard of by cooking them perfectly rather than yammering on about them at the display case," says Nakamura.