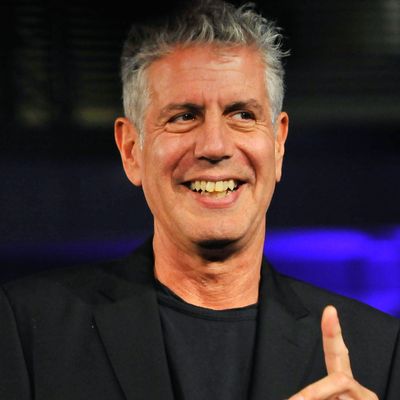 Bourdain's next documentary is about food waste.
Photo: Larry French/Getty Images
Anthony Bourdain is beefing up his IMDb page. Fresh off of publishing Appetites, his first cookbook in over a decade, word now comes, via Variety, that the Parts Unknown host will produce a documentary called Wasted! The Story of Food Waste. He'll tackle the project with his partners in crime at Zero Point Zero, whose Nari Kye and Anna Chai will direct the documentary, along with the Rockefeller Foundation.
The immense and immensely ignored problem that is food waste has been a hot topic over the last year, inspiring projects like New Jersey's plan to turn discarded supermarket food into energy. This newfound focus has also revealed some depressing statistics, like the fact that roughly 1.3 billion tons of food go to waste, and Americans toss about half of our produce and, according to the Rockefeller Foundation, a fourth of our food overall.
Along with Bourdain, the documentary will feature Blue Hill's Dan Barber, who made curbing food waste his pet project last year with wastED; Osteria Francescana's Massimo Bottura, who declared war on food waste in a Wall Street Journal op-ed; and Mission Chinese Food's Danny Bowien. It's the second documentary Bourdain will be producing with Zero Point Zero, following this year's Jeremiah Tower documentary, The Last Magnificent.