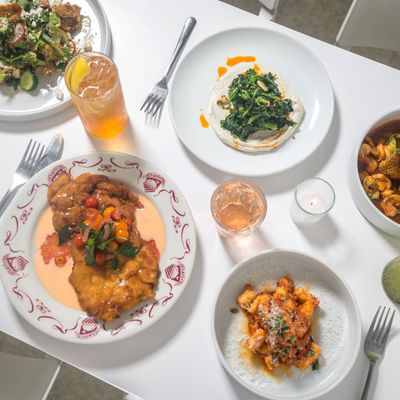 A sampling of dishes from Tekoá's new dinner menu.
Photo: Paul Wagtouicz
You can't open a plain old single-purpose food and drink establishment these days and expect to keep up with the rent. Or not to be viewed by your peers as lazy, lethargic, and totally lacking in ambition. Witness the rise of the multi-hyphenate social center: the movie theater–restaurant, the grocery store–restaurant, and the coffee bar–restaurant. And so a couple of weeks ago, the unlazy couple Alex Raij and Eder Montero made good on their plans for Tekoá, the all-day Cobble Hill coffee shop they opened six months ago. At 5:30, they dimmed the lights, converted the pastry counter into a liquor bar, set the tables with cloth napkins, and launched dinner service. The biggest nighttime transformation, though, is the menu itself: It deviates not only from the breakfast eggs and lunch sandwiches, but from almost everything the couple has cooked in their Spanish-inspired careers. Influences extend from Mexico to the Mediterranean and the Middle East — not in a mixed-up confusion fusion, but in a this-is-what-I-like-to-cook-at-home way.
Judging from a recent Underground Gourmet inspection, it also ranks high in the this-is-what-we-like-to-eat-out department. Guacamole is perked up with curry and lime; a tangy pimento-cheese dip tastes like it was FedExed intact from some southern kitchen (it almost was: The recipe comes from North Carolina chef Ashley Christensen, a friend of the house). There is fried chicken, too, of a sort: The "cold Milanesa de pollo" is a tribute both to Raij's mother's habit of frying a stack of thighs and eating them at room temperature, and the chicken milanesa sandwiches, garnished with tomato and mayo, that Raij ate on the beach during family vacations in Argentina. In Brooklyn, she achieves a similar bright, creamy effect by serving the golden-crusted cutlets atop dueling pools of grated tomato and tomato mayo.
The fattoush salad is a study in crunch: hearts of Little Gem lettuce, strips of bell pepper, chunks of cucumber, and the crisp, seasoned pita chips that define this fragrant Levantine bread salad. Tekoá's take on bollito misto — a bouncy boudin blanc, a succulent slab of pork shoulder, a hunk of cabbage, and a soft-cooked potato or two — reflects the chef's love of boiled dinners and of her mother's salsa verde. It's Italian food, reimagined — and so is the gnocchi al tuco, which Raij forms from corn masa. ("I love these because they taste like little tamales," she says.) Cloaked in tequila-tomato sauce and dusted with grated Parmesan, they're part Italian, part Mexican, and pure pleasure — comfort food from a worldly kitchen.
Tekoá serves dinner from 5:30 p.m., Thursday through Sunday.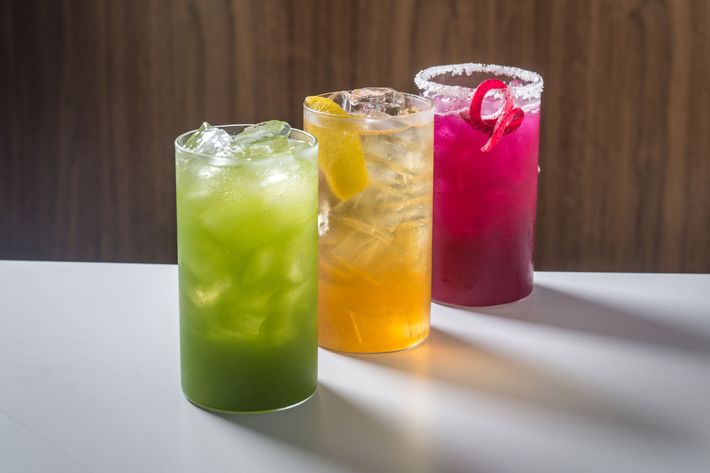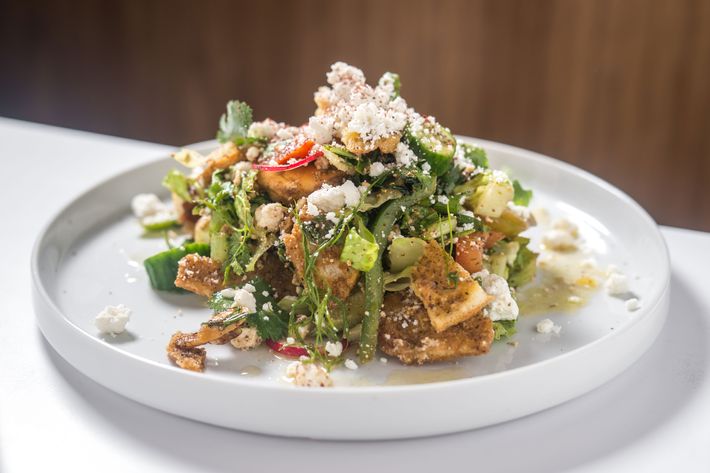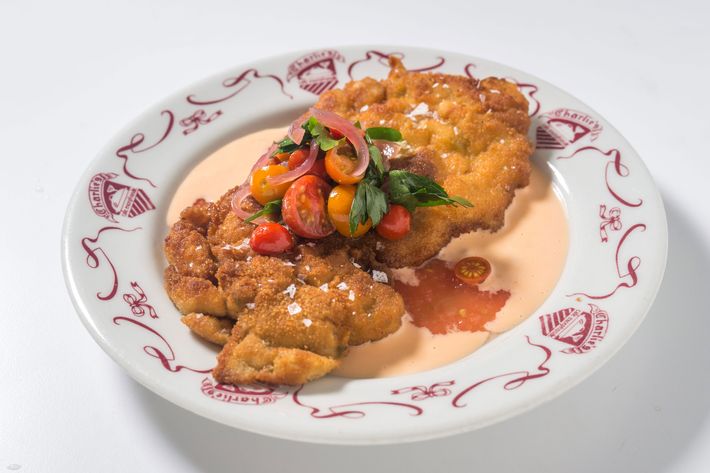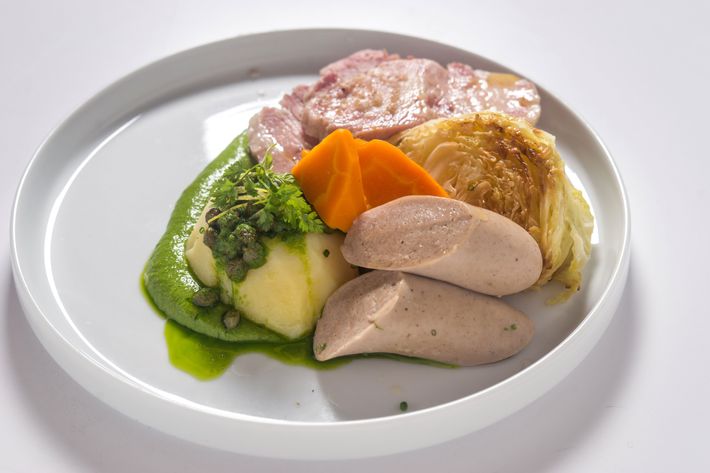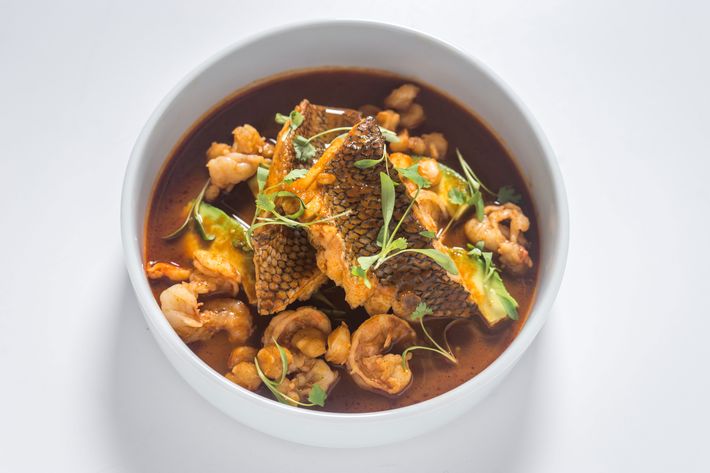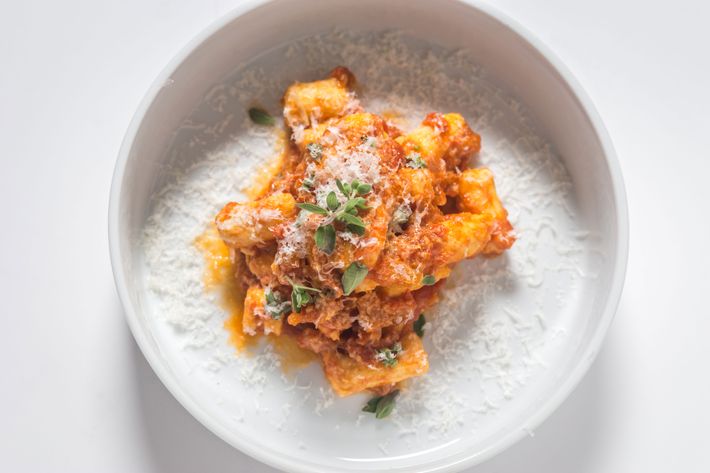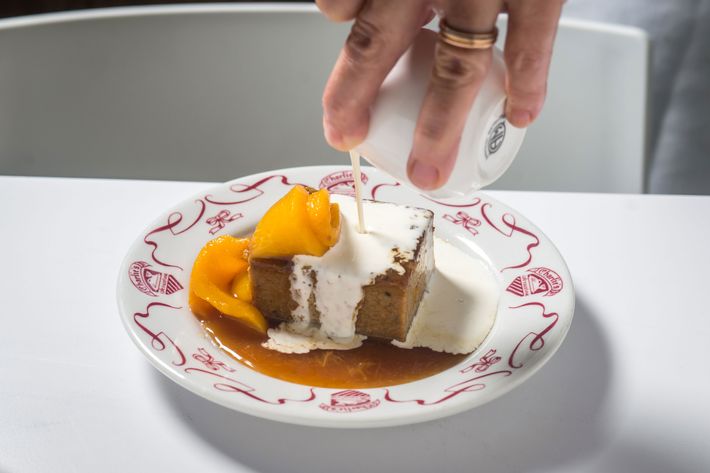 264 Clinton St., at Verandah Pl., Cobble Hill; 347-987-3710