As you may have noticed, no one goes out to lunch anymore: The average office zombie spends his lunches scarfing down a salad with one hand and typing with the other. While this should be cause for concern as well as nostalgia (gone for most people who aren't hedge-fund executives is the three-hour boozy lunch, a fact made all the more real by the recent closing of The Four Seasons), it shouldn't occasion too much depression: In the past few years, the options for desk-lunchers have gotten a lot better. Forgotten are the days when the sauce from your steam-table lo mein's seeping into your Greek salad would be met with a resigned shrug, or when Chipotle and Subway were the best chains around. Healthy and consistently tasty salad purveyor Sweetgreen has spawned a slew of build-it-yourself spots throughout the city. And the success of delivery-only restaurant Maple has inspired other start-ups that are now competing for your lunch money. As for those who want to bring their own? Innovative chefs are telling us that a sandwich made with Fritos and Funyuns isn't just convenient, it's delicious.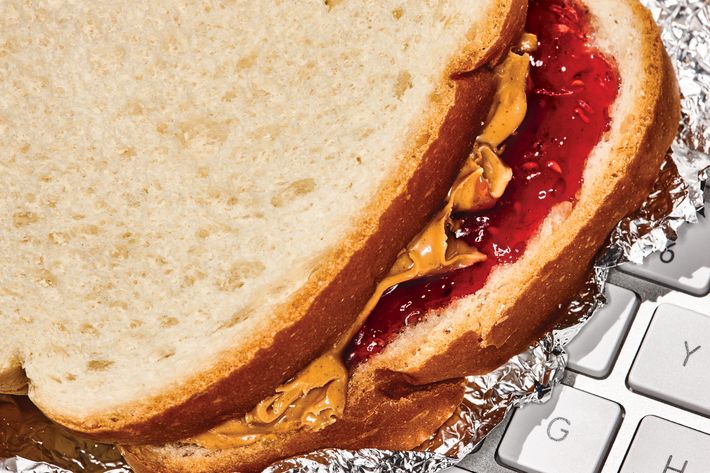 22 Ways to Hack Your Hoagie
We asked three masters of the form how to reinvigorate the brown-bag sandwich.
By Robin Raisfeld and Rob Patronite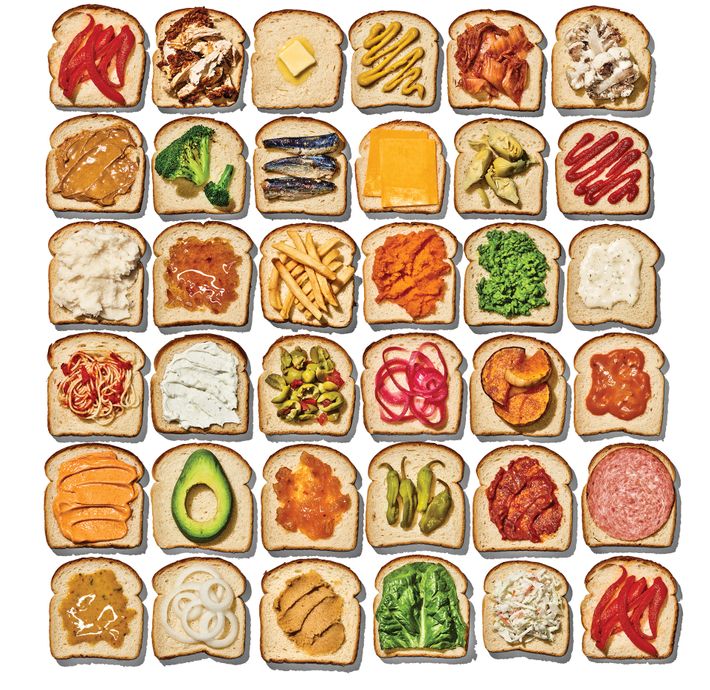 Soup Up Your Mayo …
Miso mayo provides an umami kick and is super-easy — just make or buy a mayonnaise and season it with miso paste and hot sauce. —Corey Cova, former chef at Earl's Beer & Cheese
… Or Go Beyond Mayo
Sweet potatoes make an excellent sandwich spread. Steam the potatoes, mash them up, and spread them on the bottom of multigrain bread or any kind of a roll in place of soft cheese. —Dewey Dufresne, chef-owner of the forthcoming BYGGYZ sandwich shop
Drizzle Maple Syrup Judiciously
Put maple syrup on your sandwiches! Just a little! It's way cooler than Mike's Hot Honey on a pizza, we just don't talk about it as much.—Tyler Kord, chef-owner of No. 7 Sub and the author of A Super Upsetting Cookbook About Sandwiches
Mango Chutney Goes With Everything
Buy a jar of the housemade brand at Dual Specialty Store on First Avenue (it's better than Kalustyan's). Put the chutney in a food processor for two or three whirls so that it becomes an easily spreadable relish with enough body that it doesn't make your bread soggy. Use it as is on anything, or add some mayo and hot sauce for a sweet-hot-sour condiment.—D.D.
A Good Olive Salad Is Hard to Beat
A salad of olives, roasted peppers, and garlic is one of my favorite condiments. You can make a pretty big batch and it really lasts forever. —C.C.
Raid the Vending Machine
Putting chips on sandwiches is an awesome way to achieve some texture in an otherwise homogeneous sandwich. BBQ potato chips, Fritos, and Funyuns are my favorites!—T.K.
Don't Neglect the Basics
Unsalted butter, salt, and pepper: these are condiments, the most basic, but they will enhance your sandwich tremendously. —D.D.
Pickle Quickly
Quick pickles are easy to make and great on just about any sandwich. Two cups of vinegar, one cup of sugar, a pinch of kosher salt, and a tablespoon of coriander boiled and poured hot over some sliced red onions is a good one to start with. —C.C.
Dip It
Put your condiments (say, tzatziki or green goddess dressing) in a small glass or Tupperware container and use them like a jus or dipping sauce, so you can moderate the amount you use. If you've got a particularly fatty piece of meat on that pastrami sandwich, for example, you can add a little more mustard. It will completely transform your sandwich-eating experience. —D.D.
Use Your Leftovers
If you have any leftover meat from last night's dinner, just slice it on your way out the door and you've basically made a high-end, unprocessed cold cut. Often I'll take any braising liquid or sauce or soup that's been cooked down and use it to bring some life back to an overcooked item. Cold fried chicken is also amazing for sandwiches.—C.C.
Cold fried-chicken sandwich: Slice a boneless piece on the bias and enjoy the inconsistency of having some bites with more fried crust and some with less. To ensure an even crunch throughout, and to compensate for any flavor loss from eating something that was intended to be eaten hot, layer from the bottom up: bottom of potato roll, miso mayo, pickles, thin-sliced raw white onion, Cool Ranch Doritos, cold fried chicken, iceberg lettuce, miso mayo, top of potato roll. —C.C.
Leftover Spaghetti Works, Too
Here's how my French Canadian grandmother did it: Take some leftover spaghetti in tomato sauce and roughly chop it up. Spread one side of a slice of soft sandwich bread with butter (it holds the pasta in place). Add spaghetti and cover with the other slice of bread. Variations include topping with a thick slice of beefsteak tomato and a swipe of mayo or with fresh mozzarella and/or sliced meatballs. —D.D.
Change Your Tuna's Oil
There's nothing like high-quality canned tuna, but it's expensive. Buy a lesser grade of tuna, put it in a container, and add your own extra-virgin olive oil and marinate overnight. You're getting great flavor without the price. —D.D.
Eat Your Veggies
Try using vegetables like roasted broccoli or cauliflower instead of cold cuts to make a healthier but just as satisfying sandwich that won't make you as sleepy. —T.K.
Embrace Bologna
Bologna is underappreciated. Butchers like the Meat Hook and Dickson's Farmstead Meats make delicious versions along with mortadella, bologna's aristocratic Italian cousin. —D.D.
Just Open Your Fridge
You don't need to buy a quarter-pound of turkey, ham, or soppressata. Those are good things, but if you pack your lunch five days a week, you're going to want to change it up. Explore your refrigerator or cupboards, and you'll probably find a lot to work with. That's how I came up with one of my favorite sandwiches: peanut butter and sardines. —D.D.
Peanut Butter and Sardine Sandwich: Lightly toast a ciabatta roll or a nice square of focaccia. Smear inside of bottom half liberally with peanut butter (I like Koeze Cream-Nut brand). Layer sardines (King Oscar's wild caught brisling sardines in extra-virgin olive oil are my favorites) on top of the peanut butter. Top with harissa (I like the kind that comes in a squeezable tube, like the Dea brand), and a spritz of lime or lemon. Spread mayonnaise (preferably Duke's) on the inside of the top of the roll and cover. Did I mention that adding bacon to this sandwich is fantastic? —D.D.
English Muffins Cannot Be Denied
English muffins are the perfect bread if your office has a toaster oven — one of the few breads that can work well with any sandwich type known to man. —C.C.
Consider the Wrap
Anything goes well in a wrap: rice, leftover pasta, beans, veggies, chicken, fish, fruit, nuts, you name it. Fold it, wrap it tightly in plastic wrap, make it the night before or that morning, and it's ready to go. Aladdin Bakers in Brooklyn makes great wraps.—D.D.
Who Doesn't Love Potato Rolls?
Potato rolls work well for a number of sandwiches besides burgers, but they don't travel particularly well. A solution: Take the dome part of the roll and cut a quarter-inch off the top all the way across, while leaving the bottom alone. Then lightly toast both the top and bottom and you have a faux brioche roll that travels well and makes a wonderful, more flavorful substitute for white bread to use with egg, chicken, or tuna salad. —D.D.
Beware the Squeeze-Out Factor
If you're using a roll or ciabatta, hollow out that dome, get rid of some of that bread, because it creates an imbalance between filler and the vessel and also influences the squeeze-out factor. The squeeze-out factor is big in office dining. If you have the hollowed-out dome, stuff is less likely to spill out the sides. —D.D.
Always Slice on the Diagonal
When cutting a sandwich made on square slices of bread, cut the sandwich on the diagonal. The diagonal-cut half holds in your hand much better, and there's less of a tendency for ingredients to spill out. Plus it's easier to get the points of the sandwich into your mouth. —D.D.
Aquafaba Mayo Is the Perfect Complement
By Robin Raisfeld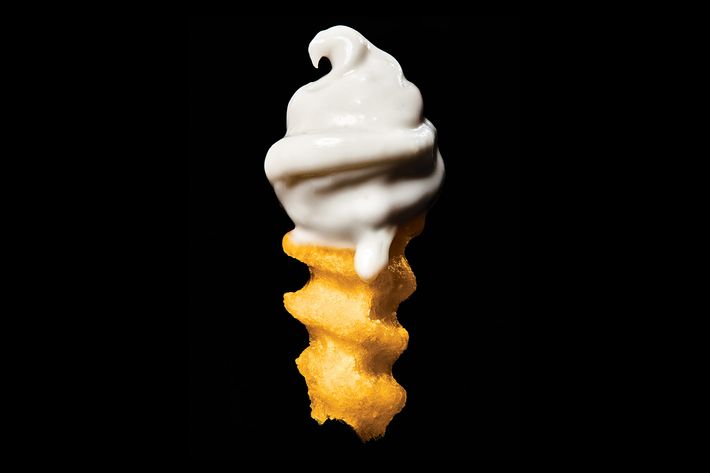 The condiment landscape is littered with small-batch srirachas and artisanal achaars, but the biggest news in the refrigerator-door realm is aquafaba mayonnaise, a food-science triumph that replaces eggs with the previously discarded liquid remaining after chickpeas are cooked. Sir Kensington's of ketchup fame recently launched the first commercial aquafaba mayo, called Fabanaise ($6 at Whole Foods), and while the spread may lack the faint-yellow tint and curdy wobble of Hellmann's, it is plenty tangy and creamy — the perfect complement for your next desk lunch. Although the substance sprang from within the culinary constraints of the vegan world, its manufacturer envisions a market of omnivores who'd willingly choose it over the "real" thing.
Make a Chef-Designed Sandwich in Your Office Kitchen
(top photo)
While Tyler Kord, the chef-owner of No. 7 Sub and the author of A Super Upsetting Cookbook About Sandwiches, acknowledges that sogginess is the bane of the brown-bag sandwich schlepper, he also thinks it's an underrated texture that you'd do well to embrace rather than fear. But to suit all tastes, he has come up with four delicous sandwich kits to assemble à la minute at the office, ranked on our sog-o-meter from one drip (dry) to five drips (drenched).
1. Hot Corned Beef, Fontina, Pickles, and Chinese Mustard on Rye (Drip Rating: 1)
2 slices bread (I vote rye, pumpernickel, or rye-pumpernickel swirl)
1 packet Chinese mustard (you probably have one left over from the last time you got an egg roll delivered)
2 oz. of something pickled in a tiny Tupperware container
4 oz. of sliced corned beef wrapped around
2 oz. (a couple of thick slices) Fontina cheese, wrapped in plastic to make a pouch of awesome
At lunchtime, microwave the meat-cheese packet until the meat is hot and the cheese is melted. Cut a slit in the hot pouch (be mindful of the steam!) and slide the meat out onto the one piece of bread. Top with the pickles, put mustard on the top piece of bread, and close the sandwich. Toothpicks and olives optional.
2. Ham, Turkey, Roasted Broccoli, Cheddar, and Onion on Baguette (Drip Rating: 2)
1/3 of a baguette, sliced in half lengthwise, end removed
4 oz. sliced ham, turkey, and/or roasted broccoli
2 oz. sliced Cheddar cheese
A few slices raw onion
1 tbsp. of whatever creamy salad dressing you have on hand
The night before, assemble everything into sandwich formation. Wrap the sandwich in aluminum foil so that it is completely covered, then wrap that in plastic. Place sandwich on a baking sheet in the refrigerator and put a pile of heavy pots and pans on top of it to weigh it down overnight. At lunchtime, remove the plastic and toast the sandwich in a toaster oven set to 350 degrees for 8 to 10 minutes or until the cheese is nicely melted.
3. Roast Beef, Smoked Tofu, Mozzarella, Cucumbers, Mayo, and Carrot-Ginger Dressing on a Kaiser Roll (Drip Rating: 4)
1 kaiser roll, sliced in half
2 oz. carrot-ginger dressing
1 oz. mayo
4 oz. roast beef, smoked tofu, and/or fresh mozzarella
2 oz. sliced and salted cucumbers
Spread the dressing on the top bun and the mayo on the bottom. Top the mayo side with the roast beef, smoked tofu, and fresh mozzarella and then the cucumbers. Close the sandwich, wrap tightly in plastic, give a good squeeze, and refrigerate. Give it another good squeeze right before going to bed, and yet another before work. At lunchtime, eat the sandwich and laugh at everybody who is afraid of the soggy.
4. Leftover Hot Roast Beef with Gravy (Drip Rating: 4)
1 tsp. Sambal
1 tbsp. hoisin sauce
2 slices white bread
4 oz. leftover roast beef
2 oz. mung-bean sprouts
1 oz. sliced white onion
5 or 6 leaves of basil, roughly torn
½ jalapeño, sliced into thin rounds (optional)
4 oz. gravy
Spread half of the sambal and half of the hoisin on each slice of bread. In a microwave-safe container big enough to hold everything, place the bread on the bottom. Spread the roast beef out to cover it and top with the bean sprouts, onion, basil, and jalapeño. At lunch, microwave the bowl of sandwich on high for a minute or two. Microwave the gravy until bubbling and pour it over the open-face sandwich. Eat with a knife and fork!
Put Some Feta at the Bottom
And more notes from chefs on what to add to a make-your-own-salad.
By Mary Jane Weedman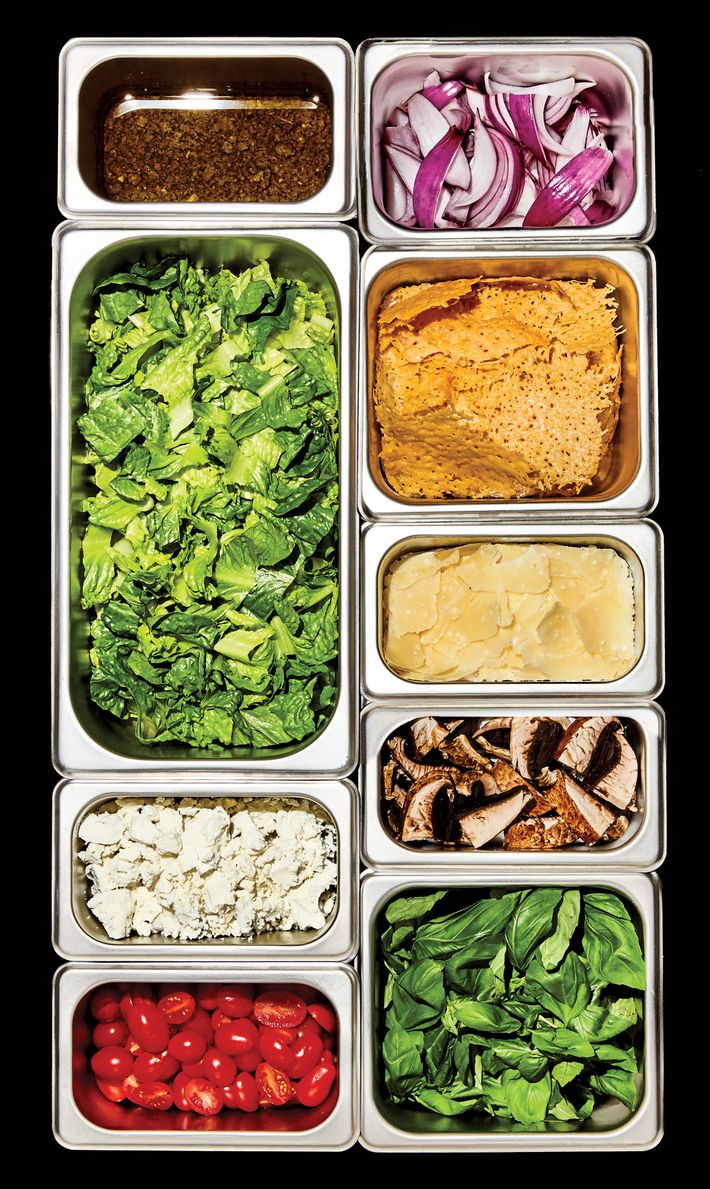 What to Make at Sweetgreen
According to Craig Koketsu, chef and partner, Quality Branded restaurants.
His salad: Romaine, tomatoes, red onion, basil, warm portobello mix, goat cheese, shaved Parmesan, Parmesan crisps, red-chile flakes, and pesto vinaigrette, and BYO pepperoni.
Get crunchy: "Texture is completely important. Here, the ribs of romaine have their own crunch." And Koketsu triples up on cheeses — goat, shaved Parmesan, and Sweetgreen's airy Parmesan crisps. "I like them instead of straight-up croutons because they add another dimension of flavor. The Parmesan has umami."
Trick your stomach: "I don't want to feel like I ate a salad, but like I ate a real meal. So I go for bold dressings, like this pesto vinaigrette. And you want a contrast of richness and acidity to balance everything," says Koketsu. "If it touches on all those things you're satiated."
Pack a toothbrush — for the onions — and some pepperoni: "This salad has such good flavor with the mushrooms and cheese and crisps — it doesn't leave me wanting—but pepperoni is never a bad addition." (He recommends Salumeria Biellese's.)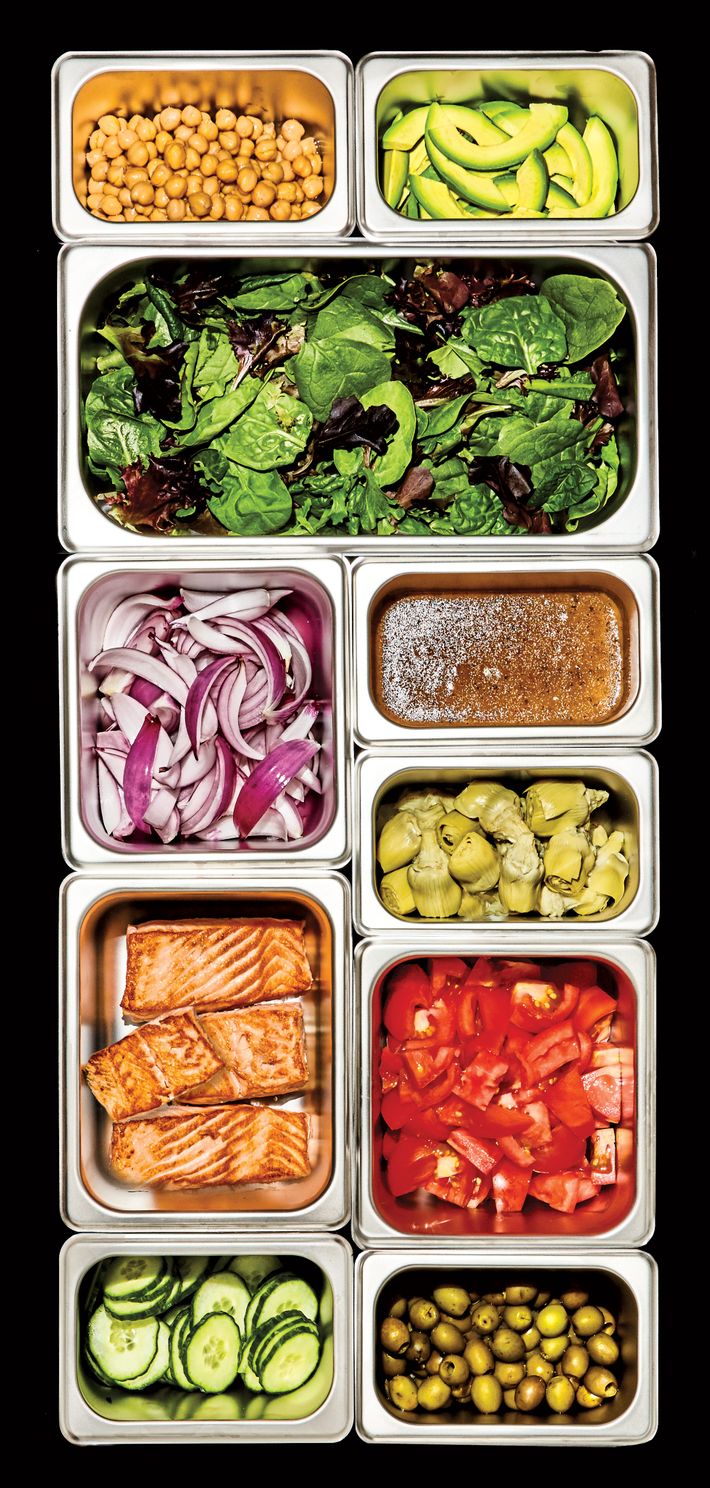 What to Make at Pax
According to Daniel Holzman, chef-owner, the Meatball Shop.
His salad: Mixed greens, chickpeas, red onions, cucumbers, olives, avocado, and artichoke hearts with salmon on top, and red-wine vinegar and olive oil.
Steer very clear of prepared dressings: "They put weird emulsifiers in there to keep olive oil and vinegar together." So ask for something much more simple, like red-wine vinegar, olive oil, and salt.
Get a good look at the ingredients, and ask when they were prepped: "Onions are a scary one: If they sit around, they get this horrible ammonia flavor." Holzman says that chickpeas are reliable: "They're a safe bet — they come from a can, and canned chickpeas are great."
If you must do a meat, choose salmon: "Conventional farming methods are a little bit scary, and there are some ingredients that it matters more for. I usually stay away from the meat, the eggs, the dairy. But farm-raised salmon is fairly innocuous."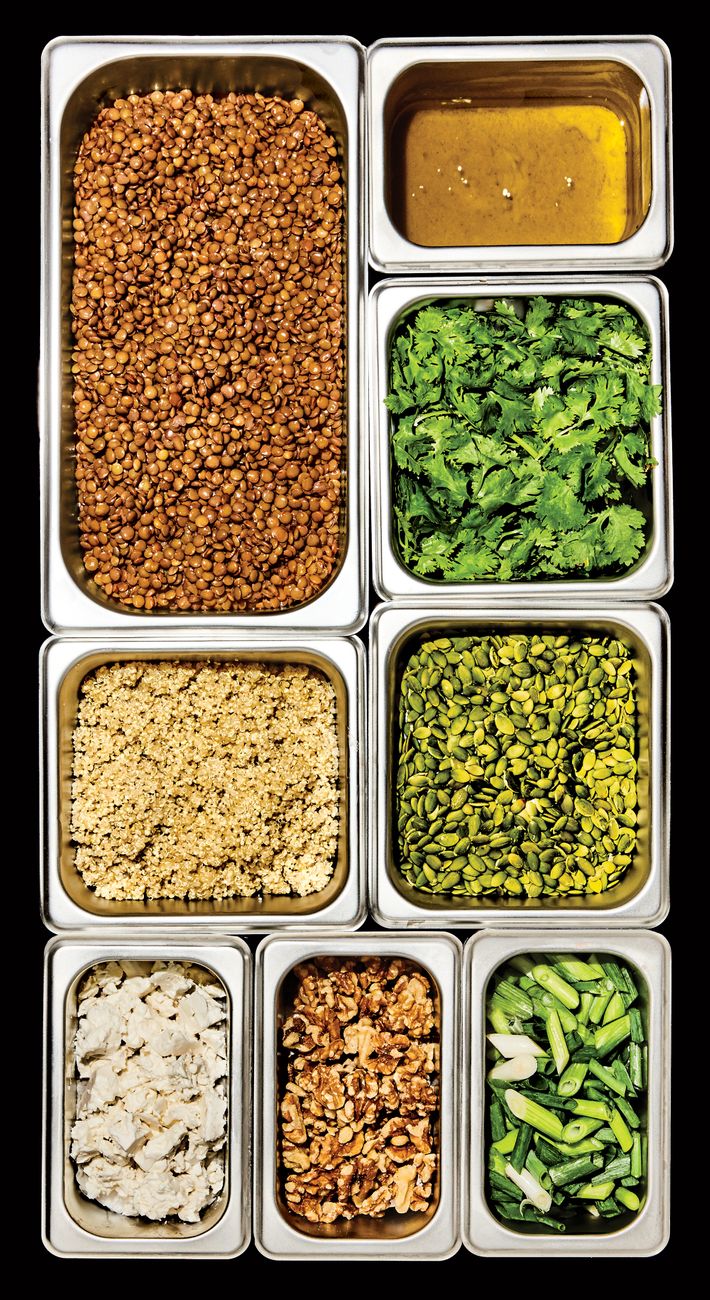 What to Make at Just Salad
According to Elise Kornack, chef and co-owner, Take Root.
Her salad: Lemon, olive oil, feta, jalapeños, cilantro, scallions, wheat berries, quinoa, lentils, walnuts, and pumpkin seeds.
Skip the greens: "When people come here, they immediately go for the lettuce, and what happens with lettuce is that it gets saturated with dressing, and you get tired of it after a couple of bites. With mostly grains, it's going to hold up longer." She looks for protein-heavy bases, like lentils or quinoa.
Don't be afraid to give a little direction: Kornack asks the salad-maker if she'll put the dressing — olive oil and lemon juice — on the bottom of the bowl at the beginning, then add some feta (so it can soak in the dressing). "If you put dressing on top, it weighs it down and everything gets soggy a lot faster."
Look for different textures: "I feel like that's the most important thing, the texture, because then you want to keep going back for bites." Some of her texture choices: walnuts, pumpkin seeds, and jalapeños (not pictured). Plus you get spice from the pepper, making ignoring the premade dressings easier.
Steal Bill Telepan's Daughter's Lunch
What chefs pack for their kids.
By Robin Raisfeld and Rob Patronite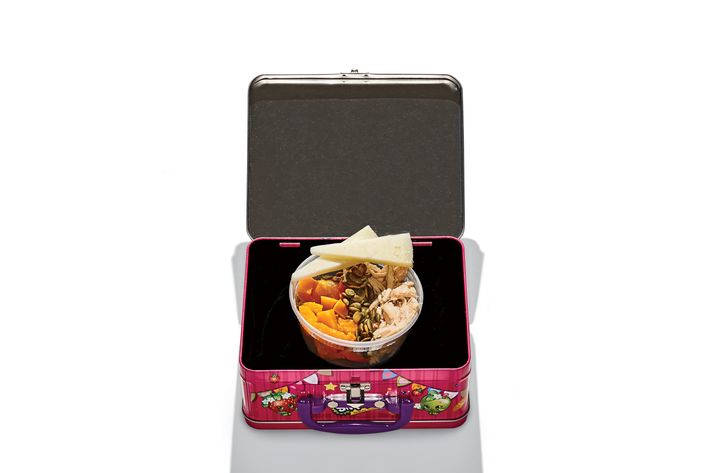 1. Wylie Dufresne, chef, Du's Donuts and Coffee, opening this winter at the William Vale Hotel
"Dice and roast butternut squash on a sheet pan and add some toasted pepitas and crumbled cheese. It's good cold and holds well at room temperature. You can also combine with leftover pasta or shredded roast chicken. Dress it lightly ahead of time with olive oil and sherry vinegar, and then just give it a quick toss, shake, or stir."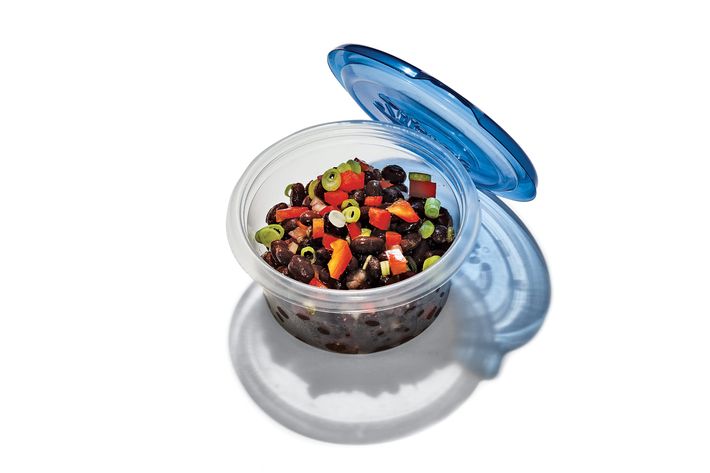 2. Bill Telepan, executive chef, Wellness in the Schools
"I'll make my daughter a black-bean salad with a light dressing of balsamic and red-wine vinegars, garlic, and olive oil — pack it up in a small reusable plastic container, have it with a sandwich. Really any kind of bean works — chickpeas and corn make a good salad and are yummy, too, and easy to eat."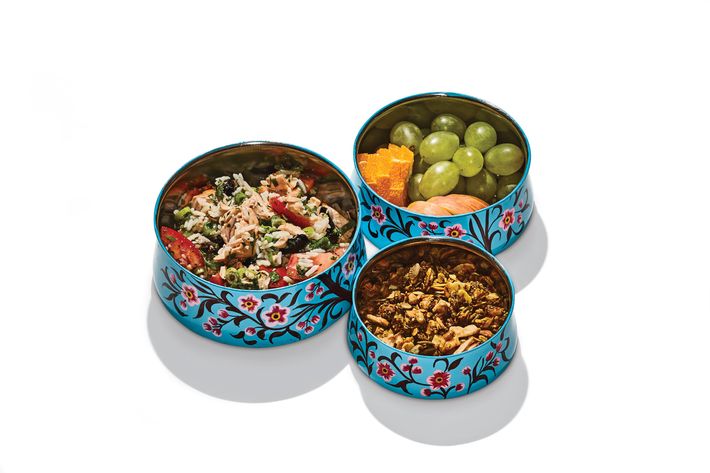 3. Einat Admony, chef-partner, Taïm, Bar Bolonat, and Balaboosta
"My husband, Stefan Nafziger, makes a recipe he adapted from his mother, a rice-tuna-tomato salade à la provençale. He takes leftover rice — the crustier the better — and adds good canned tuna, tomatoes, Moroccan black olives, and herbs. It's perfectly balanced and will keep you full for a while. After a day or two, it gets even better."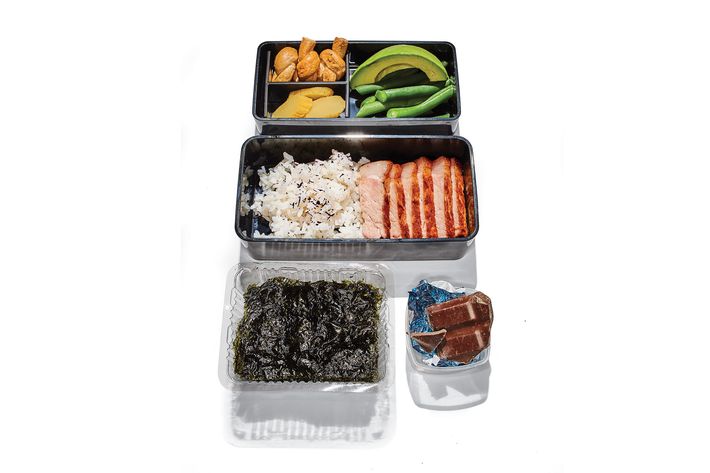 4. Alex Raij, co-chef-owner, El Quinto Pino, Txikito, La Vara, and Tekoá
"The pork-chop bento box is huge for us. I cure the pork loin whole [the recipe is in Raij's The Basque Book], then slice ⅓-inch thick. There's white rice and pickles for my daughter, hard-boiled egg for my son, and they each get a pack of nori and a small treat — usually chocolate chips, a chunk of a dark-chocolate bar, or a cookie."
Beyond Maple
No disrespect to the new, popular meal-delivery service, but you may be on the hunt for another no-hassle, lunch-by-bike-courier option. We gave these three a shot.
By Mary Jane Weedman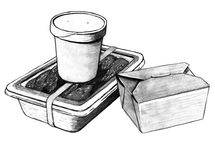 Arcade
What it is: Every weekday morning at ten, Arcade sends a text message offering three lunch choices around $15 from partnering restaurants around town.
How it tastes: One day, we ordered cavatelli from Good; it arrived warm, with crispy bread crumbs still intact on top. The menu options aren't always from the most exciting restaurants, but there's some­thing enchanting about sending a single text as you get ready for work and having lunch appear in a couple of hours. eatarcade.com
Ando
What it is: Ando launched in May and bills itself as "Momo­fuku's delivery-only restaurant"; it's great if you love Maple's aesthetic and ease of ordering but wish that the lunches felt a bit more hedonistic. For now, the service is only in Midtown East.
How it tastes: The chefs are J.J. Basil (ex-wd-50) and David Chang. Options have included a very crispy, very delicious spicy fried-chicken box ($11); excellent red beans and rice ($4); halal-cart-inspired chicken over rice ($10); and dan dan noodles with pork and Sichuan chile sauce ($9). andofood.com
Good Bytes Box
What it is: This service supports "technology-led classroom projects" in Brooklyn with dollar donations from each meal. There's a different option each day, and for now, it's available only at select Brooklyn offices.
How it tastes: Recent options included the nut-free, vegan tabbouleh and falafel salad and a strawberry-and-goat-cheese vegetarian offering. They taste bright, light, and clean, and virtuous too: All the lunches ($12) are vegetarian; some are gluten-free or fully vegan. goodbytesbox.com
So,
You
Want
a
Grain
Bowl
Where to find the best takes on four lunch options in five neighborhoods.
By Mary Jane Weedman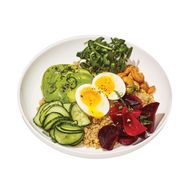 Bowl
Miss Lily's Jerk Shack's grain bowl with carrot-ginger vinaigrette; $9. 130 W. Houston St., at Sullivan St.; 212-812-1482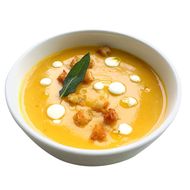 Soup
Dominique Ansel's butternut-squash soup; $8; 189 Spring St., nr. Sullivan St.; 212-219-2773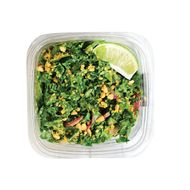 Salad
By Chloe's grab-and-go kale salad with spicy peanut sauce; $7; 185 Bleecker St., at Macdougal St.; no phone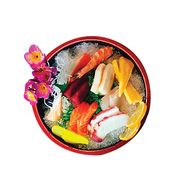 Sushi
Okinii's chirashi with ten pieces of fish; $14; 216 Thompson St., nr. Bleecker St.; 212-574-4438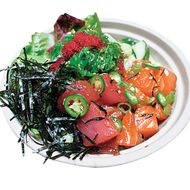 Bowl
Sons of Thunder's tuna-and-salmon poke bowl; $10.75; 204 E. 38th St., nr. Third Ave.; 646-863-2212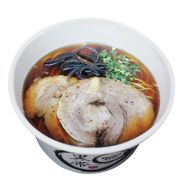 Soup
Kuro-Obi's cha-obi chicken-soup shoyu ramen; $10; Urbanspace Vanderbilt, 230 Park Ave., nr. 45th St.; no phone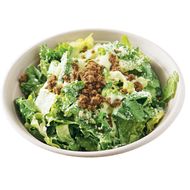 Salad
Great Northern Food Hall's Caesar salad with pickled-herring dressing; $11; Grand Central Terminal; 646-568-4020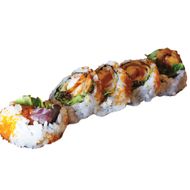 Sushi
Nare Sushi's two-rolls lunch set with a salad or miso soup; $10; 115 E. 57th St., nr. Park Ave.; 646-666-0061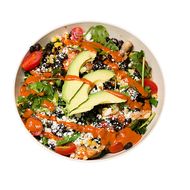 Bowl
B.good's local-apple-and-bacon bowl; $11; 141 Montague St., nr. Henry St.; 718-522-4663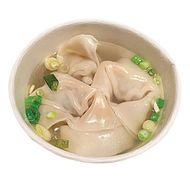 Soup
Yaso Tangbao's pork-and-bok-choy-wonton soup; $5; 148 Lawrence St., nr. Willoughby St.; 929-337-7599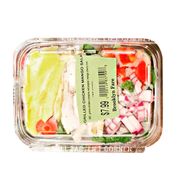 Salad
Brooklyn Fare's salad bar; 200 Schermerhorn St.; at Hoyt St.; 718-243-0050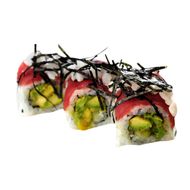 Sushi
Jun Shokudo, three-rolls lunch special with soup and salad; $13; 306 Gold St.; 718-855-0988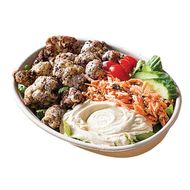 Bowl
Semsom Eatery's wild-thyme cauliflower bowl; $8.50; at TurnStyle, in the Columbus Cir. subway station; 212-956-2641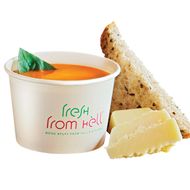 Soup
Fresh From Hell's large tomato-cheddar soup; $6.50; 326 W. 47th St., nr. Eighth Ave.; 212-956-4355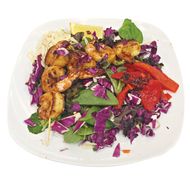 Salad
The Market @ Mercedes House salad bar; 550 W. 54th St., nr. 11th Ave.; 212-757-4545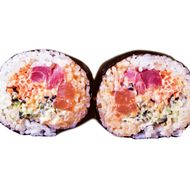 Sushi
Uma Temakeria's Uma-ritto sushi burrito; $11; at Gotham West Market, 600 11th Ave., nr. 45th St.; 212-586-2074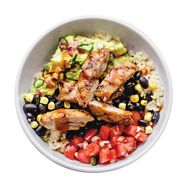 Bowl
Fields Good Chicken's Bueno Bowl; $10; 101 Maiden Ln., at Pearl St.; 646-895-6831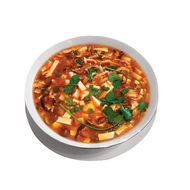 Soup
Tipsy Shanghai's hot-and-sour soup; $8; 103 Washington St., nr. Rector St.; 212-962-2096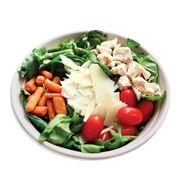 Salad
Eataly's salad bar; 4 World Trade Center, third fl.; 212-897-2895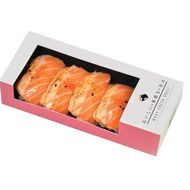 Sushi
Wasabi Sushi & Bento's seared-salmon nigiri set; $6; Fulton Center, 200 Broadway, at Fulton St.; 917-409-5238
On Standing Where You Eat
By Jesse David Fox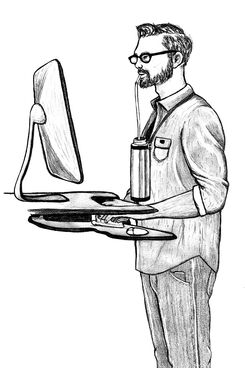 There are some real benefits to a standing desk: You burn as many as 40 percent more calories standing than you would sitting, and you get to survey your office's expanse like a sea captain. As for the cons, the biggest one is lunch, a meal that benefits from having a flat surface to rest the food on. The thing you need to avoid when eating while standing is having both hands occupied—what's the point of being at your computer if you have no hands free? Which rules out salads, which demand two hands: one to hold and one to fork. Sandwiches must be consumed the way Homer Simpson eats doughnuts, dropping them straight into the gullet without chewing. That leaves us with soup, which essentially becomes a hot, chunky meat (or seafood) smoothie. Yes, when I eat soup for lunch (which is every day), I drink it down as if it were a whiskey on the rocks, but instead of whiskey it's chowdered clam and the rocks are potato. Basically, when you have a standing desk, all you eat is soup. Soup, whose calories you burn more quickly than if you were sitting, freeing up room to eat more soup.
Five CEOs on What They Eat at Their Desks
Chicken, chicken, and more chicken.
By Sierra Tishgart
Tom Lehman, Genius
"My usual is the Greek salad from Avlee (349 Smith St., Carroll Gardens; 718-855-5125) — no cheese, topped with chicken souvlaki. I order the same thing every day because I find the vast sea of choices on Seamless paralyzing. And anyway, it's pretty salty, which is all I really care about."
Stephanie Korey, Away
"Nothing beats Postmates delivering Mimi Cheng's (179 Second Ave., 212-533-2007) right to your desk. I like the pan-fried namesake dumpling, with chicken and zucchini."
Gabriel Flateman, Casper
"I'm a big fan of the Roast Kitchen app, which allows me to easily order in between meetings. My go-to is spicy chicken sautéed with red-curry sauce, avocado, egg, cauliflower, and farro."
Noa Santos, Homepolish
"Maple — any of the chicken dishes. I have to make decisions all day long, so the fewer choices I have when lunchtime rolls around, the happier I am."
Danielle Weisberg, theSkimm
"I love Eva's (11 W. 8th St.; 212-677-3496) for chicken with steamed vegetables and hummus. Since we moved to Flatiron, I've been loving the Little Beet's (multiple locations) cabbage-and-soba-noodle-salad and broccoli sides."
*A version of this article appears in the October 3, 2016, issue of New York Magazine.