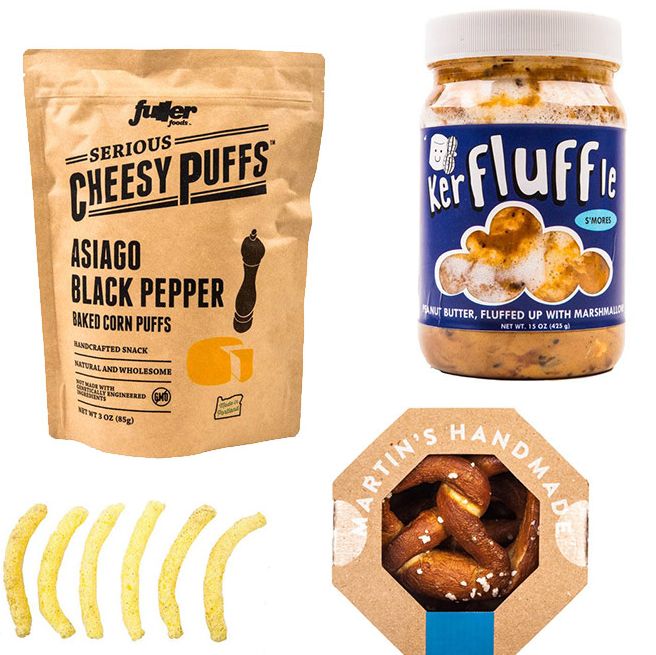 Halloween is right around the corner. You've already figured out your candy agenda — and if not, what are you waiting for? — but that still leaves some unanswered questions. Like, if you're hosting, what kind of (non-sugary) foods to serve and booze to get for your party that aren't just the usual bubbly wine and cheese and crackers. After all, you want your guests to come to your next party, too. Thankfully, Grub can help out with that. Here, 16 things you need to throw a better party, from a Hungarian-style cheese spread to a fancy citron vodka.
Fuller Foods' Cheese Puffs
Price: $15 for a three-pack of three-ounce bags
Is it a real party without cheese puffs? No. But you can do better with Portland, Oregon's Fuller Foods, who make theirs with high-quality corn grits from Bob's Red Mill. You could get just one, or you could something for everyone with a trio of Asiago black pepper, blue-cheese jalapeño, and sriracha cheddar.
Zingerman's Liptauer Cheese
Price: $10 for six-ounce container
Along with artichoke dip and chips of any kind, the cheese spread is one of the pillars of American party snacks. Ann Arbor's Zingerman's goes global with the traditional Hungarian version, made with farmer's cheese doctored up with paprika, capers, toasted caraway, and a pinch of anchovies.
Martin's Handmade Pretzels
Price: $5 for four pretzels
Fact: No one will complain about pretzels. Martin's makes some of the finest these days, keeping things straightforward and simple — some things need no improvement — but so good you'll want to order a couple of extra boxes for yourself.
Lehigh Biltong's Secret Spice Biltong
Price: $13 for a two-and-a-half-ounce bag
You could get the same old jerky. Or you could switch things up with South African biltong, prepared by seasoning and then air-drying the meat. Along with the traditional version made with salt, pepper, coriander, and vinegar, they offer this version spiked with a secret spice blend.
Kerfluffle S'Mores Fluffernutter
Price: $13 for a 13-ounce jar
If you were raised properly in New England, you inevitably ate fluffernutters, a somehow acceptable sandwich made with peanut butter and marshmallow spread. Kerfluffle does the work for you, mixing the two ingredients together and amping it up, s'mores style, with chunks of dark chocolate. Hey, at least it'll be nighttime.
Ends Meat's N'Duja
Price: $13 to $64 for half a pound to two and a half pounds
Like pâtés and terrines, n'duja was made for parties. It's a spreadable, spicy Italian sausage that makes for ideal drinking food. Brooklyn's always-tinkering Ends Meat swaps out traditional Calabrian chili for a very American mix of New Mexico red, ancho, serrano, and chipotle chiles.
Butter & Scotch's Green Chili Margarita Caramel Corn
Price: $9.50 for a three-ounce bag
The Brooklyn bakery and cocktail bar spices up sweet caramel corn, in a style similar to Mexican snacks, with lime zest, green chilies, and tequila.
Smoking Goose's Stagberry Salame
Price: $16.50 for one seven-to-nine-ounce salami
New-school charcuterie operation Smoking Goose consistently puts out some of the country's most original and deliciously interesting meats. The creation that captures that best is the stagberry salame. Made with cured elk meat seasoned with dried blueberries and dry mead, it's really unlike anything else out there.
1732 Meats' Lamb Prosciutto
Price: $500 for a whole leg
Or you could just go crazy and order a whole, bone-in lamb prosciutto from 1732 Meats, the ultimate American-made statement meat.
Hot Bread Kitchen's Pan de Muerto
Price: $35 for four
It's Halloween, so you better have at least one thematic food that's not just a bowl of black-and-orange gummy worms. To celebrate the Day of the Dead, New York's Hot Bread Kitchen sells pan de muerto, the buttery traditional Mexican sweet bread that's integral to the holiday. Plus, it's decorated with a skull and bones.
Farnum Hill Extra Dry Cider
Price: $15 for a 750-milliliter bottle
It's apple season, right, so pair your caramel apples with one of the Northeast's very best ciders. New Hampshire's Farnum Hill takes a winemaker's approach to cider, focusing on specific varietals, with great results: The extra dry, made from a blend of apples, is sugarless but still fruity and spicy.
Cornelius Applejack
Price: $46 for a 750-milliliter bottle
Tired of making batch bourbon drinks? Switch to applejack, the American heritage spirit that's achieved cult status in recent years. To make its version, New York distiller Harvest Spirits distills its hard cider twice before aging it for two years in bourbon bottles.
St. George Terroir Gin
Price: $40 for a 750-milliliter bottle
One of three gins made by the California company, which also produces quality absinthe verte and vodka, Terroir's botanical blend emphasizes warm and woodsy ingredients like Douglas fir, California bay laurel, and coastal sage.
Hermann J. Wiemer's Gewürztraminer 2013
Price: $27 for a 750-milliliter bottle
Big parties aren't really the place to explain to your friends and friends' friends all of the virtues of your favorite funky natural wine. Better to choose something that's easy and compelling to drink, like this dry Gewürztraminer from the Finger Lakes.
Lini 910 Labrusca Emilia Lambrusco Bianco
Price: $18 for a 750-milliliter bottle
If you're in need of bubbles and tired of Prosecco or whatever, get a bottle of Lini 910's Labrusca. Bucking Emilia-Romagna's tradition of sparkling red lambrusco, it's a (more familiar) bubbly white wine that's surprisingly dynamic while still being light.
Tamar Distillery's Citron Vodka
Price: $48 for a 750-milliliter bottle
Maybe, after years of secretly drinking Cosmos behind closed doors, you finally feel like the world is ready to accept your favorite drink again. But this being 2016, you want to make it with a craft spirit — and with a twist to make your friends think it's cool. If so, get a bottle of Tamar Distillery's double-distilled citron vodka, made with aromatic Buddha's hands and without any added sugar.