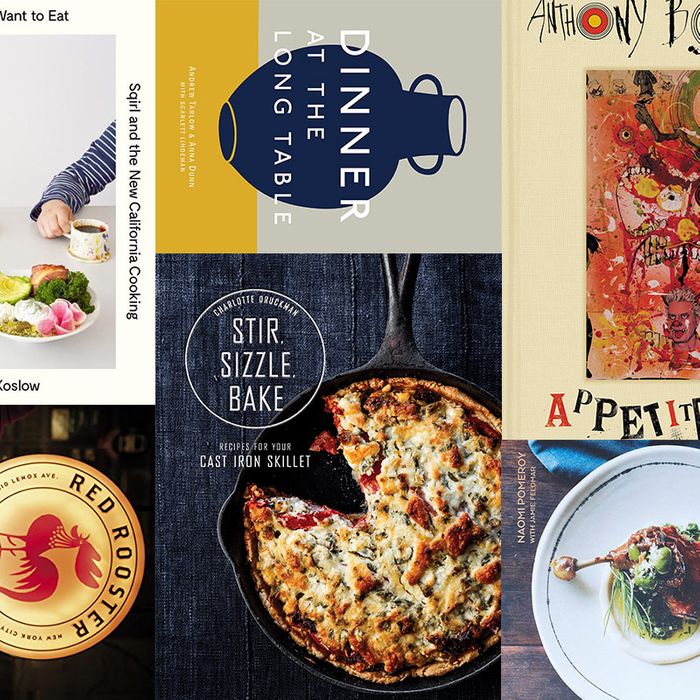 Fall cookbook season is an exciting time, but when your bookshelf is about to topple over, and you have one too many unopened jars of rose harissa, or teff flour (or whatever other obscure ingredient) in your pantry, you have to be selective about which new books to purchase. It's hard even for Grub to pick, but here are some excellent new ones: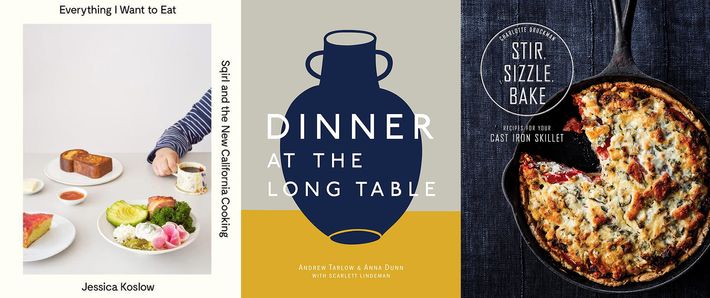 Everything I Want to Eat: Sqirl and the New California Cooking
By Jessica Koslow
Why It's Worth It: You can finally learn how to make the Los Angeles restaurant's wildly popular sorrel-pesto rice bowl, plus jam-stuffed French toast and malva pudding cake. And hey, for New Yorkers, it's cheaper than moving to Silver Lake. (You're totally thinking about it.)
Dinner at the Long Table
By Andrew Tarlow and Anna Dunn
Why It's Worth It: Through Diner, Reynard, Roman's, Marlow & Sons, and his other places nearby, Tarlow has defined the modern-day Brooklyn restaurant scene. His beautiful debut cookbook can very well serve as just a coffee-table book, but the simple, soulful recipes — like for "bread salsa" — are perfect for entertaining, per the theme.
Stir, Sizzle, Bake: Recipes for Your Cast-Iron Skillet
By Charlotte Druckman
Why It's Worth It: There's no one better to offer instruction on how to use the most essential, versatile item in your kitchen — Druckman is a prolific food writer and a home cook, and her enthusiasm for dishes like butter mochi cake and green-pea panisse is contagious.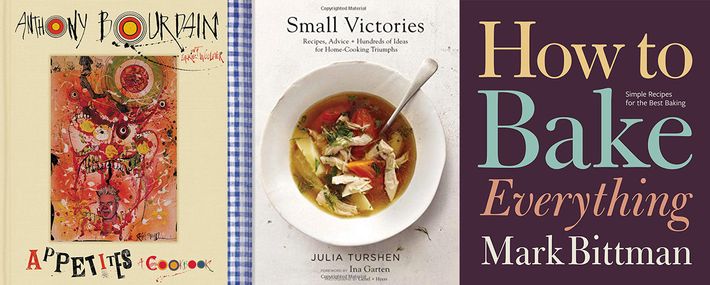 Appetites: A Cookbook
By Anthony Bourdain and Laurie Woolever
Why It's Worth It: This is Bourdain's first cookbook in over a decade. Is there anyone whose taste you trust more?
Small Victories: Recipes, Advice + Hundreds of Ideas for Home-Cooking Triumphs
By Julia Turshen
Why It's Worth It: Turshen co-authored cookbooks with Mario Batali and Gwyneth Paltrow, and this is her first independent work. Novice cooks will find her writing especially encouraging.
How to Bake Everything: Simple Recipes for the Best Baking
By Mark Bittman
Why It's Worth It: Like all of Bittman's books, this is incredibly comprehensive — with over 2,000 recipes — and it makes for a perfect starter book for new bakers.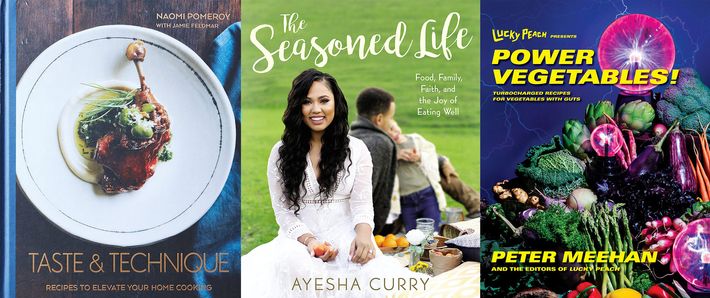 Taste & Technique: Recipes to Elevate Your Home Cooking
By Naomi Pomeroy and Jamie Feldmar
Why It's Worth It: If you liked The Food Lab, this is a good follow-up, and you can learn a lot from this Portland-based chef about the building blocks of restaurant cooking.
The Seasoned Life: Food, Family, Faith, and the Joy of Eating Well
By Ayesha Curry
Why It's Worth It: This is phase one in Curry's quest to become a new kind of food megastar, and the book offers a glimpse into her charming life with Steph and her adorable children.
Lucky Peach Presents Power Vegetables!
By Peter Meehan
Why It's Worth It: If any publication is going to make cooking vegetables fun, it's Lucky Peach. Plus, chefs such as Ivan Orkin and Brooks Headley contributed recipes.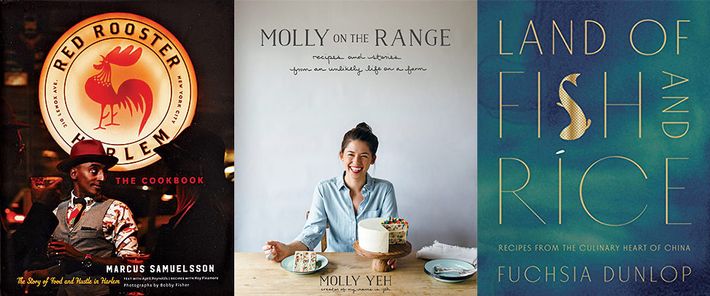 The Red Rooster Cookbook: The Story of Food and Hustle in Harlem
By Marcus Samuelsson
Why It's Worth It: Here's another chef who, like Tarlow, has helped define the modern-day food of his neighborhood. Samuelsson's book includes recipes from his six-year-old restaurant, like jerk bacon and brown-butter biscuits, but you'll also learn about the history of Harlem.
Molly on the Range: Recipes and Stories From an Unlikely Life on a Farm
By Molly Yeh
Why It's Worth It: Ever wonder what your life would be like if you moved to an idyllic farm in North Dakota? You can live vicariously through Yeh, a celebrated food blogger. Plus: She loves tahini.
Land of Fish and Rice: Recipes From the Culinary Heart of China
By Fuchsia Dunlop
Why It's Worth It: Dunlop is one of the most authoritative writers on Chinese food, and she focuses specifically on the lower Yangtze region.

Cooking for Jeffrey: A Barefoot Contessa Cookbook
By Ina Garten
Why It's Worth It: You've also probably wondered what life would be like if Ina and Jeffrey Garten adopted you. (Blissful, of course.) Ina, the most trusted recipe resource in the game, offers new ideas for traditional dishes, and shares stories about her 48-year marriage.
Mozza at Home: More Than 150 Crowd-Pleasing Recipes for Relaxed, Family-Style Entertaining
By Nancy Silverton and Carolynn Carreno
Why It's Worth It: Consider this the fun, party-loving younger sister to Silverton's first Mozza book, with recipes for croissant bread pudding, potato chips with horseradish cream, the "ultimate" hamburger, and Frito pie.
Dorie's Cookies
By Dorie Greenspan
Why It's Worth It: The holidays are quickly approaching (ah!), and the Queen of Dessert has you covered, with over 300 recipes, like Lucky Charm brownies, blueberry-buttermilk pie bars, and her famous Jammers.