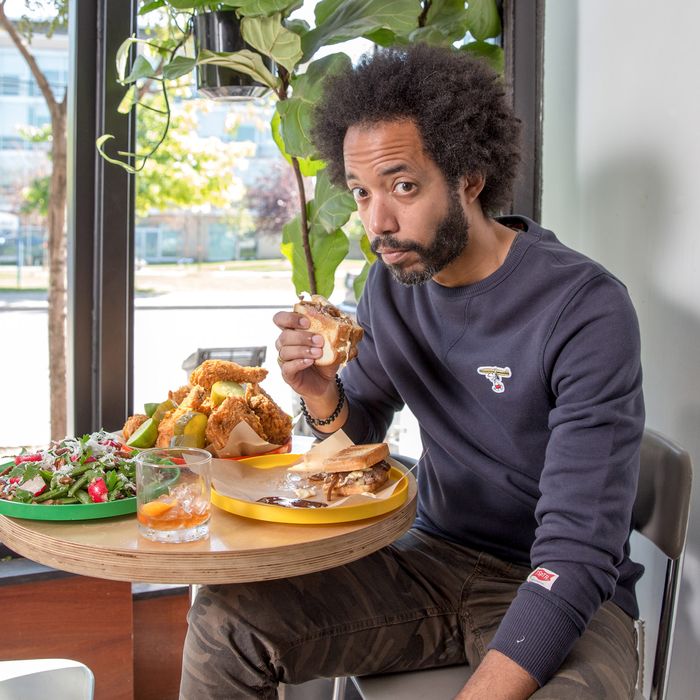 Cenac at Toronto's Bar Fancy.
Photo: Kayla Chobotiuk
The Grub Street Diet debuted ten years ago, and to celebrate, we've asked some favorite subjects to once again chronicle everything they eat and drink. "Similar to the last time I did this, I want to preface all of this by saying, I know I eat terribly," explains comedian Wyatt Cenac, who has been in Toronto filming a new TBS series People of Earth. "I see myself as a work in progress. I eat more green stuff now and know that, if I do this in another five or ten years, I might eat a tomato."
Thursday, September 8
That morning, I ate oatmeal for breakfast. That is my go-to breakfast. I think at some point in the future, science may discover that it was oatmeal, not cell phones, that's the cigarettes of our generation. By then it'll be much too late for me. That being said, I enjoy it. One of the nice things about Canada is that I just get the Quaker Instant Oatmeal, but the maple and brown sugar are listed in both English and French. In a weird way, I feel like I'm eating something a little fancier than what I normally eat.
The assistant directors on set are nice enough to leave an apple for me in my trailer. I've become very predictable. I ate it, we shot some stuff, and then lunchtime came, and I was hungry but not too hungry. I just wanted something small, so I had a turkey sandwich and some Lay's potato chips from the craft-services truck. I would've had a vegetable then, but there weren't any vegetables available to me at that time.
Doing the Grub Street Diet twice now, I know there's a certain pressure and neuroses that kick in — I'm trying to eat in a way that reflects how I normally eat but doesn't incur the wrath of the die-hard Grub Street reader. I know there's going to be someone that's like, "Lay's? You should've had Pop Chips!" I don't even know if those exist in Canada.
I got out at a decent hour from filming, and it was Brian Huskey's birthday, so a bunch of the cast went to a birthday dinner for him at a restaurant called the Good Son. It's a nice restaurant that has a wood-fired oven. There, I had some oysters; Canada has a great selection. I don't know if that's a selling point that the Canadian tourism board uses, but they probably could. This was family-style eating, and we also had French fries. Even though I had potato chips earlier, I figured it was French fries for the table, so I should eat a few. My cast mate Alice Wetterlund and I ended up taking two orders of fries to ourselves. They were really good — brown and crispy.
I was not as fond of the Brussels sprouts, but, see, five years ago I would not have touched them. What I didn't like about them is that they were mushy. I do not like a mushy Brussels sprout. The fact that I ate Brussels sprouts, and that I can be discerning, shows there's some progress there. As I've made my way into the world of green vegetables, I tend to stick to the crunchy stuff. I also had the wood-roasted chicken and two glasses of red wine. I don't tend to drink a lot of wine, but Brian was drinking wine for his birthday. Early on, I'd asked him if he wanted to get a bottle. He didn't, but we drank enough as a table that we should've gotten a bottle. I feel like he did that, sort of, to maximize what was the birthday dinner by having us overpay by the glass for him. It's the last Brian Huskey birthday dinner I will be attending, unless he opts for a bottle next time. Let the record show!
Friday, September 9
You're wondering: He woke up, he's got to have breakfast, what it's going to be? If you guessed French, or Quebecois, maple-and-brown-sugar oatmeal, you are correct.
I've been here since July, and normally I like to cook, but I'm staying at an Airbnb that I actually share with a family of centipedes. They like their music loud, and they're horrible roommates. So I don't hang out in the Airbnb that much, and I'm also on set a lot. Outside of oatmeal, there's nothing else I've really purchased. My home is just filled with oatmeal. Look, if Quaker needs a new nonplussed voice to sling oatmeal, they can call me.
I got to set, and one of the assistant directors was nice enough to pick an apple for me again. Not from a tree — from one of the shelves on the craft truck. It was nice and crispy, though. Not mealy.
For lunch, I had roasted chicken and some brown rice. Between all the oatmeal and brown rice I eat, I've got the diet of a small dog. I think I did eat dog food once — not a whole bunch of it, just a piece of kibble. If they packaged kibble a little better, and made it a little tastier, I could see myself saying, "I've got a road trip; I'll just put a piece of kibble in my bag." There are some people who drink Soylent, you know. But they've got to put a little something on kibble — maybe a touch of salt. It's snackable. That future has not arrived, but we're not too far off.
I also had a kale salad and some collard greens. To the people who are waiting for the green stuff: I've given you a double shot! I actually put the kale salad on top of the steamed greens to make a collage of greens. That was all for Grub Street. I would've just had the kale salad. But I knew that people who read my diet five years ago would say, "He said he's made progress; let's see it."
I then rewarded myself with some chocolate-chip cookies, which were tasty. I try not to visit the dessert tray.
The Toronto Film Festival was in town, and I was trying to make it to Jason Sudeikis's new film, but I missed it because I didn't get out until 1 a.m. There are a couple late-night food places that I know of, and one is a place called Bar Fancy. It's a bar, but they also have good food that they serve until two in the morning. If this is the sequel to my original Grub Street Diet — we'll call it Grub Street: A New Hope, my Empire Strikes Back — what you'll know from the last episode is that there was a guy who mocked me for eating fried chicken. Bar Fancy does great oysters and fried chicken, and you get a lot of food. Your money goes way farther than it should in Canada. We split the fried chicken and some oysters, and they also give us Wonder Bread with the chicken. Not the healthiest dinner, but it was not like the family of centipedes was going to make me a meal.
I ate Wonder Bread as a kid all the time — just raw, as a snack — and I could go through a whole loaf. Some of my friends would roll the Wonder Bread up into a ball, into sugar, and make little doughnut holes. It didn't happen this night, but I was telling the chef about this recently, and he said, "We have a fryer; let's try it." We did! We rolled the bread in butter and sugar, and he dunked it in the fryer, and we made these awesome, terrible doughnut holes. There's hope that it could make it onto the menu. We were talking about names, and I suggested "Don't Holes," but he liked "Wonder Balls," which is a good name. If you go to Bar Fancy and see "Wonder Balls" on the menu, that will be my greatest accomplishment.
I had a couple of rye Old Fashioneds. Five years ago, I drank a lot of mint juleps, and I still enjoy those, but I'm at the age where I can't do too many sugary drinks. I'll do one, and then just go straight to whiskey. The healthier choice.
Saturday, September 10
Typically, we don't shoot on Saturdays, but we had to shoot a full day of publicity footage. Oatmeal for breakfast. An apple on set.
I had lunch again around 4 p.m. I'm going to preface: This next meal, and the following three meals, there's a pattern that's about to emerge. I'm aware of that pattern. It's a pattern of someone who is subconsciously sending a message from their stomach to their brain that they should take a trip to Japan. Some of it was just by circumstance; some of it was that, yes, I should probably take a trip to Japan. But it looks like that weird kid in high school who got really into Japan, and it was like, "Tyler, you live in Norman, Oklahoma. This isn't Japan. It's nothing like Japan. Stop calling yourself a Harajuku boy."
On set, I had teriyaki chicken for lunch — it's what they had, and I also didn't know what the future held. I also had mashed potatoes with gravy, because everyone knows that teriyaki chicken and mashed potatoes go great together. I didn't see there was brown rice down the buffet line. I've learned that people don't appreciate when you try to slide mashed potatoes back into the communal serving dish.
We had to shoot a bunch of stuff for the TBS PR people. And because the crew and the cast had to come in on Saturday, I did try to shame the PR people into treating us all to a fancy dinner. They were a humorless lot. They probably sat at their monitors, flipped me off, and said, "Fuck these actors; how many TIFF parties can we get into, because that's why we're here." I want it known on the record that someone at TBS owes the cast and crew a fancy dinner.
We got out at a kind of decent hour, around 9 p.m., and birthday boy Brian Huskey and myself went to a bar called Get Well that has old video games. It's kind of the perfect bar for 40-year-olds and their 28-year-old girlfriends who are indulging their arrested development. I love it! But it's a swift kick to the wrinkle center, where you realize, Okay, I'm not the young man I thought I was. So we had a drink there, while we were waiting for Ana Gasteyer to finish a scene. On average, we're doing 12- to 14-hour days.
Across from Get Well is a late-night restaurant called Hanmoto. The second of my Japanese meals in a row. It's family-style, and there's a lot of stuff for sharing. Brian, Ana, and I went there, drank some sake, and had this salmon aburi thing, which was kind of like a make-your-own sushi taco. We also had something called "dyno wings," which is a chicken wing that they debone and put a pork dumpling inside of, and then they fry the whole thing. Pretty intense! We shared a miso steak, which was very tasty, and enoki mushrooms, which, let the record show, five years ago, I never would've eaten. I only started eating mushrooms in the past year. They're not the worst things; a little chewy.

Sunday, September 11
When I'm in New York, I typically have a standing Sunday lunch with my friends, so today I got up, started doing a little work, and then realized I hadn't had breakfast. It was getting around lunchtime, and I wanted to eat something lunchlike, and maybe because my last two meals were kind of Japanese, they influenced the third one. I'm not going to say that it didn't.
I like ramen. I'm not going to be apologetic about that. I like soup in general. I'll eat soup in the summer. I love soup on a hot day, on a cold day, any day. I went to a place called Kinton, which has become a go-to because I like that it's a customizable ramen. If you look at the menu, you have two choices of either chicken or pork broth, thick or thin noodles, and all kinds of toppings. I like that! There's something nice to be able to say, "I want this this this, not that."
So I went there and had kimchee as an appetizer. Boom! You didn't see that coming. Five years ago, I wouldn't have touched it. Corn: no! Kimchee: yes! Look, I'm an enigma wrapped in kimchee. Another five years from now, who knows what I'll be eating? I also had the chicken-miso ramen with garlic oil and extra nori, because I like seaweed in my ramen, and it's a green thing.
I ran a few errands that afternoon and went back to my Airbnb because the centipede family went to the Blue Jays game. I don't know; we don't talk that much; they're really terrible roommates. That evening, I got dinner with some friends at Union. One of the nice things about being out here is that the cast is filled with lovely people, and it's nice to hang out with them, but there have been a fair number of people who I know from New York, and even my own neighborhood, that have passed through Toronto.
So while I missed Jason's movie on Friday, he, Olivia [Wilde], and I all got dinner on Sunday at Union. Every time I've been to Toronto, I've eaten there. It reminds me of one of the Andrew Tarlow restaurants in New York. It typically is where I'll go on a Sunday because it reminds me of home a little bit. And I like the idea of Sunday dinner. They do a Paris-style meal, which is a prix fixe menu type of thing. We had some oysters — good oysters in Canada! — with some jalapeño-mignonette thing. It was a fun game: How much of that can you put on an oyster before your nose explodes? I also had Tuscan soup, sirloin, greens and carrots — cooked but not mushy — duck-fat potatoes, and, for dessert, ginger cake, which I always get.
I like the ginger cake, although it comes with ice cream and caramel, and I always ask for them to take that off, because I don't eat either. So Jason had my ice cream. If you eat with me, I'm finicky enough that you might get some of the components of the dish that I'm unwilling to try. I'll do that in New York, too: Roman's makes these olive-oil cakes that I love, but I don't want the ice cream. If there's a takeaway here this time, it's soup and dry cake. I've got the diet of an old English person, or someone's grandparent.