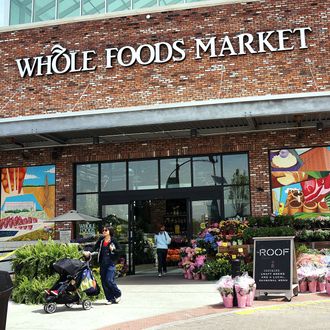 Photo: Spencer Platt/Getty Images
Looks like Whole Foods' attorneys will be fighting another LGBT discrimination case: This week, a former employee accused management at her Colorado store of creating a "hostile and abusive" work environment by basically turning her sexual orientation into a running office gag. Jennifer Johnston, then a graphics artist at the Boulder location, says she was continually harassed by co-workers and her bosses for being gay, and ultimately left because of it.

Her suit outlines several incidents involving "negative lesbian stereotypes and biases." One occurred during Team Member Appreciation Week, when her direct supervisor Tawny Duckworth came "dressed" as Johnston — sweatshirt, baggy jeans, backward cap — and asked everybody if she looked sufficiently "dyke-y." Duckworth allegedly also felt Johnston's choice of Crocs made her "unf*ckable," so she started referring to them as a pair of "UFs." Other times, she'd ask Johnston to use her "gaydar" on random people to determine if they were also gay.

According to the suit, the store's general manager initially said he'd put Johnston on shifts where there would be no contact with Duckworth, but then called Johnston back into his office two weeks later to say he was writing her up instead for playing "Turn Down for What," a song Michelle Obama has parodied but her co-workers complained was "inappropriate." She says at this point she quit, feeling that work had officially become "intolerable."
She's asking for back and future pay, at least $75,000 to cover emotional distress, plus punitive damages. Whole Foods says it just saw the lawsuit, but believes discrimination is "unacceptable" at its stores in any form and will be "looking into the situation."