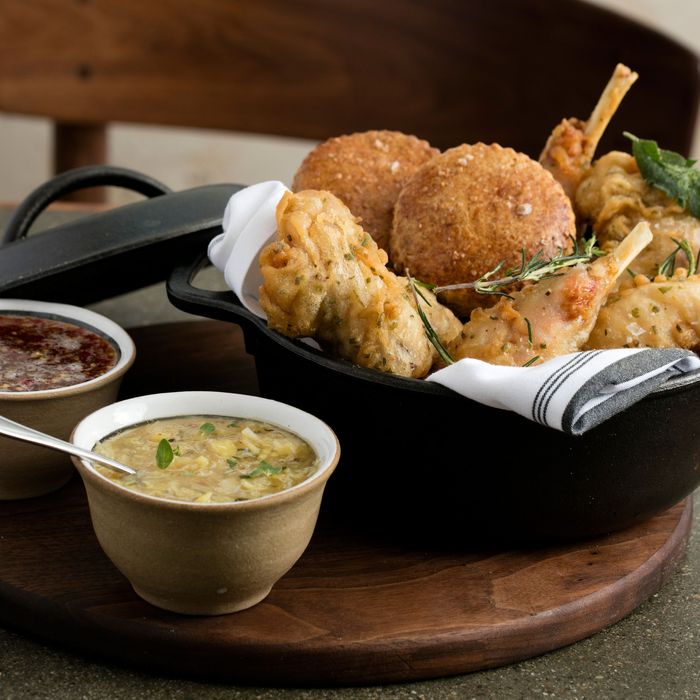 How about some fried rabbit for brunch at Barano this weekend?
Photo: Melissa Hom
It's pretty much guaranteed that every month in New York offers a bewildering number of new dishes to eat, drinks to imbibe, and food-themed events to attend. It would be impossible to pack in every single thing each month, and the hardest part often is just figuring out what to do with your limited time. So Grub will kick off the month with a short but sweet list of dishes, drinks, and events that should absolutely be on your agenda. Make your plans now.
1. Have Fried Food for Brunch, Because It's Fall:
There's really no reason that celebratory dishes for two, like your trendy roast chicken or steak, should be relegated to the dinner table. With that in mind, the new brunch menu at Williamsburg's Barano, launching this weekend, will include a fried-chicken-and-biscuits-inspired Southern Italian fried rabbit ($45.) Served with Pecorino-honey biscuits made with buffalo-milk butter, Calabrian hot sauce, lemon-oregano marmellata, the rabbit is breaded with corn starch, bread flour, and beer for a tempura-like crust. If you're a vegetarian and craving something fried before noon, you're in luck, too. On Nix's recently introduced brunch menu, there's a hangover-squashing version of chef John Fraser's fry bread ($15.) It's served with gravy, mushrooms, a sunny-side-up egg, and, to complete the breakfast experience, sausage spices.
2. Go All In on a Sunday Red-Sauce Feast:
Just like Grandma's, but fancier (and better). Every Sunday going forward, Soho's Sessanta will go full Italian-American with a menu that will be familiar to anyone who grew up eating at tristate trattorias. At Sessanta, the menu includes baked macheroni with salumi ragù, stuffed shells ($18), and eggplant meatballs ($10) along with 50 percent discounts on ten white and 15 red wines. If nothing else, that's a great opportunity to drink a $550 Brunello di Montalcino for $275.
3. Reward Yourself With a Year of Pastries at Mah-Ze-Dahr:
The online bakery has finally opened its long-awaited West Village shop. The cheesecake and choux alone are the worth the detour, but Umber Ahmad has also expanded her repertoire and serves savory pastries, like spinach and feta hand pies ($3.67), for the first time. For all of the pastry freaks out there, the bakery has introduced a "Black Card": It'll set you back $300, but it entitles you to a pastry every day for an entire year. Which is a pretty sweet deal — and lifestyle.
4. Celebrate Diwali at Tapestry:
On October 30, acclaimed chef Suvir Saran's genre-bending restaurant will ring in the ancient Hindu festival of Diwali by introducing some new dishes (all $16). The offerings are vegetarian, in keeping with Diwali traditions, and include a Brussels sprout chaat with raisins and tamarind chutney, and a butternut squash, cranberry, and apple gratin spiced with mace, nutmeg, rosemary, and other warm spices. Alcohol isn't traditionally consumed during the holiday, either, so there's also a mocktail of mulled cider and Earl Grey tea with kumquat, cardamom, and pomegranate that can be de-mocked with a shot of bourbon.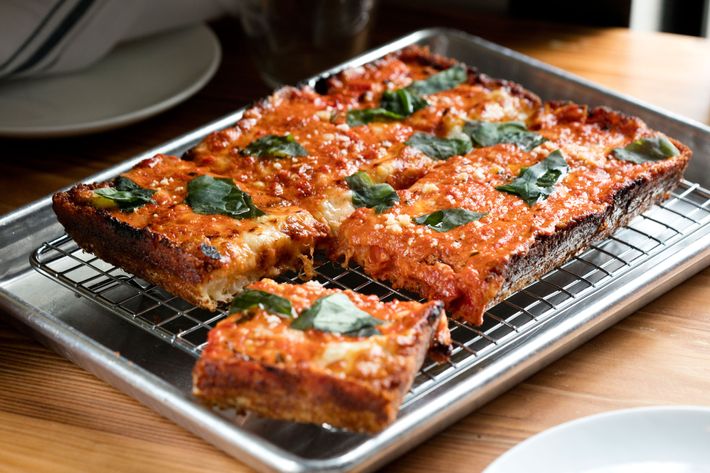 5. Eat Vodka Pie at New York's Hottest Pizzeria:
Largely the province of Staten Island and southern Brooklyn, the vodka pie is the unsung hero of New York pizza. It's mostly a blip on the radar in trendier parts of North Brooklyn and Manhattan, where it's most famously served at Rubirosa — an offshoot of Staten Island's famous Joe & Pat's. Starting next week, Williamsburg's smash hit Emmy Squared will give it the Detroit-inspired square treatment. Matt Hyland and Lou Tomczak are making theirs with vegetarian vodka sauce, the pizzeria's usual proprietary cheese blend, olive oil, and a garnish of torn basil leaves. Also worth adding to your pizza agenda: At Andrew Tarlow's Roman's on October 10, they'll introduce a revamped pizza menu (weekend lunch only) with an eggplant and ricotta salata pie. Fall-appropriate toppings like delicata squash will debut further into the season.
6. Give Traditional Japanese-Italian Food a Spin:
Stroganoff in an izakaya? Japan has a tradition of interpreting Western dishes that goes back to the 19th century, and New York has seen a sprinkling of this in recent years at places like East Village kissaten Hi-Collar and Brooklyn's underrated 750 Myrtle Diner. At Ganso Yaki, newly installed chef Rick Horiike will introduce the city to wafu pasta, a postwar tradition of Italian noodles with Japanese ingredients. The menu includes linguine with asari clams and miso ($16), ikura alfredo with salmon roe ($15), and, yes, wafu stroganoff ($16) with miso-braised beef and karashi mustard.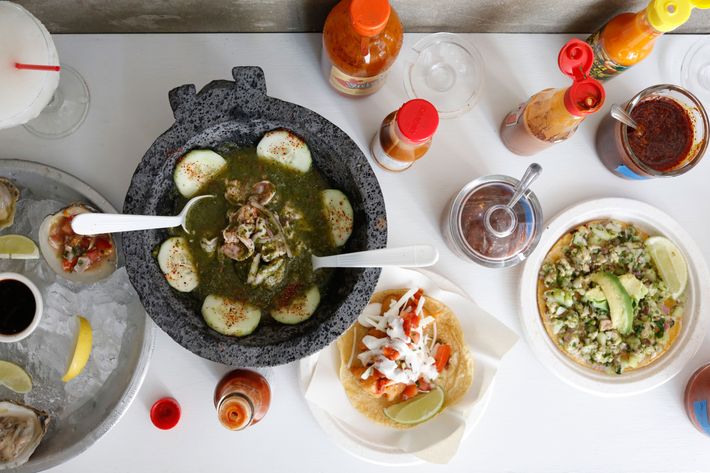 7. Check Out New York's First Mexican Seafood Restaurant:
New York's Mexican food scene has made serious strides in recent years, but so far it's lacked a destination spot dedicated to seafood. The owners of Chelsea Market's Los Tacos No. 1, one of New York's best taquerias, will look to change that with Los Mariscos. Reached by a dedicated entrance on West 15th Street and modeled after the marisquerias of beachy Baja, it will have the usual fish ($3) and spicy shrimp tacos ($3.50), plus scallop aguachile ($13.50), campechano (clam, octopus, oyster, scallop, and shrimp) cocteles ($12), and Mexican-style ceviches on tostadas ($4 to $6). The space is semi-open air, until it cools down, which is a good enough reason to head there for a frozen margarita ($12) or Pacifico ($3).
9. Hang Out With Brooklyn Chefs for a Good Cause, Then Hit Up a Pickle Fest:
On October 5 at 7 p.m., Building on Brooklyn will host its inaugural Local Fare BKLYN to benefit City Harvest. Brooklyn Grange will provide veggies, the Meat Hook will throw in protein, and there will be a five-course dinner ($285) from a team of all-star locals including Luksus's Daniel Burns, Vinegar Hill House's Mike Poiarkoff, and Ovenly's Erin Patinkin and Agatha Kulaga. Then, on October 9, from 3 p.m. to 6 p.m., True.Ink will throw its first-ever True Pickle Festival (tickets cost $50 or $100). Horman's Best Pickle founder Nick Horman will host as the first picklemaster, with duties including a pickling primer, and all attendees will leave with a 32-ounce jar of pickles.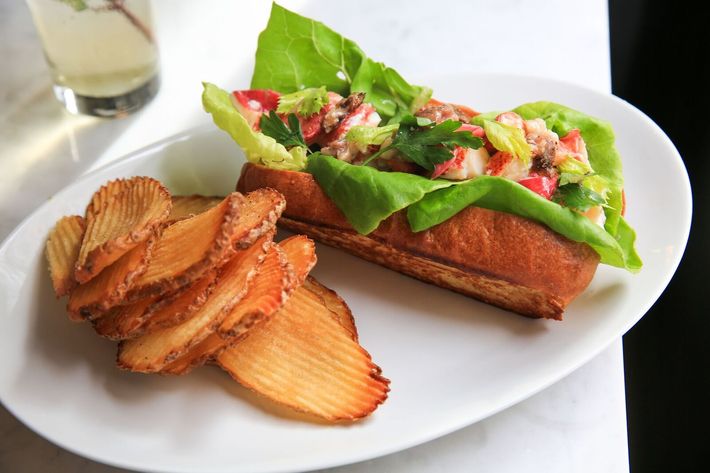 10. Get a Lobster Roll Spiked With Bone Marrow:
It's true that New York knows no shortage of top-notch traditional lobster rolls, so standing out is not easy. But at the just-opened Gramercy Farmer & the Fish, the sequel to Westchester's Purdy's Farmer & the Fish, they're spiking their lobster roll ($21) with warm bone marrow, giving it an extra boost of fat and flavor. Summer might be over, but who's counting?
11. Eat Spare Ribs at 100-Year-Old Nom Wah's First-Ever Expansion:
After a century on the real-life movie set that is Doyers Street, dim sum classic Nom Wah has expanded for the first time. The new Nolita spot in the Bowery Station space is counter-service only and lunch-oriented. Along with Nom Wah signatures, there are dishes from chef Jonathan Wu of Fung Tu, including his kohlrabi salad with sesame-peanut dressing ($7), char siu ribs ($8 to $10), and smoked chicken ($5 to $10) inspired by pitmaster Myron Mixon. Down on Orchard Street, Wu will also reveal his fall menu at Fung Tu next week, when he'll start serving whole-wheat noodles with lamb and pickled peanuts ($23), taro aligot ($6), and ho fun lasagna with mushrooms and tofu ($22.)
11. Attend a Goat and Pig Roast:
Pig roasts are, not that Grub's complaining, a dime a dozen. Goat roasts, not so much. On October 1, Ditmas Park's Sycamore will throw a goat (and pig) roast to kick off Heritage Meat's annual Goat-tober. They'll team up with Korean barbecue palace Insa and Fleisher's Craft Butchery for the event, which will cost $30 for a pint of beer and food. There will also be a raffle with prizes like butchery classes, karaoke at Insa, knives, and more.
12. Embrace Your Love of Chicken Fingers:
The former Jean Georges chef behind the West Village's new Matte Bento bills his fast-casual spot as a "Japanese bodega." The menu emphasizes donburi bowls made with Japanese eggplant and fried chicken, chirashi with yellowfin tuna and tofu "burrata," and Japanese-French pastries. But most important, there will be Japanified chicken fingers served with a sweet-and-sour katsu when it opens on Saturday.
13. Drop by O Café for Its New Dinner Menu:
The West Village's cozy O Café has made a name for itself on the strength of its Brazilian baked goods like pão de mel, a chocolate-coated honey cake; coffee; and chocolate. On October 5, it will launch a casual dinner service for the first time. From 6 p.m. to 11 p.m. on weekdays and 5 p.m. to 11 p.m. on weekends, they'll serve a vegetable-heavy menu featuring arepas with green romesco and escarole, and radicchio with miso-tahini vinaigrette and raspberry dust. There will also be ciders, beers, and natural and biodynamic wines starting at 4 p.m.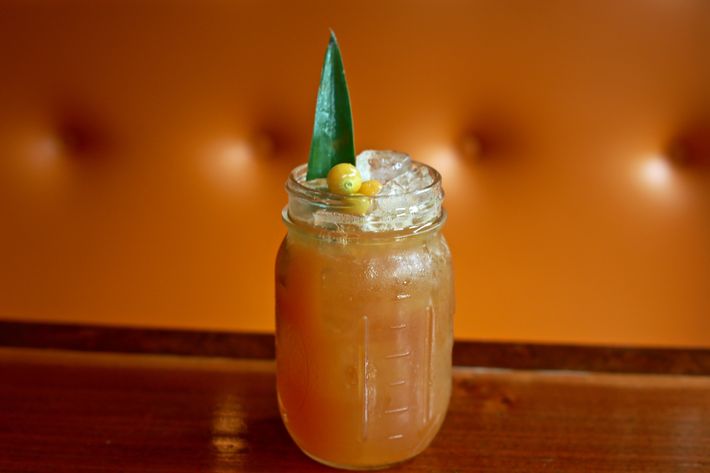 14. Say Good-bye to Summer With an Autumn Mai Tai:
East Village bistro Virginia's finally got a full liquor license. The cocktail menu from former Dutch and Narcissa barman Eric Smades includes a drink for those not ready to say good-bye to summer: the Autumn Mai Tai ($14). It's made with Ron Zacapa rum, plus Mandarine Napoleon, husk cherry, and dram — a little bit tiki, a little bit fall.
15. Get in One of Your Last Sundaes of the Year:
It won't be long before it's too cold outside to eat ice cream all the time. Make sure the rest of 2016's sundaes really count and get one from Miro Uskokovic, one of New York's greatest working pastry chefs. His latest on the Gramercy Tavern menu is a PB&J riff ($12) made with chunky-peanut-butter ice cream, fudge brownie, whipped cream, caramelized peanuts, and an in-season duo of Concord grape sorbet and Concord grape compote.
16. Kick Off October With the Grub Street Festival, Obviously:
And — how could we forget? — the Grub Street Food Festival will happen tomorrow, October 1. For the seventh year running, Grub will take over the Hester Street Fair and bring along a bunch of awesome food vendors. Look for the pastrami whisperers at Harry & Ida's, Indian hot spot Babu Ji, Sam's Spring Roll, Manousheh, and dozens more. It runs from 11 a.m. to 5 p.m. and admission is free, so basically just eat as much as you can pay for.