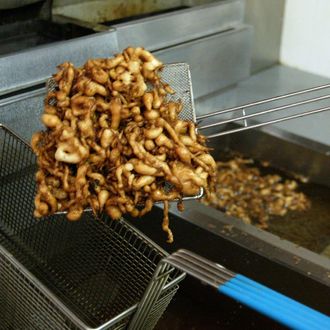 Funnel cake all the time.
Photo: Craig Kohlruss/MCT via Getty Images
Walmart's transition into your one-stop shop for blocked arteries continues, and frozen-food-aisle fried Twinkies will merely serve as the gateway drug: A Texas State Fair–themed restaurant could soon occupy a year-round spot inside your neighborhood Supercenter. State Fair Treats, as it's called, will feature a 45-item menu "celebrating the treats families enjoy every year when they make an annual pilgrimage to the fair" — unhealthy things fried in oil, in other words. At least it beats other themes the company recently backed (specifically, the one where customers were asked to "never forget" $3.33 Coke products arranged to look like the Twin Towers).

The first eatery opens this month in Dallas (home to the fairgrounds), but the Morning News reports owner Isaac Russo, whose food often wins at each year's Big Tex Choice Awards, is already thinking much bigger: "There are many, many McDonald's that are going to be transitioning out" of Walmart stores, he tells the paper. "We're going to be looking at every opportunity as they transition out to jump in." He already predicts 15 locations within the year. Walmart refused to confirm anything, but a rep did warn the News that the "vast majority" of its 4,600-plus U.S. stores theoretically have space to accommodate a State Fair Treats.

Obviously, the real winner here is Russo. He's on track to go from a man with a popular fair stand to a millionaire restaurateur with locations spread throughout the nation's Walmarts. What will be on that giant menu of his is anyone's guess (it should be noted that Russo is the force behind cookie fries and deep-fried Pop-Tarts), although if he made it a collaborative effort by all Texas fair concessionaires, he could throw in fried Jell-O, fried butter, fried Coke, fried meatloaf, fried Thanksgiving dinner, chicken-fried lobster, and even funnel cake ale to cut through all the oil.